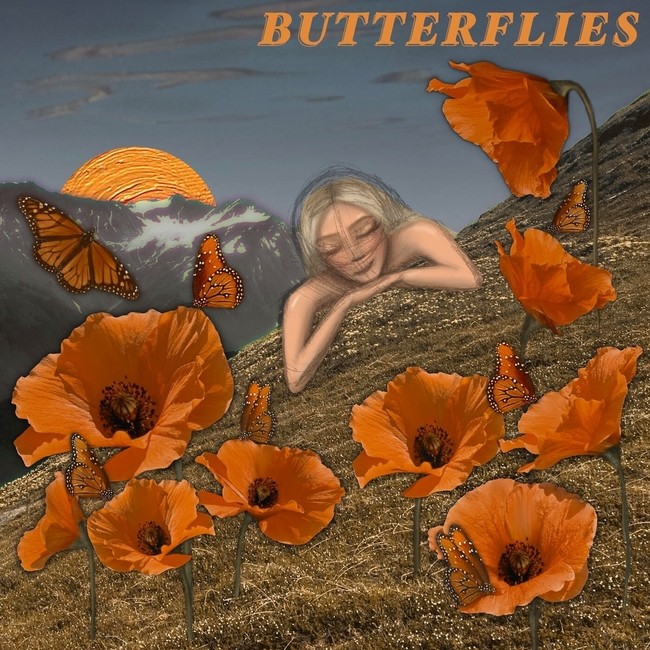 I've had the pleasure to work with Sophie Dorsten many times now and I can honestly say that she continues to impress me more and more each time. Once Sophie starts singing, you listen and get hooked in with her powerful voice & range. Sophie's voice is one amazing instrument in itself and seems to get better with each new release. Sophie's latest single is titled "Butterflies" and includes her talented brother Alex Dorsten. This brother/sister connection has been a winning formula as of late with the siblings releasing a series of songs. "Butterflies" is written and composed by Sophie and Alex Dorsten and I have to say that this family unit hit another home run!
These young singer/songwriters play like established musicians and sound like true professionals who know a thing or two about writing high-quality tunes. "Butterflies" offers an outstanding melody right out of the gates and instantly draws the listener in. The guitar playing and vocals mesh together perfectly on this track where Sophie and Alex are truly in the zone. "Butterflies" is fine-tuned precision and simply soaring high vocally & musically.
"Butterflies" is a real treat to experience and just a pure joy to the ears. Sophie Dorsten continues to grow stronger and stronger as a singer/songwriter and Alex Dorsten proves to be a highly skilled player that deserves the utmost respect. Together, this duo is creating strong material from the heart that can connect with millions of people. Sophie Dorsten and Alex Dorsten have already proved that they are rock stars in the making and I feel we haven't seen anything yet from this dynamic duo. "Butterflies" is an instant hit with a timeless sound and one can't deny its catchy hook. The Pop scene better prepare for Sophie and Alex Dorsten because they are pushing along at a feverish pace and looking to take the music world by storm. SKOPE out "Butterflies" and listen as Sophie and Alex Dorsten provide an unforgettable performance. It looks like Sophie and Alex are spreading their wings and flying full speed ahead to the top where stars are born. "Butterflies" has arrived!
https://sophiedorstenmusic.com/home
By Jimmy Rae