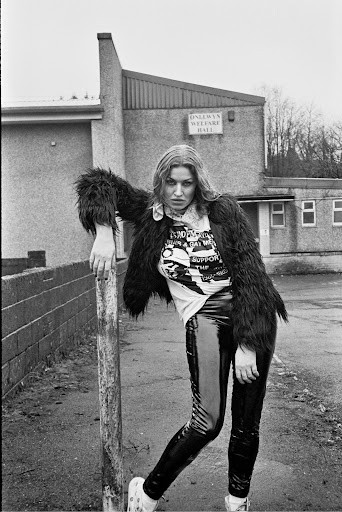 @skopemag news – friday – february 25, 2022 @ 10 am est
@skopemag HQ – http://smarturl.it/skope
Lady Bri Releases New Album "ME" Today, February 24th Via Position Music
On February 24th, effervescent Pop R&B songstress Lady Bri will release her new album ME via Position Music. The release will be accompanied by a music video for the title track, which was directed/shot by THE CARTERS and filmed in Los Angeles. ME will be Lady Bri's fourth album as a solo artist.
SINGER/SONGWRITER/PRODUCER PETER MCPOLAND RELEASES NEW SINGLE "COME AROUND"
"I am so excited to finally be releasing this song," says Peter. "I've literally done forty cartwheels just this morning. I posted the first demo of this song to my Tik Tok in August, and now that it's finally coming out, it makes me even more excited for everything to come."
AWOLNATION Reveal Star-Studded List of Guests for New Album, Cover of "Beds Are Burning" Out Now
James Arthur Releases New Single "Lose My Mind"
James says: "'Lose My Mind' is the kind of alt rock song I've been wanting to make for years. A lot of my musical influences are in that lane, and I'm also a big You Me At Six fan so I'm buzzing that Josh wanted to jump on the track – I love his voice."
LOUI AND DREAMDOLL LINK FOR EXPLOSIVE NEW SINGLE "GET IN GET OUT"
Loui glides effortlessly over moody piano keys, booming bass, and slapping drums on "Get In Get Out." With no time for romantic distractions or beef, he remains laser-focused on his end goal: "Get in and get out / I'm trying to buy momma a big house." DreamDoll then jumps in with razor-sharp braggadocio: "Anybody hot as me next to Satan / Married to the money, I guess I'm taken."
SHORDIE SHORDIE SHARES GORGEOUS NEW COLLECTION OF SONGS TITLED 'ME & MINE PT II'
POLO G DROPS OFFICIAL VIDEO FOR "DON'T PLAY" FEATURING LIL BABY
Volcanova launch new EP "Cosmic Bulls**t"
Icelandic desert rockers Volcanova launches the EP "Cosmic Bullshit". Following their acclaimed debut album "Radical Waves" from 2020, the power-trio returns with 6 brand new cuts of cosmic grooves and volcanic jams.
CAT SFX – Release fierce punk of: "Rodeo" | out Today, via Alan McGee's It's Creation Baby
CAT SFX are back with the ferocious new single: "Rodeo", out today via Alan McGee's tastemaker label It's Creation Baby.
As their fifth release, this ain't their first "Rodeo" by any means. But for those who've been following Cat SFX's evolution to date, their latest is perhaps Cat's most exhilarating and outspoken instalment yet.
Blanketman share new single "Yard Sale" | UK live dates this Spring
Blanketman are today sharing a new single "Yard Sale, their first new music of the year. It follows recent single "The Signalman", the two making up a new double A-side 7″ which is out now.
LISTEN – GUNDELACH RELEASES HIS NEW INDIE-ELECTRONIC INFUSED 5-TRACK EP 'SHAPE' – OUT NOW!
The Norwegian Grammy-nominated singer-songwriter is about to release this beautifully crafted collection of songs full of sweet indie-folk murmurs and electronic induced beats, which expands upon Gundelach's already incredibly diverse sonic palette. When the virus brought the world to a halt, Kai teamed up with some of his old music collaborators, who set about fine-tuning previous demos and ideas into a fully-fledged EP. This is the first half of the upcoming full album which will release as "ShapeShifter" on April 29th.
Hannah Schneider releases cinematic ambient pop gem 'Mirror Sphere'
With a minimalist and sensitive tone, 'Mirror Sphere' tells a monumental story about the beginning of life. 'Mirror Sphere' returns to the amoeba's path from sea to land in an organic, ambient pop song. The single is the second single from Hannah Schneider's upcoming album Ocean Letters.
Glasgow Underground's Kevin McKay Gathers His Recent House Music 'Goodies' On New Album
Dance music figurehead Kevin McKay has released 'Goodies', a superb collection of his most standout recent tracks, looking back over a massively productive 15 month period. The essential selection takes in a broad array of remixes and originals from the Glasgow Underground label head, world-renowned DJ and tireless producer, and will be released the same day as his brand new single rework of Ciara's 'Goodies.'
THE NINTH WAVE announce upcoming hiatus + share "Hard Not To Hold You" final taster of upcoming second album 'Heavy Like A Headache' out 18th March
Glasgow's The Ninth Wave today release new track "Hard Not To Hold You", the final taster of the band's second album Heavy Like A Headache, out 18th March 2022 via Distiller Records. The band have also announced that following the release of Heavy Like A Headache and their 3 upcoming headline dates in Manchester, London and Glasgow the four-piece will be going on hiatus to pursue their own personal projects.