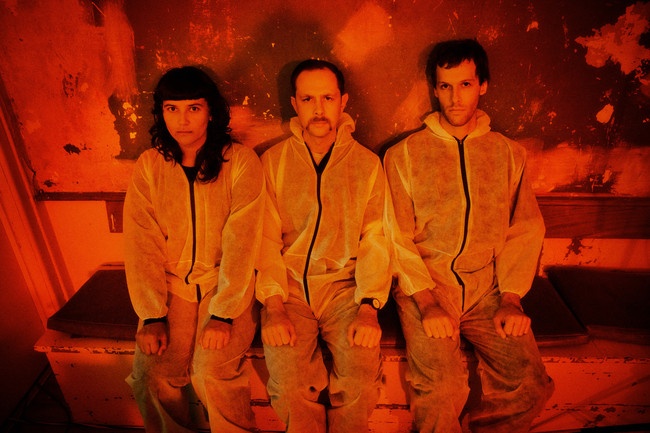 @skopemag news – wednesday – february 23, 2022 @ 9 pm est
@skopemag HQ – http://smarturl.it/skope
ABRAHAM: MetalSucks Premieres Débris de Mondes Perdus In Its Entirety
An album that is as rough, ugly, and brute as it gets, ABRAHAM has taken conscious distance to the polished, metallic side of post metal, in favor of a more rock-oriented, gritty, and less produced sound. However, these are not glorious singalong rock anthems, but utterly raw, dissonant, abrasive, and clinking cold compositions, in the most refreshing and invigorating sense of these words.
Exclusive Album Stream: Abraham Paint a Lumbering, Pitiless Landscape on Débris de Mondes Perdus
SULFATE RELEASE TENSE NEW VIDEO FOR 'BOTTLE IT IN'
Director and editor Frances Carter, on the song and video, says "I got really attached to this track during the August lockdown — cooped up at home and trying to pretend everything was fine. Every time 'Bottle It In' came on the radio I'd crank it up and have this cathartic experience. It has such a tense, ominous energy that builds up and explodes into something completely unhinged at the end. It reminded me of one of my favourite disturbed anthems, Gaskrankinstation by Headless Chickens, and I wanted the video to have the same mix of darkness and comedy.
Le Big Zero share new song "Beach Séance"
Federico Aubele announces first album in 6 years & shares new single and video today: "Pink Spray Painted Clouds"
Jeanines announce their sophomore LP & share new single/video via BrooklynVegan; 'Don't Wait For A Sign' is due 4/22 on Slumberland
Today Jeanines are announcing their sophomore LP, Don't Wait For A Sign, and share the lead single/video titled "Any Day Now." Check out the premiere on BrooklynVegan here. BV gave some praise to the track, stating "The wistful 'Any Day Now' is a perfect example of what Jeanines do so well, a song lifted by Alicia's ethereal harmonies and its 'la la la' chorus. It clocks in well under two minutes long but will be stuck in your head after the first listen." Jeanines' Don't Wait For A Sign is due April 22nd, 2022 via Slumberland Records.
Yony share "The Only Naked Guy at the Party"
Cionni continues: "This song was the reason we got the Sub 37. We knew it needed that fat pulse. Moog was the only way. Once that was in, everything else came together. This song and "Waves of Exhaustion" gave the acoustic a real home on this record. The real magic, though, happened in Sweden with Norbert. He added extra pads, those distorted guitars at the end, and even more to make it really pop. Thematically, this song is about vulnerability. People have a tendency to avoid hard conversations in order to keep things positive. I've been told I'm too sensitive, too intense, and that always bums me out. The last thing a person in distress should do is keep it inside. If you don't let it out, your emotions will play out in much uglier ways."
Latinx Pop Artist ericdoa Shares New Single "fool4love" + Announce North American Tour
Of making the track eric shares "'fool4love' was probably my favorite experience making a song I've had, it was all of my close friends on the floor of my bedroom hearing me annoyingly hum a guitar melody into the amazing fortuneswan's ear until 6 AM rolled around and the finished product was what your hearing now. A classic tale of my awkward stages of figuring out what being committed to a human being is all about."
MAC GOLLEHON: "Dead Protégé" Video
World renowned New York City jazz/pop trumpeter and multi-instrumentalist MAC GOLLEHON presents the latest visual accompaniment to his filmic, avant-jazz solo record, The End Is The Beginning, which saw release through Nefarious Industries earlier this month. The new video for the track "Dead Protégé" makes its public debut through a premiere hosted by The Sleeping Shaman.
Video Premiere: Mac Gollehon 'Dead Protégé' – Taken From 'The End Is The Beginning'
Chicago-based singer and songwriter, Nasty Geographic, releases new album
Nasty Geographic's tenth studio album BAD POP is one such album. Combining the driving bass of Royal Blood, the funky guitar of the Red Hot Chili Peppers, and female-backed pop vocals, BAD POP is Nasty Geographic's most fun album to date.
Loren Beri shares first-ever single "My Brooklyn (Is Better Than Yours)" & announces debut EP
Loren Berí grew surrounded by classical music, spending plenty of time at the piano, Berí began writing songs by the age of 15 and by college, he was bouncing around various bands before planting roots in New York City. After a naturally lonely and difficult adjustment period amidst a pandemic, Beri's debut EP began to take shape. After meeting and befriending producer O Mer, who produced and mixed three of the EP's five songs, a project began to solidify, catching the hearts and minds of both Kishi Bashi (of Montreal, Jupiter One, Regina Spektor) and Mauro Refosco (Atoms For Peace, David Byrne, Dirty Projectors), who are both featured on the EP.
NIGERIAN SUPERSTAR TEKNO RELEASES NEW SINGLE & MUSIC VIDEO "MUFASA"
Critically acclaimed Nigerian-born Afropop artist Tekno kicks off the next season with the premiere of his new single and music video entitled "Mufasa" released in partnership with SoundCloud. Premiering exclusively on Complex.
EIGHT.FOLD.PATH Release Video For "Fear"
EIGHT.FOLD.PATH have released a video for their song "Fear" which is out today. Engaging with personal struggles of anxiety, the release champions the determination to not let fear win.
"I wrote "Fear" during a period of examining my own chronic anxiety. It can feel overwhelming, as if I'm being attacked, but I've realized my fear is created inside my own mind, and I can choose how I deal with it: keeping it inside to fester, or letting it go. I can feel the anxious emotions and still make the choice: I Will Not Fear."
Multi-faceted singer, songwriter and artist TIANNA ESPERANZA drops captivation new single "Lewis" during America's Black History Month
The new release is inspired by Lewis H. Michaux, the owner of Harlem's historic African National Memorial Bookstore, Esperanza unleashes a grippingly soulful, partially spoken-word track that will be sure to prick up ears both sides of the Atlantic.
The End At The Beginning Release New Single & Video For "Rebellion"
Italian metalcore act The End At The Beginning have released "Rebellion", a new track taken from the new album "Lightbringer", which will be released on April 8th in partnership with Superbia Music. The album was recorded at Zeta Factory with Federico Ascari on recording, mixing and mastering engineer. Artwork by Mattia Castiglia.
OR: Chicago Trio With Members Of Ghosts And Vodka, Joan Of Arc, American Heritage, And More To Release Debut LP, Pariah, Via Dog & Pony Records; "Manly Robes" Video Playing + Preorders Posted
Chicago-based instrumental three-piece OR is preparing for the release of their debut full-length, Pariah, through Dog & Pony Records on April 8th. The album's details including cover art, track listing, preorders, and a video for the track "Many Robe" are now available.
HUGS OF THE SKY SHARES NEW ALBUM VIA JOYZINE
After much anticipation, Belgian psych-rockers Hugs of the Sky share their fourth studio album, Tangerine Boredom Delusion via Joyzine. Leading listeners by the hand through a psychedelic soundscape of heavy guitar distortion, gravely vocals, and high-energy drums, Tangerine Boredom Delusion pushes Hugs of the Sky's sonic boundaries into completely new directions while still maintianing their signature DIY integrity. This record is the first time Hugs of the Sky have worked with an external mastering engineer: Joe Carra. Carra mastered albums for Australian psychrockers Pond and King Gizzard & The Lizard Wizard and was even nominated for a Grammy in 2019 in the category "Best Engineered Album." The songs were written during the lockdown of 2020. They have the typical Hugs of the Sky ingredients: fuzzy guitars, a sparkly bass and tight, punky drum-fills. Combined with the existential yet unworldly lyrics, it is an album for fans of the niche and weird.
Album Premiere: A first listen to Hugs of The Sky's new LP 'Tangerine Boredom Delusion'
Philthy Rich "Leave Me Alone" Visual Out Now
HELLBORE Stream "All Men Are Created Evil" at Decibel Magazine
Death metal band HELLBORE have unleashed their new single "All Men Are Created Evil" via Decibel Magazine. The song is from their upcoming album Panopticon which is out on March 18th.
HELLBORE Stream "All Men Are Created Evil" at Decibel Magazine
Listen To "All Men Are Created Evil" Now
Death metal band HELLBORE have unleashed their new single "All Men Are Created Evil" via Decibel Magazine. The song is from their upcoming album Panopticon which is out on March 18th.
Slug Father & tourdefrance share "Feeling Right"
The dance-centric release, features two tracks "Feeling Right" and "Tell Me." Both of which are club influenced dance tracks that feature sun-soaked synths, groovy bass lines and uptempo house rhythms. The songs were a collaborative effort created over the course of a couple years with all three artists involved on the project working in different cities; tourdefrance split between Vancouver and the UK, while Slug Father situated in New York.
New Today: Lydia Persaud shares smokey neo-soul single with video for "Good For Us" championing self-care
Peaceful and playful new single, "Good For Us," elicits the pride that comes from making the right decision for ourselves. Whether it's deciding not to engage in bad communication or taking some space to gain clarity, these are moments that are worth celebrating – this is the growth.
DEATH ON FIRE Release New Single "The Dying Light"
Indiana thrashers DEATH ON FIRE have released their new song "The Dying Light" via No Clean Singing. The song is from their 7″ release of the same name.
Ace Hood "Free"
Today, Ace Hood dropped his new single "Free" from his upcoming M.I.N.D. EP, which releases Feb. 25th via Hood Nation/EMPIRE. Backed by a low-BPM beat full of snares and dancing synths reminiscent of a somber '80s synth-pop track, Hood is able to harmonize on hooks and lay down wordplay like never before. Motionless on an examination table, Ace delves into his own mind and taps into the traumatic experiences that are too familiar in society today; from police brutality and blue-collar racism to domestic abuse. As Ace says plainly, "My goal is to heal the preexisting," he's on a mission that sidesteps fame and fortune, a mission to ultimately heal and free his people from the deep traumas they experienced.