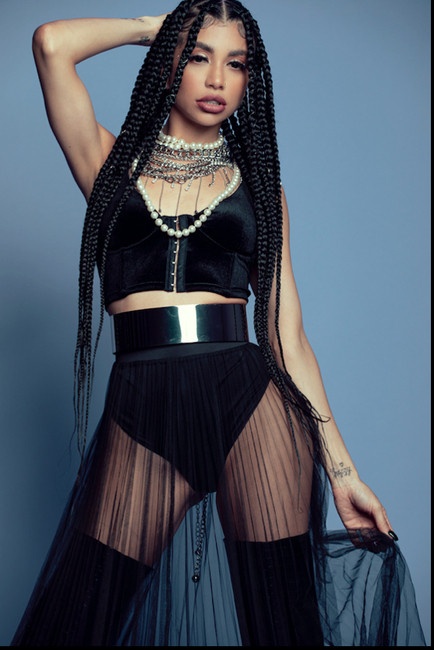 @skopemag news – friday – february 18, 2022 @ 1 pm est
@skopemag HQ – http://smarturl.it/skope
Years & Years joins DJ/producer Regard for "Hallucination" – LISTEN NOW!
On the new single, Regard says: "I loved working with Years & Years on this new single. Olly's voice brings the song to life and really captures the idea that the beauty of love is so similar to the fear of hallucinations"
RZA and DJ Scratch Release New Track and Video "Fate of the World"
The album, Saturday Afternoon Kung Fu Theater, is a love letter to the kung fu movies that aired each Saturday on local tv channels when there were only 5 channels to choose from. The films inspired fantasy and imagination for a legion of young people and showcased gloriously violent lessons of good vs. evil.
OUT TODAY: A Psychedelic Pastiche of Retro-Futurist Pop | Cosmic Crooner – "Reflexopolis"
The follow up to a string of successful singles, Cosmic Crooner continues his alluring thread with another lavished serenade. Leaning into the dogmatic quirks of 70s psychedelia and vintage decorum, Cosmic Crooner has noted that 'Reflexopolis' is his most reflective and cheerful piece to date.
Ravive Releases New Single "Cry About It"
"Cry About It" is unlike any other Ravive song so far, and I love that. It has this particularly gloomy energy, I got to be sinister. The other songs I've released so far have all been very moody, quite serious. This one is too, but it has a certain sense of unholiness that I felt was a cool fit for the next single. It can mold into anyone's story.
WHOKILLEDXIX UNLEASH MENACINGLY CATCHY NEW BANGER "DATAMOSHBLOODDROP"
FREDO BANG RELEASES NEW SONG & VIDEO "4'S UP" VIA DEF JAM RECORDINGS
JOURDIN PAULINE RELEASES "DEEP" MUSIC VIDEO
The video finds Goddess confidently walking into a bar and catching the attention of every man in the building as she throws cash and brings the men along for a journey. She gyrates through these vignettes in one striking outfit after another, as she commands, "Tell me are your pockets deep?" The video was directed by frequent collaborator Supo Supreme.
Maddox Jones releases an emotionally charged, soaring track, "Ready To Be Better"
Jones then teamed up with ARIA award nominated multi-platinum selling DJs Bombs Away to deliver an official remix of lead single and title track, "Headspace." The internationally recognized Australian duo transformed the hypnotic synth-washed pop number into an epic dance-floor banger and pushed "Headspace" to #11 on Music Week's Commercial Pop Chart.
UK BREAKOUT STAR MIMI WEBB RELEASES NEW SINGLE & MUSIC VIDEO "HOUSE ON FIRE" ON TOUR ACROSS UK & NORTH AMERICA!
FLOR RETURNS WITH NEW SINGLE "PLAY ALONG"
SEB drops new single "f*** it, im the man"
LA-based artist SEB has just shared "fuck it, im the man" (via Mom+Pop), on which the nascent pop artist evokes a home-fi spin on the 80's Quincy Jones sound. The song follows last year's "god of the sunsets" single and the IT'S OKAY, WE'RE DREAMING EP, dual manifestations of his genre-eschewing sound that owes as much to Joni Mitchell as to Tyler the Creator (and the latter of which featured his breakthrough hit "seaside_demo"). His diverse influences serve as a reflection of his varied background, coming up in Chicago after hopping between New York, Haiti, Oklahoma, and Miami, before making the move to LA to focus on his music career.
V Rod Drops Provocative Debut Single ft. Lil Pump via WK Records
After a successful run in the adult video industry, V Rod turned to music in 2018 when she released her first track "Hola" independently. Now, after taking a short pause to work on her craft and under the guidance of WK Records, she will continue to pave her way as she unfolds herself in the musical landscape.
SABRINA CARPENTER RETURNS WITH NEW SINGLE AND VIDEO "FAST TIMES"
The track, written by Sabrina, John Ryan, Julia Michaels and J.P. Saxe, shows yet another side of the platinum-certified singer, songwriter, actress, designer, and producer. Shimmering piano wraps around a slick bass line as her smoky vocals resound. The tune features Sabrina playing pencils for percussion on the bridge.
THE HEAVY HOURS RELEASE NEW ALBUM 'GARDENS' OUT TODAY
On the heels of releasing their acclaimed Simone Felice produced Wildfire EP (2021) in the midst of a global pandemic, The Heavy Hours are back with Gardens, a full-length album that further exemplifies their distinctive strain of warm-hearted, open-armed alternative rock.
Glitchy pop punk trio urge us to ditch our phones… every now and again
THE ELEPHANT TREES are fronting the next generation of queer pop in the UK. Already establishing themselves as a must-see live band, the Mancunian trio enter 2022 with the promise of a new EP and city tour, beginning with their latest shimmering single Ones And Zeros on Martha's DIY label, INCANTATION RECORDS.
Originally from Guiseley in Leeds, the group is made up of lead singer and lyricist Martha, drummer Tom and guitarist Sam. Built upon a foundation of friendship and togetherness, the trio draw their name from a group of trees in their hometown that goes by the same title and acted as an intersection between their childhood homes.