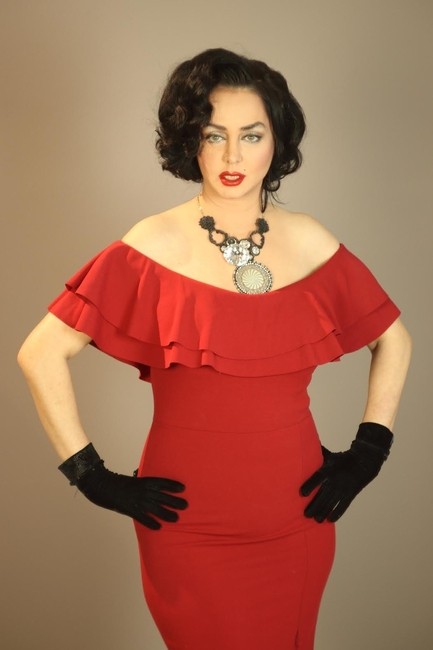 by Nick Christophers
Many actors have more than one talent and sometimes are able to succeed in both. Yet this is not a frequent practice since one may hinder or overshadow the other. But when it comes to Greek born actor, Despina Mirou, she has managed to shine regardless. Despina was discovered by the late Peter Bogdanovich who cast her in his film alongside Edy Izzard, Kirsten Dunst, and Jenifer Tilly. She is not only stunning to look at but is a triple threat when it comes to the arts. So far, she has managed to be a sought-after actress but also a stand-up comedian and an author. Only recently Despina was invited to MC at a monumental event honoring the legendary band Pink Floyd at an exhibition in Hollywood at the Vogue Theatre. The band met Despina while she was doing a stand-up show at Johnny Depp's club Viper Room.
"I am thrilled to continue my collaboration with PINK FLOYD, the legendary band that invited me to do the opening, in their exhibition in Hollywood! There were VIP members and at this huge exhibition that featured everything Pink Floyd used in their career and in their concerts! Few years ago, I did the MC for their concert and had the honor to introduce on stage members of Pink Floyd, Supertramp, Toto, Janes' Addiction, Peter Gabriel, Fishbone, Dr.Dre, Scott Page, Stephen Perkins, and Shankar!"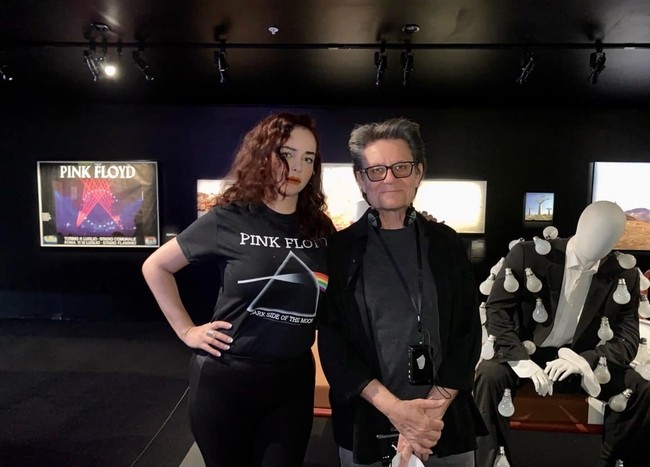 Despina has accomplished a lot on her journey as an actress, comedian, and writer. She has received over forty awards in all these disciplines. When it comes to TV, she appeared on the HBO show "Show me A Hero" and on NETFLIX in the comedy series "On My Block". During the recent Cannes Film Festival2021, she was part of a remake of the iconic film "The Boy on The Dolphin" (casting director Suzanne Kendal) where she portrayed the legendary Sophia Loren. Her performance received much praise especially from director Pedro Almodovar when he approached Despina on the red carpet. Another key performance was highlighted at the Sundance Film Festival where she co-directed the project "Life in A Day " by Ridley Scott which was nominated for BAFTA and an Oscar.
"I was thrilled when Ridley Scott chose me to participate in his new film, as an actress. It was my first directing debut. They chose me from 424,000 videos, from 196 countries. I spent twenty-four hours shooting the lines, and I sent them seventy-five videos that I played as myself and impersonated Ozzy, Freddie Mercury, Elton John, etc. Our Premiere was at the Sundance film Festival. I want to say a huge thank you to Sir. Ridley Scott, because he is a drama director who honors my abilities in comedy!"
Another notable film she worked on was the comedy "Tango Shalom" where she played alongside Laine Kazan (My Big Fat Greek Wedding) and Renee Taylor. The project was presented by Vision films and Joel Zwick (maker of My Big Fat Greek Wedding), directed by Gabriel Bologna, and written by Joseph Bologna. The project has received fourteen festival awards globally from Toronto to India. The film is playing now in many cinemas nationwide.
For 2022 Despina has seven films in the works alongside such talent like Faye Dunaway, Darryl Hannah, and Michael Madsen. There is one project she is looking forward to being released called "American Connection" where Faye Dunaway and Daryl Hannah joined her. She also just finished a film called "Despina's Boulevard" with Director Clinton Siegle which has already won four awards. Besides all the acting and stand-up Despina is due to release three new books and a calendar of 2022 called "Comedy Iconic Stars Calendar 2022", where she is impersonating Lucy Ball, Marilyn Monroe, Joan Crawford, Sophia Loren, Liz Taylor and more. Despina is a force to be reckoned with who does not stop forging ahead to accomplish her dreams. The one event that affected her most was the recent passing of Peter Bogdanovich who discovered her.
"You cannot imagine the pain in soul when hearing this. I felt lucky and blessed that he was my first cinema Director. I know now that he is in paradise with Orson Wells and Buster Keaton, he admired them. He was the first director, who came to Greece, and pressed me to go to Hollywood. Then I was only 18 and I did not speak English well. He put me next to Ed Herman and Eddie Izzard. Later I recognized what he offered in cinema globally. A genius, generous, unique artist and human being."
One endearing part of Despina is her spiritual side that does not allow her materialistic desires to control her path. She believes that 90% of people try hard to acquire materials to be happy and place little value in their soul and spirit. She is rare in the entertainment world where materials are more desired. Despina has become a diverse actor/performer who places her talent and skills in the forefront of her journey.