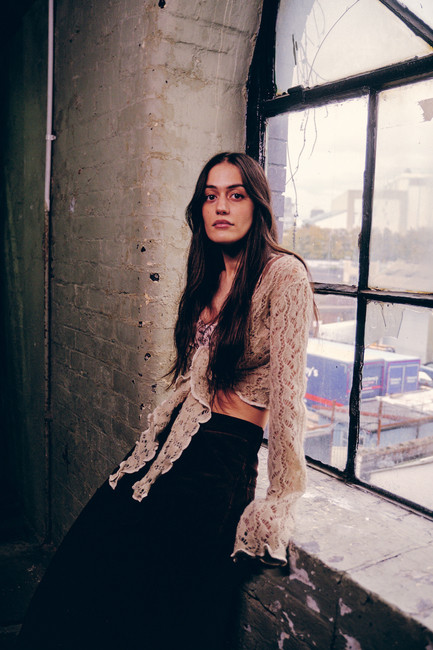 @skopemag news – saturday – february 19, 2022 @ 12 pm est
@skopemag HQ – http://smarturl.it/skope
New Ben Sefton
As a teen, Ben Sefton's budding love of songwriting quickly developed into an obsession, fueling the creation of hundreds of unreleased songs. Driven by his deep love of earworm pop melodies and a passion for candid lyrical witticism and word play, he has effectively created a style all of his own. Backed by hours of focused guitar practice, Sefton matches his ceaseless song creation with considerable vocal and instrumental prowess.
New single, "Harrison," is an indignant attempt at turning the private pain of a teenage misanthrope into an anthem. Sefton creates a tone of pure relatability that will bring listeners back to the days of heavy backpacks, rampant acne and unbearable anxiety. The video takes those ideas and plants them firmly through the lens of a John Hughes 80s film.
Eddie Benjamin Releases "Weatherman," Justin Bieber Tour Starts Tonight!
Today, singer, songwriter, producer, and multi-instrumentalist Eddie Benjamin introduces his upcoming debut album with new single, "Weatherman." A defiant call for optimism in troubling times, the Australian newcomer imbues his message of hope with old-school soul and irresistible pop hooks.
GOYA MENOR & NEKTUNEZ RELEASE VIDEO FOR VIRAL HIT "AMENO AMAPIANO REMIX (YOU WANNA BAMBA)"
Chris Miles and Lil Tracy team up for "Nothing Feels The Same"
Chris Miles connects with Lil Tracy and shares his latest single, "Nothing Feels The Same" via Boom.Records. The explosive single kicks off with what can best be described as a "midwest emo intro" and then picks up as Miles' emphatic, melancholy vocals skate atop the impromptu drum shred. It finds Miles and Tracy unearthing an infectious melody with angst-ridden aplomb, enraged and numb from their failed toxic relationships.
David Guetta Drops Unexpected 'Trap House' Mix of Kodak Black Global Hit 'Super Gremlin'
David Guetta introduces his latest project, which he's calling "Trap House", in collaboration with Kodak Black's massive hit. It's all about mixing hip-hop & electro and returning to his roots (such as Black Eyed Peas "I Got A Feeling" & his classic album "Nothing But The Beat"). David plans to represent this new sound at festivals & clubs, including Ultra Miami in March, where he's headlining. With a pumping, thick bassline & melodic interludes highlighting the chorus of the song, Guetta does what he does best, melding pop sensibilities with core dance sonics to create a dynamic musical experience.
Sensual, Vulnerable & Sexy // Imogen Mahdavi New Single
Imogen Mahdavi may have grown up in humble beginnings, but the East Londoners music has been her escape into an optimistic future with her bright sound. Her poetic songwriting is deeply connected to the feelings 'we've all experienced and haven't found the words to say out loud' accompanied by a voice that is something truly unique.
Prolific indie-rock collective Bonsai Trees share new video "Parallel"
This week, prolific CT based indie-rock collective Bonsai Trees released their latest official video "Parallel", with the tune slated to appear on their forthcoming studio album Slow Motion Real Life. Lead by vocalist and songwriter James MacPherson, the project has spent nearly a decade honing an original sound filled to the brim with memorable hooks and and turbulent emotion.
Worldwide Panic Releases New Single "I Tried" + Official Music Video
Worldwide Panic has released a brand new single titled "I Tried" to all major outlets along with the official music video. The single charted at #3 on Billboard's Mainstream Rock Most Added and #2 on the Foundations Chart Top 10 adds this week!
Ben Auld Shares Lemongrass LP via Glide
"From the first track 'You're A Ghost,' you could have sworn this was a lost track off Wilco's Star Wars sessions. With a crackly loose experimental fee with playful nods to 70s AM/FM nuggets, that theme continues throughout this listenable LP that surely deserves to make a 'ones you missed' 2022 best-of list. But let's not miss this charmer if we don't have to."
FULL ALBUM PREMIERE: Ben Auld Runs '70s AM Gold Spectrum Readily On 'Lemongrass'
EL CANTANTE CHRISTIAN ALICEA, INCURSIONA EN EL GENERO URBANO TROPICAL CON EL TEMA "COBARDE"
El cantante Christian Alicea oriundo de Puerto Rico obtuvo mucho éxito con su tema "Special Edition", que grabo junto al productor estrella Eliot "El Mago de Oz", y uno de los artistas que lo inspiro a incursionar en la música, J. Alvarez. Desde el 2019, Christian Alicea esta haciendo lo que mas lo apasiona, la música. El joven cantante, de la mano de Dj Buddha y Eliot, también lanzo hace unos meses el tema urbano "La Verde" que habla de una chica que se va de fiesta para olivar los problemas.
BABYTRON ANNOUNCES NEW PROJECT 'MEGATRON'
Fast-rising Detroit rapper BabyTron has announced a new project Megatron available March 4th via The Hip Hop Lab / EMPIRE. Just four months removed from his breakout project Bin Reaper 2 that saw acclaim from the likes of The New York Times, Rolling Stone, Pitchfork, Stereogum, XXL, and many more Megatron takes another leap in lyrical prowess and hilarity along with an even more experimental ear for interesting and challenging beats. The project features DaBoii, GlockBoyz Teejaee and GTB Daidoe with production from Helluva, Mark Anthony, Danny G and Machu.
For Skope: BLVD. blends past and present with rework of Gloria Estefan/Vicki Sue Robinson's disco classic "Turn The Beat Around" (out now)
Catcher Share Debut LP via Joyzine Track-by-Track + So Young Magazine and NME Interviews
Today, NYC post-punk outfit Catcher share their highly anticipated debut album, The Fat Of A Broken Heart, celebrated with a brand new interview in So Young Magazine's newest issue (featuring Wet Leg and Jackstrap) and a track-by-track breakdown via Joyzine.
Catcher: New York punks exploring the joy and despair of youth
Alternative Duo Foreign Air Release New EP; Announce Supper Club Tour 
With Jesse Clasen in LA, then North Carolina, and Jacob Michael in DC, like the rest of the workforce, they collaborated through video-conferencing. "We were discussing our childhood, growing up in the '90s," says frontman Jesse. "We ended up putting on Donnie Darko, and that became our inspiration." In one scene, Donnie is wandering around town at night in a dream-like state, trying to figure out what he's doing in school and in life. "We tried to evoke the emotion of that movie in the songwriting process." Says Jacob, "The new music feels like we shed a layer of skin. We have been treating each song as its own universe, creating our own world."
Nigerian Afro-pop superstar SKALES releases captivating visuals to 'Nobody 2 Somebody' and drops his highly anticipated album
Since making his big break in 2014 with "Shake Body", the multi-award winning Skales has gone on to collaborate with international stars such as Major Lazer, Wizkid, Burna Boy, Davido as well as East African artiste, Harmonize. His music has captured fans around the globe, including in the UK where he has performed at the 12,000 capacity Wembley Arena – as well as reaching an ever-expanding audience through his feature on the trend setting soundtrack for Netflix's hit show Sex Education.
BLACK ALTAR / VULTURE LORD split premiere
ODIUM RECORDS proudly announces a premiere of the split of the Norwegian black/thrash masters VULTURE LORD with Polish BLACK ALTAR – "Deathiah Manifesto".
VENUS BEMUS (FFO: Kississippi, Lana Del Rey, Beachhouse) releases debut single, "storms"       
Introducing venus bemus, a young bedroom pop singer-songwriter with the power to truly captivated and beguile not only with her riveting honesty, but also with the tragic backstory that ultimately lead to her becoming Venus.
venus bemus, known also as Danielle Bemus, until recently, was in a state of extended mourning following the suicide of her first professional music collaborator, Jack Dean of Greenhouse 27. Though music had always been her passion, she simply could not muster the will to create for five entire years following his passing.
DEATH ON FIRE Release New Single "The Dying Light"
Indiana thrashers DEATH ON FIRE have released their new song "The Dying Light" via No Clean Singing. The song is from their 7″ release of the same name.
LA PUNK ROCKERS DEATH LENS RELEASE CAUSTIC NEW SINGLE "ABRUPT"
"Abrupt" showcases Death Lens doing what they do best – performing punchy SoCal style punk rock with a style heavily influenced by skate culture, hardcore and social awareness. More aggressive in their songwriting approach than pop-punk leaning peers, the group blends caustic riffs and catchy melodies together with explosive results. The band is proud of their working class, multi-cultural roots and showcase this with lyrics that speak to the hardships of life with an undercurrent of positivity and resilience. The official music video adds a compelling visual narrative to the track and showcases the bands singular personal style. You can stream "Abrupt" and watch the official video here.
EIGHT.FOLD.PATH Release Video For "Fear"
EIGHT.FOLD.PATH have released a video for their song "Fear" which is out today. Engaging with personal struggles of anxiety, the release champions the determination to not let fear win.
"I wrote "Fear" during a period of examining my own chronic anxiety. It can feel overwhelming, as if I'm being attacked, but I've realized my fear is created inside my own mind, and I can choose how I deal with it: keeping it inside to fester, or letting it go. I can feel the anxious emotions and still make the choice: I Will Not Fear."
Seth Swirsky Shares "Sunny Day" Single via Glide
Today, indie-pop singer-songwriter Seth Swirsky shares "Sunny Day," the first single off his forthcoming album, Songs From The Green Couch, due April 8 via Lolipop Records.
SONG PREMIERE: Seth Swirsky Drops Striking Power Pop Anthem "Sunny Day"
NEW MUSIC: MARIEL MARIEL ft. LIDO PIMIENTA Releases New Single "De Los Límites"
Mariel Mariel kicked off 2022 with new music, including a single, "De Los Límites" in collaboration with the great Colombian artist, Lido Pimienta. The song is part of Mariel Mariel's upcoming album "La Batalla" and will also feature in her upcoming show at Lollapalooza, Chile on Sunday, March 20th.