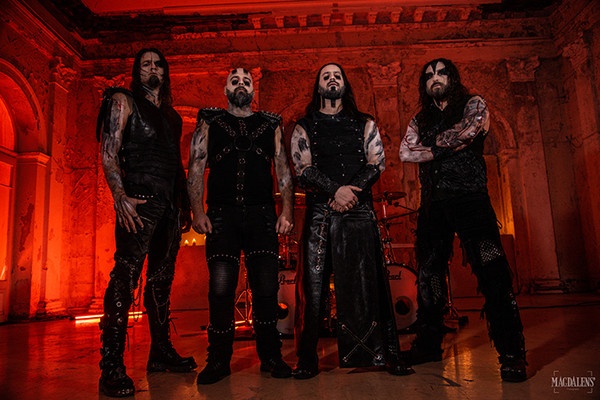 @skopemag news – wednesday – february 16, 2022 @ 12 pm est
@skopemag HQ – http://smarturl.it/skope
NASCAR Series racer Akinori Ogata collaborates with SUPER EUROBEAT for new single 'RED ZONE', out now!
Akinori Ogata, a racer in the hugely popular NASCAR Series motorsport racing series in the United States, has joined forces with avex's Eurobeat brand HI-BPM STUDIO (SUPER EUROBEAT) for an exciting new collaboration. The result is 'RED ZONE', a brand-new signature song produced by SUPER EUROBEAT especially for Ogata, released today, February 16.
Metalcore Powerhouse SPACE OF VARIATIONS Reveals Vivid New Single + Music Video
Unstoppable Ukrainian metalcore unit SPACE OF VARIATIONS drifts off into distant universes with their second single "vein.mp3", taken from their upcoming full-length, IMAGO(out March 18 via Napalm Records). Like a bestial alien, "vein.mp3" goes wild with shattering drums, thudding bass, heavily distorted guitars and evil screams. Following first single "SOMEONE ELSE", "vein.mp3" provides another varied taste of what's to come on IMAGO, and the band's live attack, as witnessed during their previous performances with modern metal giants JINJER across Europe. Beware of this musical demon named SPACE OF VARIATIONS!
Yiigaa continues her triumphant journey into 2022, showcasing her range as a songwriter, producer and performer with her breakout single Edge. A declaration of self-love and acceptance, the message is one that will resonate with her ever-growing audience.
Who is Michl?; Listen/watch 'Digital Parallax'
"Digital Parallax" is introspective and soul-baring, walking the line between pop, electronic, and R&B. It finds Michl searching for love, acceptance, and comfort, asking, "digital parallax, what do I do?… digital parallax, how do I change?" Alongside a meticulously designed visual, Michl's latest offering fully surrenders to being totally wrapped up in love. His past work resisted that urge, playing with that tension, but "Digital Parallax" doesn't keep anything sheathed – his heart's on his sleeve, pixelated on layers of green screens and super-8-looking footage. Organic instrumentation and dreamlike electronic-laced production intertwine, laying the groundwork for Michl's vulnerable lyrics to soundtrack a guided journey of discovery. It is an exploration of everything from the beauty of the mundane to the grandness of the human experience.
Oceanator announces sophomore LP 'Nothing's Ever Fine' , arriving April 8th on Polyvinyl Record Co.!
Director Chris Farren says about the video: When Elise asked me to direct a music video for her, I thought "I don't know how to do that!", but I said "Yes! I know how to do that!" and quietly panicked for the next 3 weeks. Luckily "how make music video" yields tons of YouTube results. The video we came up with is a fantastical little day-in-the-life tale about anxiety, productivity, dread, and being horrifically ripped in half by cartoon animals.
LA dream-punk duo ALL THINGS BLUE return with psych-imbued Tiki-cocktail inspired single "Grog Log"
LA dream-punk duo All Things Blue return today with new single "Grog Log". The new single teases the release of a new EP from the band, and follows the pair's widely acclaimed debut album Get Bit, released in 2020.
Led by singer and guitarist India Coombs and accompanied by longtime songwriting partner Jon Joseph, All Things Blue together create "dream-punk" soundscapes in their most tender form; celebrating life's experiences and wrapping them in the soft tones of 60s analog.
Widowspeak share video for new single "The Jacket" | New album out 11th March via Captured Tracks
Today, Widowspeak share "The Jacket", the title track off their forthcoming sixth studio album, to be released March 11 via Captured Tracks. In signature Widowspeak style, "The Jacket" builds on repetition and live room energy as the same chords start to change shape and hypnotize over time. Molly Hamilton croons "no no no, you could never let it go", speaking to both a physical jacket and its embodiment of an old self. The song's video, directed by OTIUM, features Robert Earl Thomas as a satin-clad protagonist making his way through a southwest cityscape in a series of vignettes both surreal and mundane. He carries a jacket with him while killing time, pressing his luck with a roll of the dice and curiously engaging with the world he encounters before running to escape it. Amidst the desert sunset, "The Jacket" is forgotten and the dice buried: a swarm of ants where they once were. Watch it here.
Marco Benevento "Winter Rose" | New Single Out Today
A dance-floor-ready slice of psychedelic soul, Marco Benevento's latest single "Winter Rose" offers a silver lining in these troubled times with the zen-like refrain, "If every thorn came with a winter rose, then everything was worth it, yes, I suppose."
NEW VIDEO RELEASE !!!! Gentihaa's brand new video ''Beyond''
Stretching their music and performing skills, Gentihaa are preparing their new album, with the promise of an absolutely massive and overwhelming outcome, which, according to the band's lead guitarist, Valgran (George Giannopoulos), is leaving Entropy far behind. The album concept, which is once more in Andre Boutos' hands, as well as the number of songs, is a guarded secret. The album is currently being recorded to Bob Katsionis' brand-new studio, Sound Symmetry Studio.
NYC's LIZZIE & THE MAKERS Premiere Turbulent, Hard-Hitting Rockin' Blues Single "Bottle"via American Songwriter
Edwards says the idea for "Bottle" came about one night when, simply put, she was "drunk and sad" and it popped in her head – "I recorded it on my phone and sent it to Greg [McMullen, guitarist] and he wrote an arrangement to accompany the melody. The chorus is about being a woman in the rock/blues genre, in music, and the world in general. The second line 'Tell Me How, Darlin How, Do You Make It As A Woman Or A Girl' is a tiny nod to James Brown's 'It's A Man's Man's World.'"
Lizzie and The Makers Ride the Storm of "Bottle" and Songs on 'Dear Onda Wahl'
Tomberlin announces new album "i don't know who needs to hear this…" | Out April 29th on Saddle Creek | Announces UK & Irish dates
Rockshots Records – ANNIKEN Unveils Debut Single / Title Track Off Upcoming Album "Climb Out of Hell" Due Out May 2022
Anniken has been a part of the Norwegian heavy metal scene for years with her band Darkest Sins, the studio project Ana – Metal for Charity, as well as being a part of her husband Marius Danielsen's trilogy Legend of Valley Doom, both in the studio and with the live band. While in Darkest Sins she opened for bands such as Anthrax, Jorn, TNT, and UDO along with Legend of Valley Doom she has worked with legendary musicians such as Ralf Scheepers, Amanda Somerville, Roland Grapow, Matt Barlow, Doogie White, Jennifer Batten, and also actor John Rhys-Davies from the Lord of the Rings and Indiana Jones movies.
Guerilla Toss Shares Official Video For "Famously Alive," The Title Track From Their Forthcoming Album
On the heels of their latest single, "Cannibal Capital," the band has shared a new video/single for their self-titled track "Famously Alive," directed by Johnny Kosomo. The song is about "living with purpose and excitement whether you're famous or not, accepting your strangeness and thriving even if your successes look different than other people's," notes the band's singer and lyricist Kassie Carlson. Multi-instrumentalist and band member Peter Negroponte offers this, "To me, 'Famously Alive' means flipping the notion of dying famously to living famously. I also like to think of it as a way to describe living through something traumatic and coming out of it a stronger, wiser person."
TURNSTILE SHARE "UNDERWATER BOI" MUSIC VIDEO
Richie Quake new single "That's Not Love!" out today
Quake effortlessly blends pop/indie/psychedelic rock together to create a new age heartache anthem for those who've experienced the pain of a one-sided romance. Through psychedelic guitar strums, soft drum beats, a pulsing beat and his floating vocals, Quake pulls every single heartstring as he sings, "you only ever call me when you're drunk, but that's not love."