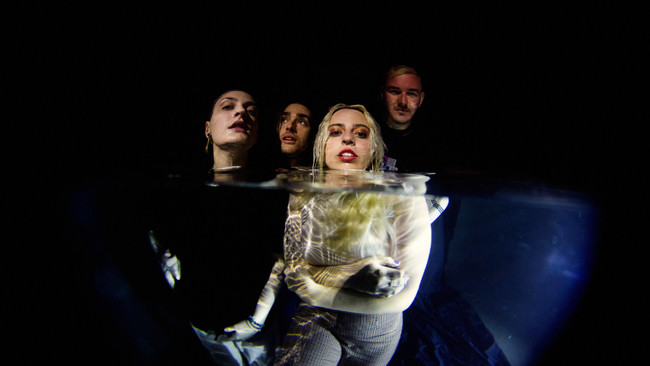 @skopemag news – wednesday – february 16, 2022 @ 10 am est
@skopemag HQ – http://smarturl.it/skope
SEARCH & SEIZURE ANNOUNCE NEW ALBUM + SHARE LEAD SINGLE
Kansas City alternative rock band Search & Seizure announced that their upcoming album, Nothing Natural, will be released on May 20, 2022. To mark the occasion, the band shared the first single from the album, "Save Us From Ourselves." "Save Us From Ourselves", serves as a thematic and musical centerpiece for Nothing Natural, with confessional songwriting and a dynamic and dramatic song structure that builds in intensity and serves as a great introduction to the album and the band's style as a whole.
LUSTMORD & Various Artists: BrooklynVegan Premieres Ihsahn's Interpretation Of "Dark Awakening"
Pelagic Records will commemorate the work of electronic music pioneer LUSTMORD by releasing a special box set titled The Other. Set for release this April, the set is based around LUSTMORD's tenth studio album [ O T H E R ], originally released in 2008. Next to this seminal mid-career opus, the box set contains the two remix albums Beyond and The Dark Places Of The Earth, as well as The Others [Lustmord Deconstructed], a new 3xLP album of LUSTMORD tracks reinterpreted by some of the spearheads of the contemporary heavy music scene – and beyond: Ulver, Enslaved, Godflesh, Zola Jesus, Bohren & Der Club Of Gore, Steve Von Till, Ihsahn, Jaye Jayle, Jo Quail, Spotlights, Katatonia's Jonas Renkse, Alexander Hacke's [Einstürzende Neubauten] new band hackedepiciotto, as well as fellow Pelagic artists Mono, The Ocean, Årabrot, and Crown.
"Fiercely Puts On A Compelling Show." – Wonderland Magazine Premieres Dee Famous' New Track 'To The Rain' As He Speaks From The Heart In Captivating New Single
Maeve Steele Releases New Single "Tycho"
"To me, this song is really a deep breath. I wrote it in the context of a lullaby, and there's something about zooming out and looking to the sky that feels really calming," shares Steele. "It's reassuring to remember how small we are right before bed. I've always had trouble falling asleep, so this song is what I try to thing about when I'm struggling late at night."
Maeve Steele, New Single "Tycho" Out 2/15
The track was inspired by the prevalence of the 108-million-year-old crater, one of the clearest craters you can see from Earth. Drawn to the crater after discovering it on Pinterest, Maeve began messing around and personifying Tycho which initially led to jealousy, thinking how nice it must be to have an existence where time doesn't matter. As she thought about it more it became a cliche dilemma. Many of us wish we had the luxury of time without considering how lonely it might be and the life that would be taken out of every day.
SOSSHOUSE's J Billz Shares Pi'erre Bourne-Produced "Everywhere We Go"
With an off-balance, drawly flow that dovetails with the bass-boosted beats of his mentor Pi'erre Bourne, Spartanburg, SC's J Billz is the next rapper to watch from Bourne's SossHouse label. Trapping out in his hometown, J Billz shares his new video "Everywhere We Go."
JUMPSCARE: New Single "Earth Decay" Out Now!
Italian deathsers Jumpscare, in collaboration with the Duchy of Il Bardo, have released the video visualizer of Earth Decay, a track extracted from the album 'Don't Close Your Eyes', directed by Luigi Cervellini (LB Studio) and produced by the band itself. The video visualizer aims to raise awareness of the harms of pollution and climate change.
DARKNESS EVERYWHERE: Oakland Melodic Death Metal Trio Premieres Title Track To The Seventh Circle Featuring Upon Stone Frontman
As Oakland, California-based melodic death metal trio DARKNESS EVERYWHERE prepares for their debut EP, The Seventh Circle, to see release through Creator-Destructor Records next week, the searing title track has been dispatched, featuring guest vocals from Xavier of Upon Stone.
THE GRASSHOPPER LIES HEAVY: Everything Is Noise Debuts "King Of Opinion" Video
Issues THE GRASSHOPPER LIES HEAVY guitarist/songwriter James Woodard of the video, "'King Of Opinion' is lyrically a kind of a tongue in cheek song. I wrote it during the most isolated part of lockdown, so it's really about not going outside for weeks and becoming vegetative on video games and social media. It's a self-deprecating song about arguing about politics, heavy metal, and video games. The music video was filmed using analog electronics; we used half-broken thrift store VHS cameras and wanted to give it a real Public Access vibe with silly wipe transitions and the like. It was a ton of fun to shoot."
The Grasshopper Lies Heavy Break Down Doors With Their New Video for "King of Opinion"
Eliza & The Delusionals share 'Give You Everything'
Breaking down the door of a brand new year, Eliza & The Delusionals return in 2022 excitedly anticipating their busiest chapter yet. Today, the band shares their new single 'GIVE YOU EVERYTHING', the final teaser of their highly anticipated debut album, Now And Then, out this May.
"Drunk On Love" Is Fun and Intoxicatingly Wonderful WATCH! RōZY Out of Texas
Lucy Korts Pours Her Heart Out In 'Gone' Music Video
Lancaster, PA Singer Songwriter Jessica Smucker's Wistfully Melanchic New Single "Stones To Throw"
Sea Girls unveil video for brand new single 'Lonely' & announce UK tour including date at London's Alexandra Palace on 25th November…
As anticipation builds ahead of their new record, Sea Girls step things up another gear as they unveil their brilliant new single 'Lonely' – taken from the new release Homesick – out 25th March 2022 on Polydor.