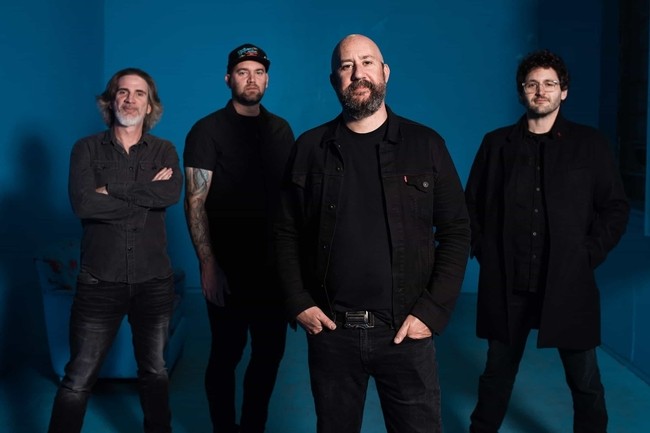 1 First off, tell us a bit about yourself. Who is and what is the band we know as Dave Hedeman and The Gone Ghosts?
Dave Hedeman and the Gone Ghosts are an Alt-Country / American Rock band from Carrboro, NC. The band consists of Scott Jones on Drums, Dillon Partin on Bass, Justin Bowlin on lead guitar and vocals & Dave Hedeman on lead vocals and guitar.
2 What's the story / meaning behind your band name 'The Gone Ghosts'?
Our Guitar player Justin, came up with name "The Gone Ghosts" which came from a lyric from one of his favorite songs, "Once" by Richard Buckner. The name really encapsulates some of the main underlying meanings of our songs, which center around themes of love, loss and heartache. "Gone Ghosts" serves as really great metaphor, for those moments and experience's you've lived through that still haunt you like ghosts.
3 You cited a run-in with Jason Isbell that was pivotal to your return to music. What can you tell us about that interaction?
It was really just a nice moment between a fan and an Artist. I'd been going to see Jason Isbell play in the early days, just soon after he left the Drive-by Truckers. He was playing smaller clubs, in more intimate settings, and I would try and catch him whenever I could. This particular interaction took place as I was moving from Florida to North Carolina. On the way I stopped in Charleston, SC to visit a friend and we went to go see Isbell playing an acoustic show at the Charleston Pour House. There were only a handful of people in attendance, so after his set he was just hanging around. We just got to shooting the shit, and in an effort to try to connect, I shared with him that I used to be a musician in a former life. He was really kind and said to me "You still are, you just need to get back at it." I'm sure for him it was just a benign interaction with one of his fans, but it was exactly what I need to hear. Once I landed in NC, I started hitting the open Mic, then started playing and recording with a couple new projects and here we are. So thanks Jason Isbell, for the little nudge and the butterfly effect you created.
4 How'd the band come together after that? And what is the dynamic and chemistry like between the bandmates as far as songwriting, production, and managing the affairs of a budding musical act?
Soon after, I started a band called The Vagabond Union with a dear friend of mine John Kenney. That band has been playing together off and on for about 11 years now. We made a couple records together and we still do shows from time to time. But the challenge for that band was, we were spread out between VA, NC and SC. So it made it hard to keep momentum going. Dillon Partin ( Bass player ) also played with us in The Vagabond Union and he and I both lived in NC. We wanted to play more often, so we decided to start a local band based out of Carrboro. We had played with Scott and Justin before, in other pick up bands for one off shows. But in 2018 we decided to formalize those side projects into what is now The Gone Ghosts. We do everything independently, recording, booking, promotion, etc. I primarily write the songs, and then we work together on arrangements to turn them into what they are as a unit. There's a really great chemistry and everyone is really open minded and collaborative, so it works really well. I'm just humbled that guys of this caliber see value in the songs I write, and are willing to lend their talent to this project.
5 The music industry has been described as one of the toughest industries in the world, but it's also one of the most fulfilling when you're able to share your music and your message with an audience. What are some of the things that drive you and keep you motivated in the pursuit of music?
That is an understatement for sure. I think I just stopped caring about the music industry a long time ago. Sure, there are things bands have to do, to build audiences and generate interest, but there is such a huge chasm between the music industry and the independent artists. I think for me, my passion and drive just comes out of my love for playing. I've been making records since I was 19 years old. It's just something I've always done and will continue to do. But I stopped caring what other people think a long time ago. Some people are going to really like what we're doing and some might not, and that's ok. I do it because I love playing and recording music. I love making music with my friends and I think if people see and feel and believe the passion we have, everything else will just work itself out.
6 Let's hear about the new single "Cannonball"—what's some of the inspiration & backstory with it?
"Cannonball" is the first track from our upcoming record "NO VOICE TO THE WICKED", that we will be releasing in the Spring of 2022. At its core, "Cannonball" is a love song about loss. September has always been a month that has taken its toll on my heart, which is why the line "September on my mind" is a recurring theme throughout. The song taps in to the loss of a childhood friend at age 14, the Death of my father at age 18, and the end of a torrid relationship with a past lover. At its core, "Cannonball" is about saying goodbye to all those times the universe has tried to destroy me, but has only succeeded in making me stronger.
7 Your full length LP NO VOICE TO THE WICKED is slated for release this June. What can fans expect from that album?
We're really excited about this record. We've been working on it since the middle of 2019. COVID has created a ton of challenges, but also allowed us to take our time and get it right. I'm really proud of this record.
I think a listener should expect a really solid American Rock / Alt-Country record. It was recorded and Engineered at Nightsound Studios in Carrboro and Mixed by Tony Alany from Brown Dog Studios in VA.
The songs, are all great. Some lean more country and others lean more rock. But each has a lot of deep personal meaning… but I think they all have a way of connecting with people on a deeper level, because the topics I write about are centered around things that everyone can relate to. That's what I love about music. My songs mean something specific to me. Each one tells a different story. Some center around the loss of my father, the loss of friends, the end of relationships and other themes of change and reconciliation… but to the listener, they can take on a new meaning that speaks to them.
The musicianship is fantastic. ( I'm biased of course.) I think really the difference in our music is Justin's guitar playing. His approach is more sonically ambient and moody, almost like if The Edge played in an Alt-Country band. But I think it really differentiates our sound in a lot of ways and gives us more room to explore.
Finally, the songs definitely have great hooks. Plain and simple. Great melodies and strong choruses. Usually after I play our songs for someone, a few minutes later I'll hear them humming the melodies without even knowing, that's when I know I got 'em.
8 Are there any upcoming shows we should know about?
We're starting to navigate doing shows and are starting to book some shows around NC. We are playing locally in February, then plan to head to Wilmington in April to do a show with our good friend Rebekah Todd, the to Charlotte May with our friends The Menders and finally looking to do a show in Chapel Hill, for our record release in Early June. I'm sure other dates will start filling in. It's a balancing act, We only do shows when we want to and that work around our day to day lives but also try to stay busy.
9 Any last words / anything you'd like to share with the readers?
We're just really excited to share this single and our new record with everyone, and are just so grateful, to still be able to record and play original music after all these years. We are humbled with all the support we get from our fans and we hope everyone that listens will enjoy it on some level.