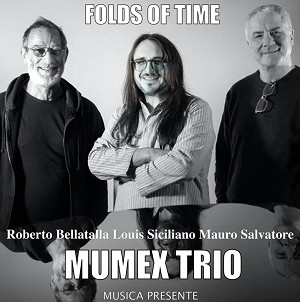 Jazz is the most violent genre of music there is, and you needn't take much more than a cursory look at some of its finest works to appreciate what I mean. Although there are moments of true solitude to be found between the bursts of energy comprising the new experimental jazz record Folds of Time from Mumex Trio, the most defining moments of the four-song tracklist are unquestionably steeped in intensity. From the rhythmic ascent we discover in "Traveling with Wayne" to the more elegant progression of the title track in Folds of Time, this is an album that begs for us to step away from convention if only to discover the most charming side of modern pop songcraft. 
A work like "La Roue De La Fortune," as simplistic as it often feels in comparison to the other content included here, would never be possible without the immense chemistry these three players share, led by the one and only Louis Siciliano in the role of frontman and composer. Mauro Salvatore and Roberto Bellatalla round out Mumex Trio and offer multidimensionality that wouldn't have been present with a different pair backing Siciliano's compositional stylings, and to me, they're really just scratching the surface of their potential here. 
The decadence of the title track and "The Legend of Mansa" in particular finds some balance in the aforementioned "Traveling with Wayne" and abbreviated "La Roue De La Fortune," and I think that the cut and dry nature of the collective material was important for us to stay focused on what really matters to these players – substance. There's no place for the filler that a lot of other musicians would have stuck into this tracklist because the emotional depth of the statements these artists are making takes up the whole mantle on its own.
Versatility is essential to any ambitious work, and what these three are bringing to the table is nothing short of incredible. Although there's an important role for minimalism to play in the jazz genre, it's difficult to imagine the liberal aesthetics of "The Legend of Mansa" playing out with as much zeal were they framed with a more straightforward instrumental scheme. Mumex Trio isn't flash-first, but they're definitely willing to go above and beyond in the studio if it means constructing something as enticing to the ears as it is provocative from a compositional perspective alone. 
Folds of Time is a true testament to the talented Louis Siciliano, Roberto Bellatalla, and Mauro Salvatore, each of whom breaks off some of their most thoughtful work to date inside of this record's mere 37-minute running time. Although indulgence crosses paths with a mathy conceptualism in a couple of different key moments within this album, there's never an instance where Mumex Trio sounds out of their league, but instead very much in charge of their own narrative here. That's often a struggle when sitting down to produce something of this grand variety, but you would never be able to guess as much just in listening to Folds of Time. 
Gwen Waggoner