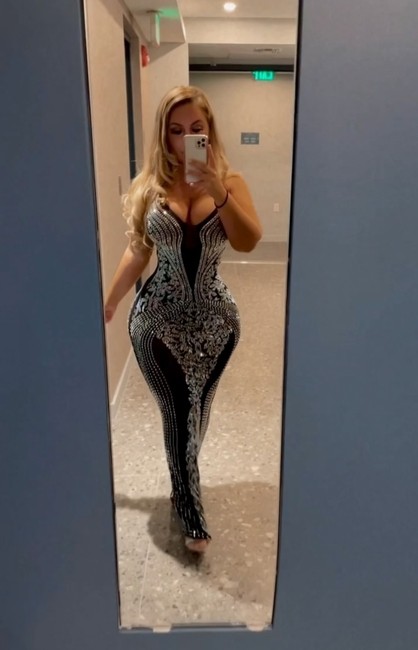 Diddy is a famous American rapper. She hosted a new year's eve party and her party was hosted in Miami. At Diddy's New Year's Eve party, so many popular celebrities were present. Some top-notch celebrities like KanyeWest, Quavo, the city girl rapper, French Montano, and Yung Miami were also spotted. Elvisa was also the highlight of the party. Elvisa Dedic attended Diddy's party and got a chance to meet Kanye West, Joie Chavis and so many popularly known artists. Having so much social media influence led her to attend a party full of celebrities. The Bosnian model was spotted wearing a beautiful black dress from Touch dolls. Moreover, Yung Miami, a celebrity who was also present at the party, posted her New Year's Eve party pictures on Instagram, which makes it look like everyone had a blast at Diddy's new year party.
Elvisa Dedic is the model who started from nowhere and now,  she is one of the most followed social media influencers. Elvisa Dedic  is a popular Instagram star. She creates amazing content which includes her gorgeous and flaunting pictures which are enough to make her fans go crazy. Elvisa has around 958k followers on Instagram.
Elvisa has teamed up with numerous apparel and beauty brands. Her first endorsement was received from a brand "Pretty little things" to be their brand 
ambassador. So many famous brands like Diva boutique and Seventh issue also approached her to work with her. Furthermore "Fashion Nova" also approached Elvisa as the social media face of their product and she became the brand ambassador for Fashion Nova.
Even after working with so many brands, she didn't stop right there. She once stated in an interview "her dream was to not wear a brand, it was to become one. I want to inspire, motivate and positively impact women all around the world, especially in the younger generation. I want to show the younger generation that you don't need to disrespect yourself to obtain success and to never take shortcuts by trading your dignity, morals and respect for success" that is some quite motivational speech right there.
Elvisa swore by her words and showed everyone if you stay true to your words you can do everything in your life. Elvisa started her own venture under "Elvisa Cosmetic" From being an influencer to start her beauty empire, Elvisa became motivated by younger women who wanted to start their venture.