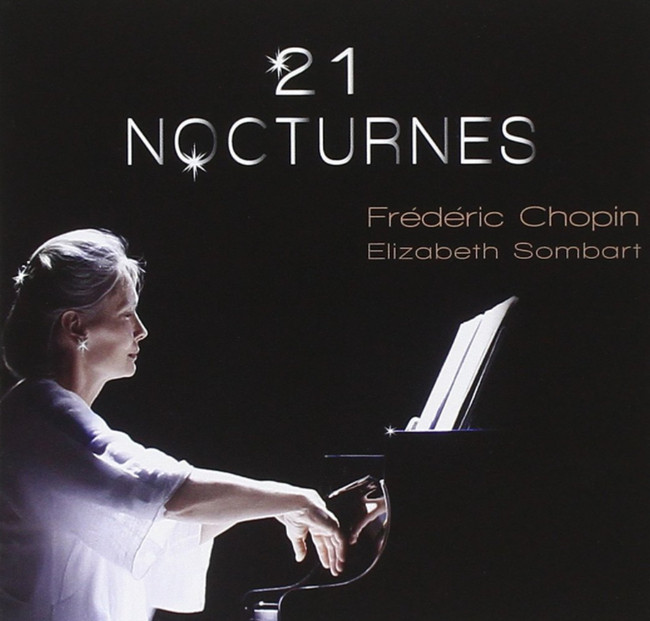 Pianist Elizabeth Sombart evokes the majesty and elegance of the celebrated composer Frederic Chopin in her new collection Singing The Nocturnes. This instrumental (classical) masterpieces speaks to the listener in a way that proves just why Chopin's exceptional place in music's history cannot be overstated. In the process of her own interpretations, Sombart honor's Chopin's legacy and reveals her own audacious talents. Singing The Nocturnes is an escape like no other – these pieces are absolutely timeless. 
WEBSITE: https://www.elizabethsombart.com/en/home-english/
The CD is dedicated to Chopin's 21 Nocturnes. Sombart paints an emotional journey that has the ebb and flow of morning light…tiptoeing into the bedroom window. Sombart's playing style seamlessly melts into Chopin's tones. She's a wonderful fit for the dainty and feather-like structure. The cascading moments are pure with the listener falling into the sonic blend's very wide arm span. You feel engulfed and while you are at complete peace, there is still a rumbling emotional rope pulling you forward.  
In "Nocturnes, Op 9 No. 2 in E-Flat Major" the listeners feel weightless, almost as if you were floating in space. The beautiful stars surround you, and every note feels like it tells the story of a million montages all happening at once. It's also a familiar song. This selection has been featured in hundreds of movies and TV programs over the decades. That short list includes It's Always Sunny In Philadelphia (a juxtaposition to the scheming gang and their often cruel ways), The French Dispatch, The Truman Show, Curb Your Enthusiasm and American Horror Story. Sombart conveys a quiet demeanor laced with robust rejuvenated tendrils. The notes drip into flowery puddles. The rhythm of the song moves around like a Degas ballerina. 
Sombart continues the dance in "Nocturnes, Op. 15 No. 2_5 in F-Sharp Major" and "Nocturnes, Op. 27 No. 1_No. 7 in C-Sharp Minor". Each arrangement is soothing and provides the listener with a content state-of-mind. I was beguiled by the sheer magnitude these works shell out. The thing is, Chopin is so beautiful because each note's levity. Each note is like calligraphy. Sombart is the medium to this wildly enjoyable listening adventure. With each passing selection, the chapters continue expanding upon a previous idea or emotion. 
https://open.spotify.com/artist/4JvsObHNqjAQTQWtJb0nkb?autoplay=true
So many more selections in this collection are riveting. All of the tracks are standouts – and music fans of all ages and likes will be dazzled by Sombart's playing. She makes it all sound so effortless. Sombart, who began playing at age seven and studied at the prestigious Strasbourg Conservatory (located in France), gave her first public performance at age 11. She would go onto win first prize at the National Piano and Chamber Music Awards, and soon leave France to study in Buenos Aires (with Bruno Leonardo Gelber), then Peter Feuchtwanger in London and then Hilde Langer-Rühl in Vienna. What a joy it is to listen to Sombart. She brings the romanticism of Chopin's work to the modern era with confidence and warmth. Never has a collection felt so at home and cozy. 
Gwen Waggoner