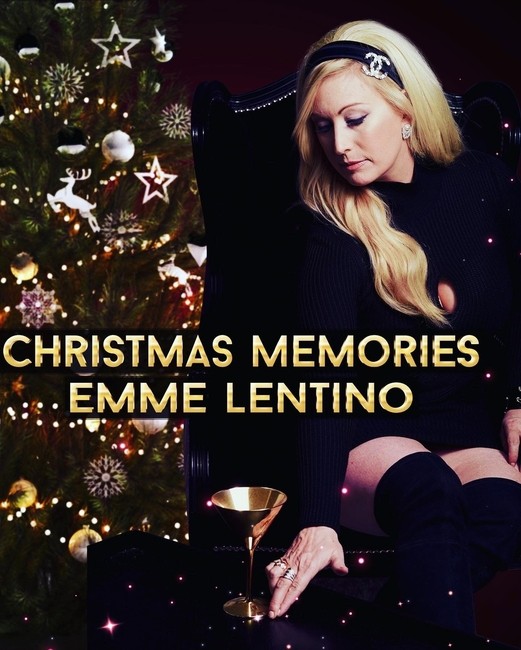 The multi-talented singer/songwriter & music artist from New Zealand is back to spread some Christmas cheer with her brand new EP titled 'Christmas Memories'. With Christmas fastly approaching, Emme has four, finely-tuned gifts that are ready to be unwrapped and enjoyed. Emme Lentino decides to put her a spin on four Christmas classics and the results are nothing short of spectacular!
Emme opens the show up with a rousing rendition of "Jingle Bells". I personally loved Emme's take on "Jingle Bells" because she really made it her own. With elements of country western, pop and jazz undertones, Emme Lentino delivers a fun-filled beat that anyone can enjoy. You will have a holly, jolly time listening to "Jingle Bells" and maybe can even help get you in the Christmas spirit. Next, we hear "I Saw Mommy Kissing Santa Claus" that offers a cool, swingin' tempo. The audience will pick up on the fact that Emme had fun making this song as "I Saw Mommy Kissing Santa Claus" is a real crowd-pleaser. On track three, "Silent Night", the listener will receive a wonderful & refreshing version of this timeless classic. "Silent Night" has always been such a touching number with heartfelt emotion and I have to say Emme Lentino does it major justice. Emme sings "Silent Night" beautifully sounding angelic and she also captures the magic that the original composition contained. You can tell that Emme Lentino is tapping into a special place here on "Silent Night" and that this Christmas number is near and dear to Emme's heart. Emme ends on a high note with "Go Tell It on the Mountain" where a powerful sound and presence is depicted. I am hearing outstanding vocals and playing on this track and with lines like: "Go Tell It on the Mountain that Jesus Christ is born!", you can't lose. What a dramatic and faithful finish for Emme with "Go Tell It on the Mountain" and what a perfect way to end with Christmas almost here!
As you enjoy the Christmas Season, don't forget to add Emme Lentino's 'Christmas Memories' to your holiday playlist. You can SKOPE out the EP right here:
We all have our own Christmas traditions this time of year but I have to say that Emme Lentino's 'Christmas Memories' will leave a lasting impression. God Bless Emme Lentino and her 'Christmas Memories' and Merry Christmas to ALL and to ALL a Good night!
By Jimmy Rae (https://skopemag.com/?s=Jimmy+Rae)