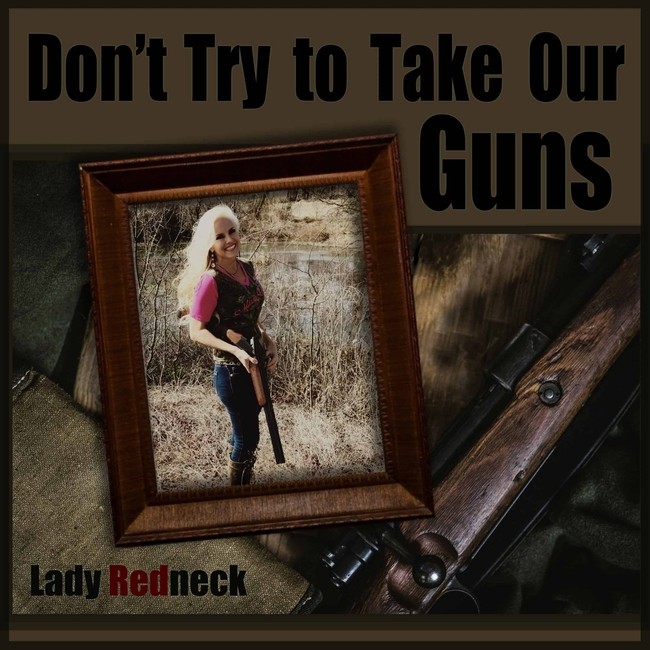 Lady Redneck sings to the soul of America with "Don't Try To Take Our Guns". Here the lyrics matter for she delivers every single line with gusto. There is a strength to be found within the delicate, fragile arrangement. Every reiteration of the song makes the piece grow ever more poignant. Kept to the absolute essentials the simple yet direct arrangement. Her voice has a great power. Never overwhelming, the vocals seem to rise above the rest of the sound. Quite lovely, her verses feel fully realized.
Right from the very beginning, she captures the zeitgeist in a way that has a visceral presence to it. The buildup of the sound comes in a careful, considerate way. Lots of subtle various gestures emerge out of this. Guitar work has a nimbleness to it, for it carefully plays alongside her. Full of such energy the way it unfurls has a natural, even pastoral quality to it. Growth of the track feels quite thoughtful for she has a great attention to the word choice. Her ability to hold back at first, only to let the rest of the band emerge later on, shows off her patient yet persistent quality to her output. For the finale she lets it all go into a vast realm that teems with life.
"Don't Try To Take Our Guns" revels in the exquisite beauty of Lady Redneck's voice for she creates a vast, vivid world that represents a far too often neglected slice of Americana.