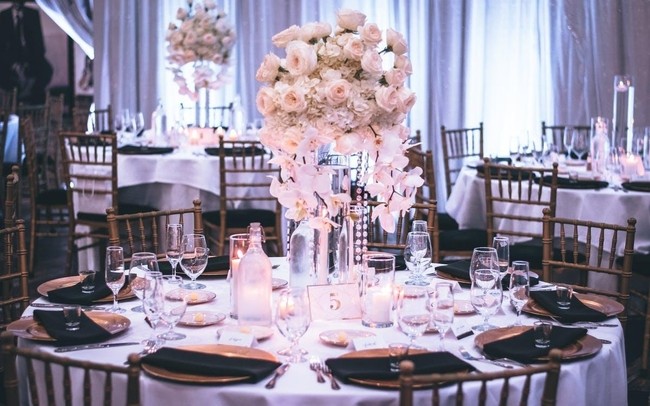 When it comes to planning a wedding, everyone's expectations for entertainment are sky-high. And why shouldn't they be?
This is a one-in-a-lifetime event that needs to be organized with great care, so not only your guests but you also remember every part of it. But beyond that, it may be the largest party you will ever throw! And when the word "party" comes to play, we think of FUN. Don't we?
But unfortunately, when the pressure of "getting married and planning everything" is extraordinary, it can be tough to keep tabs on everyone and everything.
However, from making sure everyone's having a blast to ending the night with a big bang, there are plenty of ways to provide entertainment to your guests in a different way.
But before we get to that, couples need to understand that the perfect way to make a wedding reception stand out is to make it your own. Look to your own story versus others and go nuts with the planning because this is your day.
So to help you roll the dice, we've rounded a few tips on how you can plan the most amusing and unforgettable wedding reception ever!

For heaven's sake, get a DJ that gets you!
This may seem like a no-brainer for most people, but we have to mention it because music is a big part of the reception fun and has a lot to do with how long your guests stay.
If the wedding DJ plays obscure songs that are difficult to dance to, your dance floor will be empty, which you don't want. That is why it is vital to get a DJ that gets you. So make it a point to discuss your do-not-play list with your DJ ahead of time. Also, make sure to contact top av companies in singapore for your event and then finalize one that fits your requirements and budget.
The venue you choose has a significant impact on the overall vibe of your day. You want a platform that won't turn off the music or lights off at midnight.
"House party" venues are becoming increasingly popular, and for a good reason. A venue with a super-friendly staff that's willing to do whatever it takes to make your day special. And above all, a venue that has enough space for the party you are planning. If you need fireworks in your event, the venue must have space and arrangements for the same.
So it's a good idea to ask your venue about their rules and consider the layout before booking.
Cocktail hour is necessary!
After the bride and groom are done with the photos, some brides like having a cocktail hour before their wedding reception. 
You can choose to separate the cocktail hour from the reception or have an extra-long reception and pop it up for the hour before.
Cocktail hour is an excellent way to break up an extended reception. You can have your guests hang out in a different area if their tables for the night aren't available. This adds variety to your big day and gives the impression that there is more to do.
Arrange the seating properly
It may seem obvious, but don't underestimate the value of a well-planned seating arrangement.
Place attendees with people they'll know and like. It may appear to be a good idea to play peacemaker or force your guests to sit with strangers to make new friends, but at the end of the day, they're there for you and to catch up with their far-flung mates.
In other words, a well-planned seating chart leads to great discussion, which leads to a great dance party, which then leads to a truly memorable evening. 
So place your teenage cousins with kids their age, and remember to have your schoolmates sit together. 
The quickest food option for weddings is a double-sided buffet with two service lines. Buffets are always more efficient than plated meals. Consider having a smaller wedding cake to make cutting easier. Also, consider setting up a dessert grab-and-go station for guests to use throughout the evening.
Shake things up on your first dance!
All eyes will be on you during your first dance—this is the ideal time to surprise your guests with something cool and fun. Begin with a romantic dance to "At Last" or another iconic first dance song, then change to an energizing Latin dance sequence or break it down to Bruno Mars.
Traditional weddings are immersed in formality, from formal attire and opulent surroundings to the first dance and the top table. 
Formalities have a way of making everyone feel like they have to be on their best behavior. Examine your entire day and find opportunities to loosen up.
Whether it's suggesting a dress code on your invitations, or serving Pina Coladas instead of Chardonnay, find ways to show your guests that this isn't 'just another wedding.'
Photo booths are popular for a reason. First and foremost, guests can have a good time taking random pictures with props and awesome backgrounds with their family and friends.
Second, they get to take that particular keepsake home with them to enjoy for the rest of their lives. Photos are always a good choice for a favor!
Make sure there's an area for the kids.
The kids will need a way to get their wiggles out now that the wedding ceremony is over. Children who have just sat through a wedding ceremony may require some activities to keep them entertained during your wedding reception.
Provide some kid-friendly games that children can play without much parental supervision or interplay. With this, they can have independent play during your enjoyable wedding reception. 
Set up a children's table with activity sheets, table games, and crayons.
Don't hesitate to be different!
Go for it if something is important to you or if you want to include some personalized wedding ideas in your plans! Guests will always respond positively to anything unusual, interesting, or that they can see has a connection to you.
However, it can be beneficial to prepare a few people ahead of time to show your other guests what to do or how to participate.
Conclusion
So there you have it; all the best ways to plan a wedding reception and leave your guests in awe. You must've already had a few of these in mind, and if you didn't, well, now you do.
While you plan the biggest day of your life, remember that everyone loves you and is rooting for you. Even if you don't incorporate any of the stuff mentioned on this list, you will be adored.  Lastly, your wedding is going to be fun and fabulous – we promise!