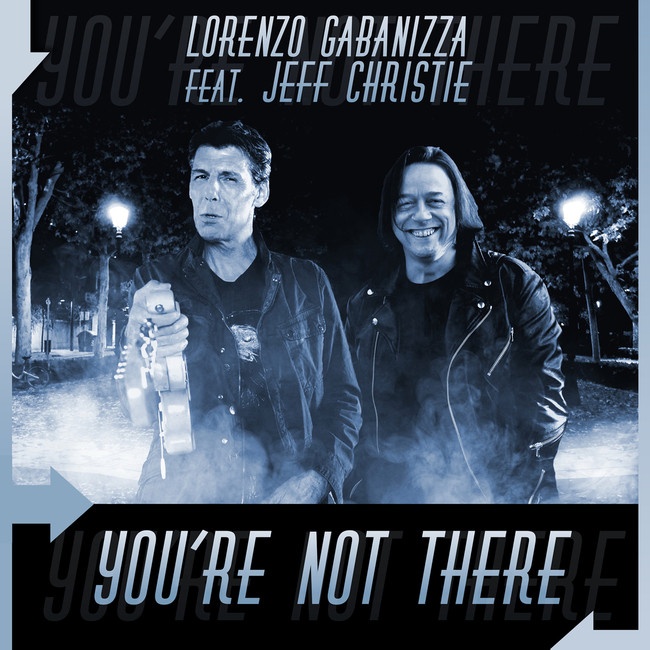 This new release, "You're Not There", offers professional music at its finest. Lorenzo Gabanizza and Jeff Christie really put their stamp on this new song with one phenomenal performance overall. "You're Not There" is music done right and listeners everywhere will be pleased to hear this terrific single.
Lorenzo Gabanizaa handles lead & backing vocals and acoustic guitar on the new recording while Jeff Christie supplies vocals as well. Lorenzo is also responsible for writing and composing "You're Not There". It's worth mentioning that "You're Not There" also included a wide array of talented musicians who are Grammy Award winners and music legends. Jeff Christie is the Yvor Novello and Carl Alan Award recipient who wrote the classic song"Yellow River" that sold millions of copies. Other members on the record include: Rusty Wright on Lead guitar, Darrell Nutt on Drums, Bruce Hoffmann on Pedal steel, Max Gabanizza on Bass, Hale White on piano, Snake Davis on Sax and Katey Brooks on Backing vocals. "You're Not There" was Mixed at Breakneck studios by Peter Hall, Mastered at Sterling Studios by Greg Calbi and Lorenzo Gabanizza is managed by Hall of Famer Michael Stover. Snake Davis has worked with Paul Mc Cartney and Sting, Rusty Wright is a Billboard Charts guitarist, Darrell Nutt played with members of Yes, Moody blues, Bruce Hoffman part of Grand Ole Opry, Hale White is a longtime Nashville session musician and Katey Brooks is a well-known folk artist in Manchester, England. Peter Hall worked on Liam Gallagher's album and Greg Calbi is a 62 time Award Winning Grammy Engineer who credits Bob Dylan, David Bowie, Bruce Springsteen, Aretha Franklin etc. It's safe to say there is no shortage of talent and expertise on "You're Not There" as Lorezno Gabanizza and Jeff Christie bring this gem of a song to life.
As soon as I hit Play, top-notch musicianship hits me and also a mellow vibe that instantly draws me in. You are getting strong vocals on this record and just a powerful performance as I would say Lorenzo, Jeff and the rest of the team are all in and all the way there! "You're Not There" is an excellent production and I thoroughly enjoyed the instrumentation and in particular the sax playing. This single is jam-packed with spirit and this feeling is infectious toward the listener.
I am highly impressed with this composition from Lorenzo Gabanizza, Jeff Christie and all the rest of the world class players. I can't wait to hear more from both Lorenzo and Jeff now after taking in this gold star number. In my book, "You're Not There" is a smash Hit and all musicians and music industry professionals involved with the making of this single should be very proud of their fine efforts. I'll end by urging Lorenzo Gabanizza and Jeff Christie to keep writing and keep performing and as Lionel Ritchie so famously said: "Let the music play on (play on, play on, play on…")!
https://www.instagram.com/lorenzo.gabanizza
https://www.facebook.com/Lorenzogabanizzaofficial
By Jimmy Rae