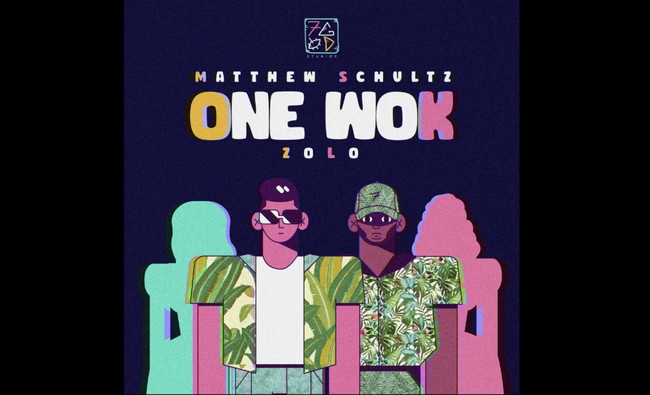 Matthew Schultz kicks off this side of the summer with a creatively colorful groove as this refreshing collaborative release One Wok hits the scene. The single marks a welcomed return for the producer and artist Schultz, and introduces Zolo with equal appeal.
Featuring a light and breezy soundscape, somewhat tropical in tone but minimalist in layers and undoubtedly pop-driven in its chord progression and build up, One Wok brings in subtle vocals for a catchy, anthemic resolve that's subtle yet memorable. Ultimately maintaining a mellow yet likeable mood throughout, the single feels like a contemporary hit, a mid-album highlight sort of track with a certain brightness and a welcomed fusion of genres. From chilled-out dancehall to an indie-pop kind of chorus, with layers of hip hop effects and verses that break the rules but still feel simple and relevant, One Wok has character, and is easily recognizable for all of these qualities. Matthew Schultz continues to mix things up in the creative pop world, and this collaboration marks an impressive step back into the limelight – as well as offering a fairly timeless go-to for whenever those isolation blues start seeping in. Designed with style and professionalism, holding close to the essential flavors and strengths that give it a bright sense of identity, One Wok has flair, and promises to lighten the mood in just about any situation.
Matthew Brian Schultz is an American singer, songwriter, producer, actor and entrepreneur. He is most known as a solo recording artist & producer. His very first band in high school with American Idol star Chris Daughtry, from the band legendary band Daughtry. Matthew Schultz is known for his hit song "Somewhere Far" which hit almost 8 million streams on Spotify. The song was featured on Spotify's top playlists including "Chill Hits" and also hit viral 50 in 8 Countries. "Somewhere Far" charted several times on Itunes Electronic Charts and hit Top 30 on the official UK Music Week Commercial Pop Club Charts. There was a plethora of successful releases in 2018. His original single Promise For Keeps, followed up with a version featuring reggae singer Gyptian. All these were given glowing reviews and combined for millions of streams on Spotify and over 5 million Soundcloud plays. "Promise for Keeps" climbed the iTunes UK Dance Charts to number 21 and also hit number 18 on UK Music Week and hit Top 100 on Beatport. "Promise For Keeps" Electric Bodega remix featuring Gyptian has also charted on iTunes Electronic Dance Charts and hit top 10 on UK Music Week Commercial Pop Club Charts. His genres include EDM, pop, electropop, dance-pop, electro house, hip hop. Musical styles include Chill pop & EDM, with elements of dance, raggae, dancehall, and Afro Beat. His influences and sounds are similar to Calvin Harris, Major Lazer, Diplo, Chainsmokers, Khalid, Kygo, and Benny Blanco.
Zolo Born to British-Jamaican parents in London, raised in New York and Toronto, Toronto now being home Zolo started out in music at a young age. He grew up listening and being influenced by the music his parents would play from Disco, Reggae to R&B. Zolo is know for his hit song "Need Sombody" featuring Tory Lanez.