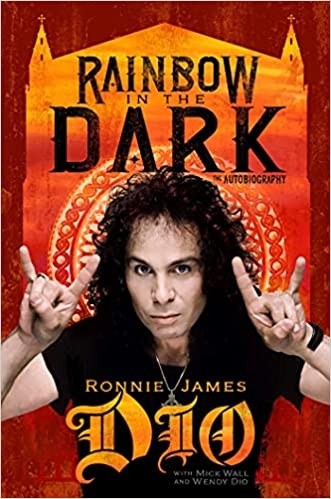 Ronnie James Dio has been acknowledged as one of the pre-eminent voices in heavy metal music. Recognized for both his talent and his kindness, he experienced the rare feat of fronting not one, but three, of the world's most popular, multi-platinum-selling hard rock bands. When Dio lost his battle with gastric cancer in 2010, leaving behind a massive canon of music and his "Devil Horns" calling card, he also left a largely written manuscript reflecting on his life and career.
RAINBOW IN THE DARK: THE AUTOBIOGRAPHY will be published on July 27 by Permuted Press Publishers. The book was brought to completion with British rock journalist Mick Wall and Dio's widow and long-time manager.
Ronnie James Dio's Autobiography 'Rainbow in the Dark' Set for Posthumous Publication
Wendy reluctantly took over the management reins when Ronnie was fired from Ritchie Blackmore's Rainbow, leaving him without any prospects, financial support or even the home they had been provided. She helped to build his career and joined him in their major financial gamble to launch his own bespoke band DIO after he left Black Sabbath where he had famously replaced Ozzy Osbourne. As one of the few women managers in heavy metal at the time, she went on to also manage other artists under her Niji Productions umbrella and became involved in all aspects of her clients' careers, from production design and logistics to overseeing album projects to imaging and branding.
Wendy is also the co-founder of the Ronnie James Dio Stand Up and Shout Cancer Fund created in Ronnie's memory. She is available for interviews to talk about the new book and her other work. Please let me know what else might be helpful in considering a story on this autobiography or assigning it for review. I have pdfs available now.
– https://www.amazon.com/Rainbow-Dark-Autobiography-Ronnie-James/dp/1642939749