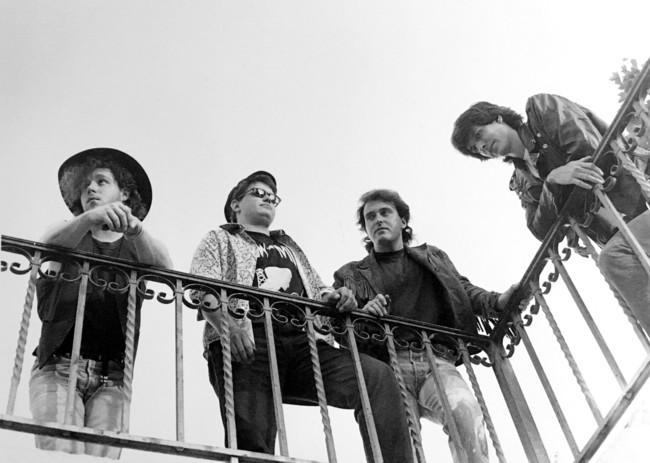 So here we are on a Saturday morning and the music keeps coming. To be honest we hope it never stops. Today we are hanging out with The Raging Marys and to be more specific, Steve Hartsoe: Guitar / lead vocals & Chris Carbone: Bass. The Raging Marys released "Birthday," their 12-song indie album produced by Oakland punk legend Kevin Army (Green Day, Operation Ivy) back in 1989. Now, the Marys are releasing a remastered version of the album, available digitally for the first time. The album includes the hit 'BellaRose' among others. So lets settle in and get ready for some musical nostalgia with The Raging Marys.
@skopemag: Where are we talking from today and how is your week going so far?
TRM:
Chris: Hi Stoli, I'm here in sunny San Jose, California…obsessing over lyric lines while watering my tomatoes
Steve: I'm just outside Raleigh, North Carolina, where I moved in 2003. The week has been good, working on a lot of new songs.
@skopemag: Where I am in New England – COVID-19 restrictions are off. Do you plan to get back out there and play and interact with the fans?
TRM:
Chris: Unfortunately, with Gerry gone, there are no plans to play with the Marys, but Steve and I are writing songs for London Down, the earlier iteration of the Marys…very similar vibe now between the Marys and current LD stuff….folky to garage thrash.
Steve: I really wish we could, but being on both sides of the country isn't very conducive to gigging. Plus, as Chris notes, our great friend and guitar player Gerre Henne passed away in January, so it wouldn't feel like The Raging Marys anyway. He really was the soul of the band.
@skopemag: I love the name of your band. Please tell us how that came to be and how that fits your music?
TRM:
Chris: Ah, the name. Our music has always been about extremes…quiet and poignant to bashing and crashing. We wanted a name to reflect both sides…Mary sounded universally sweet…kind of a folky vibe…raging for the heavy loud-ass side.
Steve: If I remember correctly, we wanted a name that represented the new sound and vibe of the band after we folded as London Down, our first name. We essentially had two sounds — thrashy garage and folky. "Raging" fits our louder sound, and "Mary" has both the spiritual imagery and folkie vibe from Peter, Paul and Mary. Plus it's a name in so many classic rock songs — Hendrix's "The Wind Cries Mary," The Monkees' "Mary, Mary," the verse in The Beatles' "Let it Be," and so on.
@skopemag: You have been in music before the MP3 and streaming began. Name one pro and con about back then in music compared to today?
TRM:
Chris: Great question, Stoli. The best thing is being able to connect globally via streaming and social media to fans all over the world. Nothing warms my heart more than knowing there are people playing and enjoying our songs in different countries. That is a massive change from the old days of putting up flyers on telephone poles and yelling at people from your car to go to the show. The down side to streaming and the modern music industry is it is even more restrictive and selective for which musicians and bands actually break out. The same industry types that ran the Show before are even more in control now.
Nobody comes out of nowhere to make it…that is an industry illusion.
Steve: Buying a vinyl album was such a special thing. I remember the smell of the new cover, the experience of reading all the lyrics and credits. Downloading an mp3 or saving a track on Spotify just isn't the same; it's made adding music to your collection pretty trite. But, I admit, the ability to create endless playlists, Shazam a song that catches my ear in a store then save it to Spotify is a great way to discover new music and artists. Plus, with us not living in the same state, the digital world makes it possible for us to get our music to a much wider audience than in the analog-only days.
https://londondown.bandcamp.com/album/birthday-the-raging-marys
https://londondownmusic.com/track/2665126/bellarose-single
@skopemag: So what inspired you to remaster and release 'Birthday' again after 30 years?
TRM:
Chris: We've always been proud of "Birthday" and thought it was a cool little lost DIY nugget from a long forgotten time. Before grunge conquered the world and made the alt/punk vibe acceptable enough to become mainstream. The mid to late '80s was a strange time in alt music. A lot of different sounds and vibes waiting to come together. There were similar trains of thought and style in pre-grunge bands in many areas at the time. Elements that would be the foundation for the heaviness to come in the '90s. We thought "Birthday" was a shining example of that time period…an album that basically was not heard outside of a few places on the West Coast for a very brief period of time. But we are quite proud to have played the Satyricon with Mudhoney, so at least we made it up to Portland..haha. We completely vanished after that.
Steve: My son, Eli, is 20. He grew up listening to our old albums and learned to play drums by playing along with them (my brother, Ken, was the drummer in The Marys and London Down). He always said we needed to get "Birthday" out there, but the old master tape was long gone. So, we reached out to the album's producer, Kevin Army, who put us in touch with a mastering engineer in Wisconsin, Justin Perkins at Mystery Room Mastering. He remastered the album from three vinyl copies I sent him. It gave us a new appreciation for the album and the songs we wrote back then.
@skopemag: How are your lives different today in music and personally than in 1989?
TRM:
Chris: Back then I had a lot more time to play music, that was the sole focus. Then life caught up with us and it was time to move on to other things, finishing college, starting families. At that point I was raising my son, who's on the spectrum. I set music aside for a long time…it was a difficult time. I had to check out. I was thankful when London Down reunited a couple years ago. I resumed writing songs at that time. Really weird, musically my mindset was still the same….a real throwback, kind of endearing and comical at the same time….total suspended animation. In hindsight, looking back at everything that happened in the '90s with the grunge explosion, I felt we were on the right track. We would have had a great shot at it, but the timing just wasn't right for where we were in our lives…wasn't meant to be.
Steve: Man, much more laid back. My mindset back then was, "If we don't make it my life is a waste." Pretty unhealthy. I have a family — Shannon, my wonderful wife of 23 years, sweet, diverse kids and I work in media relations at Duke University. Musically, I occasionally play guitar at a friend's church, and I've been writing and recording solo albums since the band ended in 1991, more in the Americana vein. London Down reunited in 2018, recorded an album in Nashville and we have been a working band ever since. My son, Eli, is our drummer and our original guitarist, Phil Benjamin, is in the band again. My brother Ken, our original drummer, just doesn't have the time. Phil and Chris are still in San Jose and Eli and I are in NC, so I record Eli's drums and my guitar and vocals at my house, Chris and Phil record at their homes, then we hire someone who knows what they're doing to mix our songs. Kevin Army, who produced and recorded "Birthday," is working with us again. We plan to release a few EPs a year, starting later this summer, and launch a small college radio campaign on the West Coast. I am really glad to be connected to Chris and Phill again, and to make music for the enjoyment of it rather than striving to "make it."
@skopemag: What do you think of the new bands out there today and any that you listen to?
TRM:
Chris: I don't listen to much contemporary music, but I do like Jack White's stuff a lot. I
really enjoy his creativity, his songwriting themes and guitar playing. I love listening to guitar-based music…any kind. There are times when a Willie Nelson lead will bring me to tears. It's not even my style of music, but the evolution of the years of playing…the melodic soulfulness…really beautiful….it just resonates in me.
Steve: I'm afraid I don't hear much in the current alt world that excites me. But more current artists I like include the Black Keys, The No Ones and Gaslight Anthem. I confess, I mostly listen to the music that has always inspired me — The Replacements, Peter Case, Chuck Prophet, Stones, Beatles, R.E.M., Tom Petty, etc.
@skopemag: How did losing Gerry Henne to cancer effect the band and who decided to dedicate the new release to his memory?
TRM:
Chris: Losing Gerry was a real kick to the gut. We were trying to track him down for years, we had just reconnected with him after a long lay off…. We exchanged some texts and he looked forward to hearing the remastered album. Then about two months after the last text, his wife called and said he was in a coma in hospice…very close to the end. We were shattered and in disbelief. He was such a kind soul…with an off-center creativity….A great Dude with a devastating hysterical dark sense of humor. The dude survived on restaurant jelly packets and beer for days on our Oregon tour. His eyes kind of rolled back in his head at the Satyricon…thought he was going to keel over, but he crushed it…RIP Brother! So, the dedication comes from what he meant to each of us and the love we have for him. He has some great moments on that album.
Steve: I had just gotten in touch with him after nearly 30 years. We texted last summer and then I sent him the remastered album around Thanksgiving 2020. He told me he was excited that he just got his old Mesa Boogie amp repaired. The first time we texted he said he was more into cars than guitars. I can't help but wonder if our initial reminiscing reignited his interest in the guitar. I never got to ask him what he thought of the remastered "Birthday." He was not able to talk or text by the time we learned he was sick in January. I don't think we even discussed dedicating the album to Gerry, it was just the natural thing to do. He had only been playing guitar a few years when he joined the band, and he brought so many unorthodox guitar parts to the songs. He's playing all but two solos on the album. Probably the most warped sense of humor I ever encountered. Man, I wish he was here.
@skopemag: We love the song 'BellaRose.' What is it about that song that still resonates today with fans?
TRM:
Chris: Thanks, yeah, one of our better ones. I think it combines some timeless alt elements. Minor key, loud guitars, cool melody and a little psychedelic 3/4 bridge…it could have come out of any decade from the 60s to now….pretty much the extremes and core elements in most of our music. We have a wide range of sounds and emotion in our stuff.
Steve: Wish I knew, we'd write 20 more just like it. Ha! It's one that just came together easily and encapsulated our sound — loud, jangly guitars, classic pounding rhythm and lyrics about a childhood memory. Chris' bass parts are my favorite out of all of our songs, amazes me every time I hear it.
@skopemag: So what are you looking to do in music & life during the rest of 2021 and where can folks follow, like, stream, etc. The Raging Marys?
TRM:
Chris: Just waiting to return to something closer to normal…and get the hell out of the backyard! It's time for bear hugs and tall cans…remembering those we lost and celebrating with those who made it through…Hopefully people who like pre-grunge alt will enjoy "Birthday"…lost to the ages and now unearthed…straight from the heart…from an unknown but infinitely real American garage band. Thanks Stoli!
Steve: Hopefully visit New York City again, or even California. Writing and recording new London Down songs, maybe release a solo EP of new songs the band doesn't want. Ha! I'd love to do a short West Coast London Down tour in late 2021. But, whatever happens, I'm just glad to be making music with these guys again. Thanks for giving us some space in Skope.
https://www.instagram.com/theragingmarys/