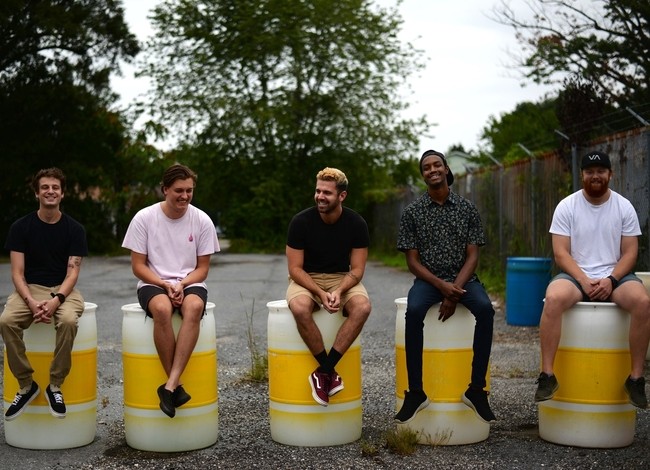 So here we are again with a new upcoming band @skopemag.com. Today we are so excited to hang with the guys in At Face Value. They are so excited to join us here and present the new single and video for 'Swim'. Join us here on this beautiful Mothers Day edition of @skopemag Q&A with At Face Value!
@skopemag: Where are we talking from today and how is your day going?
AFV: My day has been pretty good. Right now I just got back to the city (Baltimore) after working out with Mike, our bass player and red-headed Thor-look-alike who lives up in Baltimore County. We usually workout 2-3 nights a week and Jeb joins too (our drummer). It's nice to lift heavy things with some of the guys in the band as well as play music together.
@skopemag: Seems like live music is making a comeback. Do you plan to get out there and play?
AFV: Yes, we definitely want to start playing our new songs potentially this summer or fall! What we really want to do is plan our album release show so we might hold off for a bit and build some hype instead of taking any little shows that come along in the next few months.
Swim: (Audio)
https://open.spotify.com/album/4DLHbTFODAcCYq43A1iUlB
@skopemag: How did the five of you come together to form At Face Value?
AFV: It all began way back in the summer of 2013. My brother, Parker, (lead guitarist) went to a party at his friend Trent's house. At the party, he was introduced to Alec (lead singer) and Jeb (drummer) who had already started the band but were looking for more members. They all bonded over their mutual man crushes on Blink-182 and Park joined the band. He told them about me, his brother, who also plays music and I joined pretty soon after. Then, we became a five-piece a few years ago so Alec could focus just on singing and because Mike (bass player) is too fuzzy not to have in the band.
@skopemag: Growing up – what bands / artists had the most influence on your sound today?
AFV: I hate to be typical but it would have to be those typical 2000's pop punk bands… Blink, Sum 41, Green Day, Good Charlotte, Yellowcard, Taking Back Sunday… but also 90's music, some 80s music with all the effects… However, the new-age pop punk bands have definitely influenced us in certain ways too… Knuckle Puck, Neck Deep, Story So Far; they all shred so well and we definitely idolize them all.
@skopemag: How much time per week are you able to get together and play and promote the band and music?
AFV: While we wrote our recent album over the last year and a half, we were meeting up a shit ton. I was writing with Jeb at our practice space, meeting up with Alec to go over vocals, and then seeing Park to go over guitar riffs. I was definitely running around as I'm the energizer bunny of the band. We finished recording back in February and we haven't seen each other alot since then to be honest. Once Parker finishes his current Fire FIghter training and Mike finishes his Master's degree, we're hoping to get back into our practice space and jam the hell out of these songs each week!
@skopemag: Your new single 'Swim' is out now. Offer us insight into how that single came to be and where you recorded and mastered it?
AFV: This song had been on the back burner for a while. Parker wrote most of the song back in 2014 which sounds nuts when you say it. In fact, in the Summer of 2019 we were all barely talking and meeting up… we were pretty close to just stopping without even saying it. But, we started writing some songs in the fall of 2019 and it turned into this "let's do a fucking album, let's make it big, let's do like 14 songs!" vibe. We knew we wanted to record with someone awesome, and we had always heard of Eric Taft in the local scene. "Swim" (recorded in October 2020) was going to be our first single and our test to see if we vibed with Eric, if we could still write something awesome, and the first legit studio time we had in 2 years. We couldn't be more stoked about how it turned out… from the production… to the times hanging in the studio together. We love Eric and the song and it's been a revival for the band, honestly. Eric's great.
@skopemag: The video is really well done – how does that video help portray the message of the song?
AFV: Alec's lyrics are so personal and dirty and passionate and dark as hell. We wanted that vibe for the video and I think we accomplished that… the gray skies, the "swimmy" sound of the verses coupled with the water and dark color schemes. We think it fits. We know a great music video producer, Adis Pleh (AHT Productions), who we've worked with since 2015 so we went to him with the rough mix of Swim. He took a listen and the rest is history. He really helped us deliver on this one bigtime.
@skopemag: How does the band work, meaning, are you a democracy or does one person hold authority?
AFV: That's a great question. We are always a democracy at heart. But you can't have 5 differing opinions and get anything accomplished so there is definitely compromise when it comes to every big decision. With writing, what shows to play, the vibe of a music video, the album artwork, the list goes on… We all are different, musically, which somehow works to help us write good shit but we definitely have disagreements and try to work through them, just like a married couple. We still manage to all sleep in the same bed even when we disagree.
@skopemag: When you are not doing music – what else are you guys involved in?
AFV: We're a super busy bunch of good looking dudes who like to dabble in many things. Alec does computer science and programming, working for State Farm. He just bought a house where he hosts parties probably every Friday night, offering me the chance to throw up off of his back deck. Jeb works at Guitar Center and plays video games, works out, and just dyed his hair blond. Mike also does programming, is about to get his master's degree, and works out more than anyone I know. The kid is about to squat 500 pounds, no lie! Parker is in the middle of fire fighting training so he is in a burning building weekly; he also works at a dispensary and enjoys skydiving. I just bought a house in Baltimore, and I like to skydive, snowboard, and I do airport engineering.
@skopemag: What's coming up for At Face Value and what are your next 6-12 months plans musically?
AFV: Right now we are planning a music video for our next single off the upcoming album. We will likely shoot it in June or July. We're wrapping up our studio time with the album, getting the mixes back, working with Eric Taft to make some tweaks, all that good stuff. Then, we gotta iron out album artwork, getting CD's and vinyls, and planning our album release show! We also are pushing promotion of the album hard with online media outlets and Spotify playlisting. We just want as many people as possible to hear this shit.
###
At Face Value (MD)
Find us on social media
Facebook: https://www.facebook.com/AtFaceValueMD
Twitter: https://twitter.com/AtFaceValueMD
Instagram: https://www.instagram.com/AtFaceValueMD/?hl=en
Hear our Music
Spotify: https://open.spotify.com/artist/7abpqWb9gal9v0XT6692HU
Bandcamp: https://atfacevalue.bandcamp.com/