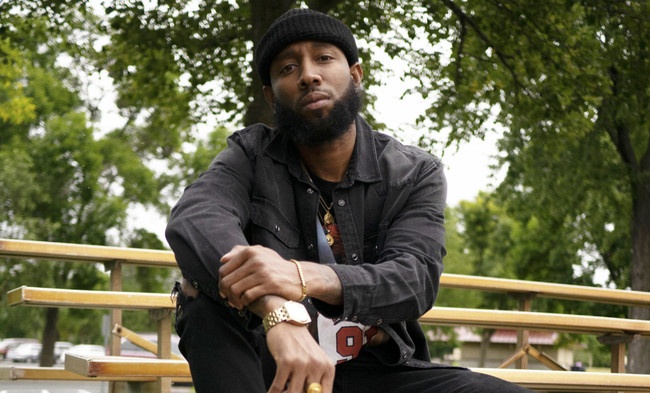 Excuse My French is the fifth video single off Mac Irv's 2021 instant-classic album 'The Breakthrough'.
– https://distrokid.com/hyperfollow/macirv/the-breakthrough-2
Some stories birthed and illustrated in the hood never leave city limits. And for some, music is more than just an outlet. It's an escape. Born and raised in North Minneapolis, Mac Irv's gift for rhyming began at an early age, most of which he learned from his grandfather along with living across the street from Cornbread Harris, father of Grammy award winning producer Jimmy Jam. At 9 years old, Mac Irv started a rap group and was making rhymes in his basement.
His gift for music went undisclosed for many years as his talent for basketball required a full commitment. After receiving a scholarship to the University of Minnesota, Mac Irv exceeded athletic expectations, placing him as an All-Big Ten Player from 2006-2008. Graduating with a degree in Business Marketing, the Gopher player's athletic ability was unknowingly deteriorating slowly. His professional career overseas was eventually cut short after a serious hip injury. Shortly after at the age of 25, Mac Irv became a father to a baby girl. Despite battling depression while simultaneously taking on new responsibilities of parenthood, Mac Irv's passion for music was soon reignited.
With support from his Pilot Life Team Tre Adams and producer Willie Wonka, Mac Irv developed smooth, quick rap lines and metaphors reflecting his experience on the Northside, the ups and downs of relationships, and lessons extracted from sports. Things quickly progressed and his career as an artist was solidifying.
"Got Me Open" was released on Youtube as his first single, but it was "Hometown" that allowed him to ultimately represent for Minnesota, embodying the nickname, "Hometown Hero". In 2014, Mac Irv toured with Rhymesters artist Prof and his single "The Cycle" was nationally featured on MTV Jams. During that same year, Irv was selected to perform at Soundset, in company with Nas, Wiz Khalifa, and 2 Chainz.
Continuing to be a voice for his community, his loyalty for Minneapolis is undimmed. After several projects and local shows consistently selling out, Mac Irv's ambitions brought him to perform at South by Southwest. His mixtape, "Sincerely Mac Irv" was featured on DatPiff and received an immense amount of feedback from his fans – which are known as his "fam base".
Exposing disparities in his neighborhood through lyrics, Mac Irv has earned a place in the Hip Hop arena of Minneapolis. Heavily affected by death and incarceration of friends throughout the years, he continues to persevere through the oppression that confronts his community by inspiring a little bit of everyone.