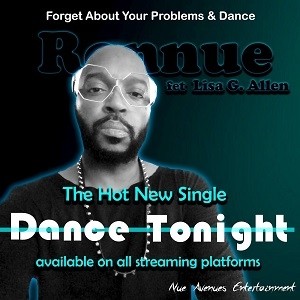 Old school vibes in pop music are making a big comeback in the 2020s, and if you're wondering why, I would recommend taking a peek at the American underground and artists like Ronnue, whose new single in "Dance Tonight" is the perfect blend of retro R&B and modern pop physicality tailor-made for this discriminating generation of fans. Though hardly polished in the same fashion one would expect out of a mainstream release, "Dance Tonight" and its remixes reject a number of conventionalities in favor of getting as brawny and beat-powered as Ronnue can manage – and truth be told, his depth in this piece really surprised me. Alongside Lisa G. Allen, he puts down a single here that could stand among any in his discography thus far.
https://www.instagram.com/ronnue/
This track is a little more dance-oriented than previous cuts have been – as its title would imply – but I wouldn't say the substance of its narrative is communicated solely through the beats in the mix. On the contrary, the rhythm of the music serves as a framework exclusively, rarely defining the mood of the lyricism in the same fashion that Ronnue's actual singing does. Allen's vocal is more of an accent than a feature, but even at its most conservative, the part she plays is still worthy of some spotlight when breaking down the finer points of "Dance Tonight." This is a lot more involved than I was initially thinking it would be, but then again, I should probably expect as much out of someone out of Seattle with the kind of buzz this guy enjoys. 
There are much stronger pop influences in the dance mix and radio edits of "Dance Tonight" than you might be anticipating if you've been a longtime follower of Ronnue's music, and I think they're representative of a shift that could do a lot of good for his future in the international spectrum. He's got an edge here going entirely unchecked in both the mix and the parameters set forth by the groove, and instead of putting all of the emphasis on this element of his sound, he's cushioning his blunter moments with a slick compositional structure as familiar as any in the classic American songbook. That takes versatility, but moreover, a lot of skill in the studio.
– https://soundcloud.com/ronnue/sets/dance-tonight-fet-lisa-g-allen
Though this is rather streamlined in comparison to what I normally go for in an indie release, I would be lying if I said that I didn't hear the same old Ronnue when listening to "Dance Tonight," which should come as a great relief to anyone worried about where his experimental style might be taking him next. There's no reason why critics and audiences shouldn't maintain confidence in what his camp is producing, and after checking out this latest release and its three different remixes (including brooding acapella and instrumental versions), I'm actually rather excited to hear what his next proper album is going to sound like. Ronnue is a class act, and whether you endorse his formula or not, you can't get around how likable his music is. 
Gwen Waggoner