Lightning never strikes twice, that's the general understanding. People often equate this with stellar debuts and performances in art, sports, and other high-standing careers within the public eye. Well, not to burst any bubbles, but the National Oceanic and Atmospheric Administration is here to tell you that "actually, lightning can, and often does, strike the same place repeatedly – especially if it's a tall and isolated object. […] The Empire State Building is hit about 25 times per year." Now, at the risk of sounding a touch hyperbolic, some musical acts may as well be the Empire State Building with the number of hits under their belt. One such act is the noteworthy rock aficionado Robert Miller, best known for fronting the prolific rock band Project Grand Slam as well as only recently segueing into releasing albums under his own name – and his most recent, Miller Rocks, might just be his crown jewel.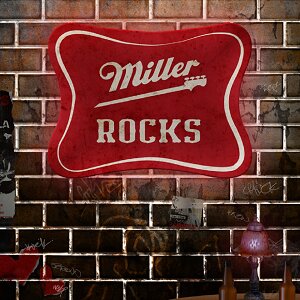 2021 found Robert Miller one solo album deep into a global crisis with no definite end in sight. The world already had no answers, the musical world had even less. Last year, Miller and his band found themselves without a European tour but (luckily) with a fully-recorded album. After its release, cabin fever understandably began to set in for this established leading man so used to releasing and performing endless streams of musical content, and it wasn't long until Miller debuted as a solo artist with his first album Summer of Love. One album in a pandemic so shortly after his band's own release, and you think the hunger would be sated, right?
Not for Robert Miller.
Mere months after Summer of Love, Miller is back with his second solo release Miller Rocks. The album sees Miller retracing his steps and reevaluating his footing, laying out groundwork and foundation integral to his well-received sound while also breaching forward into deeper territory that serves as a warm and thought-provoking response to a worldwide crisis. The project understandably exists as a way for Miller to further bide his time stuck indoors, but it rises above this initial concept and shapeshifts into something entirely one of a kind by the time the album hits its midway point. "To the Zoo!" sees the album at its most simple with the song's existence working with an almost elementary-grade simplicity, but this candor is immediately undercut by two minutes of instrumental extravagance with "African Nights (For Chick)," and the central dynamic of the album's runtime between these two songs only further indicates the more profound pieces at work within this accomplished piece of artistry.
It goes without saying that most musicians find themselves lucky enough to front a single band for a few albums. Some are even luckier to gain full creative control of their musical odyssey by pursuing a solo career. Nobody knows this better than Robert Miller, and if his recent releases are anything to go off of, he counts his blessings daily and cherishes his successes as much as his failures. Miller Rocks is an album written by a man with immense experience and should work as a masterclass workshop for aspiring musicians as much as it will undoubtedly work for audiences looking to be engaged.
Gwen Waggoner