2021 BRINGS ACCLAIMED #PETERTOSH420 CANNABIS FESTIVAL TO A VIRTUAL STAGE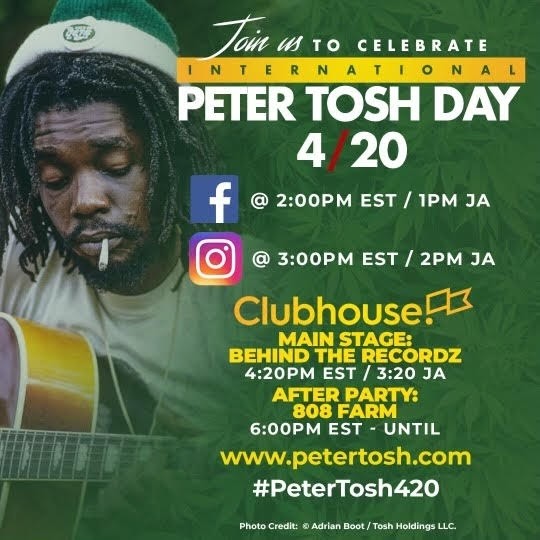 Tuesday, April 20th will officially commemorate "International Peter Tosh Day" (aka #PeterTosh420) – a virtual festival paying tribute to legendary reggae artist and cannabis activist, Peter Tosh.
#PeterTosh420 honors its namesake, the Grammy®️ award-winning, founding member of The Wailers. Highly regarded for his dedication to equality, Peter Tosh launched anti-apartheid campaigns, advocated for African liberation, and became an influential voice for the voiceless.
https://allhiphop.com/news/4-20-international-peter-tosh-day/
April 20th not only acknowledges the man, but also his accomplishments towards cannabis legalization. Tosh wrote and performed the iconic song, "Legalize It;" which became the soundtrack of the movement. This year's festivities are intended to bring the world together to celebrate this icon, while staying safe, but connected.
The day-long event will welcome and feature cannabis growers, infusion culinary artists, licensed distributors, celebrities/artists, cannabis entrepreneurs, policy makers, advocates, legal professionals, medical professionals, and cannabis enthusiasts.
Events will be broadcast across multiple social media and virtual platforms:
· Exclusive, online tours at CORE Cannabis Social Justice Museum 4/19 & 4/20
· FB Live – Hosted by Niambe Tosh
· IG Live – Hosted by Akayda Tosh (Peter Tosh's granddaughter)
· Clubhouse Main Stage (Legacy Conversation) – Hosted by Behind The Recordz
· Clubhouse After Party – Hosted by 808 Farm
· Minorities for Medical Marijuana Project Clean Slate Expungement Clinics
"The music of my father, Peter Tosh, demarcates the beginning of an international movement to decriminalize cannabis", said Niambe McIntosh, administrator of her father's estate.
"His music transcended time and continues to resonate with today's activists, "said notable participant, Roz McCarthy, founder and CEO of M4MM, "we are proud partners and look forward to this global celebration where all international M4MM chapters and members will participate and salute the late great Peter Tosh."
International Peter Tosh Day is presented by the Peter Tosh Legacy & Brands, with marketing by Launchpad Worldwide. To join the festival and for more information about #PeterTosh420, please follow @PeterTosh on Facebook and Instagram and visit www.PeterTosh.com
ABOUT THE PETER TOSH FOUNDATION:
The Peter Tosh Foundation, a 501c3 nonprofit, along with its advocacy partners M4MM and The Last Prisoner Project address the social equity and justice issues within today's emerging cannabis industry and criminal justice system.