DJ Swamp just released a new track with accompanying visuals for "Wearin' My Mask". Produced by DJ Swamp, co-produced by Angel Nightmare and mixed by DJ Swamp, Angel Nightmare and The Crystal Method, the track is hot off DJ Swamps latest EP – the "Wearin' My Mask" EP.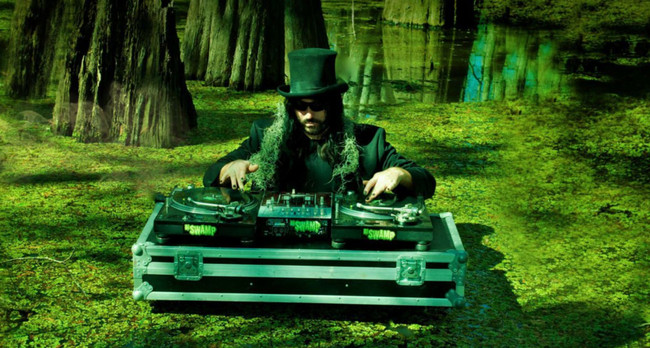 DJ Swamp should need no introduction and is a well known American hip hop DJ, turntablist, producer and vocalist. Swamp began mastering his DJ skills more than 15 years ago. In 1996, his rookie year, he took the title of USA DMC Champion. Being true to his nature in an arena that was predominantly influenced by a very hip hop-esque culture, Swamp stepped up to the decks looking like some kind of junky punk. He was well received by the audience despite his counter-culture appearance because he exhibited skills that defied perception and already possessed a stage presence that many of his contemporaries still lacked. The finale came when he closed his set by freakin' Deep Purple's 'Smoke on the Water' and then smashing his records.
Notorious for mischief, while he's on the turntables his shows are highly anticipated by those who know that they can expect to see something spectacular.
After Swamp won the title of US DMC Champion, his first year entering the tournament, he shortly thereafter was able to get his demo into the hands of Beck's publicist and was scooped up as Beck's DJ. Swamp toured with Beck for years and later broke away into a solo career with his release "Never is Now" in 2001. His follow-up, a drum 'n' bass EP, Instruments of Torture, was recorded with Jack Dangers of Meat Beat Manifesto. Vinyl Disciple produced several music videos, including four 3D music videos. The music video for "The Leaders will Follow" is the first music video to incorporate 3D video scratching. Swamp's music video for "Rock Rollin'" features Dave England of Jackass fame.
DJ Swamp has produced several DJ tools that are considered standards, including "skip-proof" records, which have the same sample repeated over and over so that if the needle is bumped it will land in the same sample. In 1996 DJ Swamp formed Decadent Records, which allowed him to distribute his scratch tools vinyl and digital releases. Under this label he invented several DJ tools that are considered standards, including his infamous "skip-proof scratch tool" records which have the same sample repeated over and over in a straight line so that if the needle is bumped it will land on the same sample. A technique that has been copied by most battle breaks and scratch records and are a staple in many turntablist sets.
DJ Swamp's scratch at the beginning of The Crystal Method track "Name of the Game" is one of his most recognizable scratches. The song is featured in several films, including Tropic Thunder. As a solo artist DJ Swamp has opened for such artists as Daft Punk, The Prodigy, Bassnectar, Nero, The Crystal Method, Fatboy Slim, The Chemical Brothers, Mix Master Mike, Datsik, Diesel Boy, Outkast, Fuel, Method Man and Redman. DJ Swamp's scratching can be heard throughout the movie Thirteen which won an Academy Award and was the first movie for director Catherine Hardwicke of Twilight fame. He was featured in the DJ documentary Scratch and the motion picture Clockstoppers.
Swamp has built a loyal following around the world appearing in festivals, rock shows, hip-hop shows and even raves. His stage performance consists of him Mixing, Scratching, Magic Tricks and even Emceeing. Crowds are often overwhelmed by his stage presence, heavy bass sound, crowd interaction and give-a-ways. He has become the go to man for studio scratching in Los Angeles and has appeared on songs by Beck, The Crystal Method, Vanilla Ice, Katy Perry, Supreme Beings of Leisure, Ben Folds, Belinda, Oblivion Dust, Kid Rock, Twiztid, Blaze Ya Dead Homie, Hanson, The Bloodhound Gang, Morcheeba, The Dandy Warhols, R. L. Burnside, Faithless, OPM, Devo, Save Ferris, Say Anything, Dust Brothers, Kool Keith, Sticky Fingaz, "Weird Al" Yankovic, Death Grips and Better Than Ezra.
In 2017, the band Ministry announced him as a new member of the band. Swamp says that he draws off of his environment and a ten year affinity with a nameless muse for inspiration. He observes "what's going on" and converts his impressions into his art. His musical influences range from hip hop, to metal, punk, industrial and anything in between.
DJ Swamp has graced the pages of: Rolling Stone, Spin, Subculture, Raygun, Mean, DJ Times, Keyboard, Rap Sheet, Mixer, Rap Pages, The LA Times, and Urb. Urb magazine says "Witnessing Swamp torture the 1200′s is like watching a magic show."