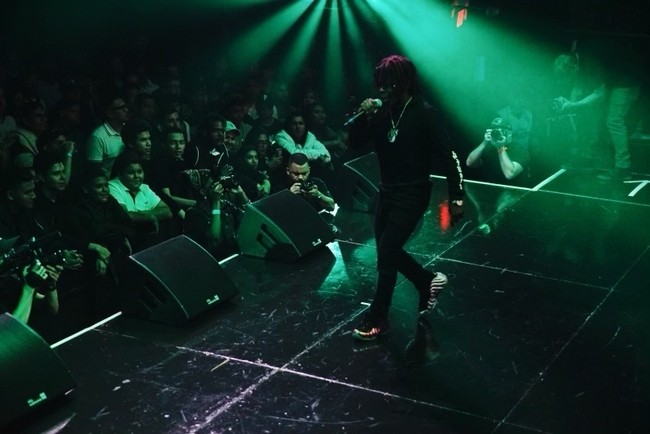 by Nick Christophers
It is always nice to see someone from a small town grow into something big. This is the case for Tyshawn Johnson, otherwise known as Yvng Swag. Yvng Swag has done the impossible by becoming a social media sensation before turning 21. From the small town of Kent County, Maryland of 19,000 he blew up first on the Vine platform then Instagram. He first posted photos and videos of his dancing techniques and garnered 1.4 million hits on Instagram, 2.5 on Tik Tok and 800,000 views on YouTube.
It is an amazing accomplishment for a young man. All this action began to open doors for Yvng Swag and he locked in a role on the Net Flix Original show "Droppin' Cash". He was featured with fellow artist Rotimi in Season 2, Episode 7 on August of 2019. One of his videos "Big Tractor" was so well received that even Justin Bieber retweeted it and it helped jack up the numbers with 20 million views. It was the first time an African American danced to a country track. In addition, he starred on MTV's "Wild 'N Out".
The hits just kept on coming for him as he signed with Atlantic Records on the heels of his first single "Fall In Luv". This followed up with his first EP "32 Teeth". For someone with no formal training it is amazing how far he has grown. He is a self-taught dancer and performer. Yvng Swag was inspired by such artists like Michael Jackson and Chris Brown to name a few. At first, he was apprehensive at exposing his love for dancing but after many of his friends expressed that he was an exceptional dancer his confidence grew and he took to social media like fire.
He partnered with the artist PedritoVM with the popular track "Flamingo Star" which also blew up on YouTube. Similar to Michael Jackson he started a trend that is very unique. He wears a different style of sneaker on each foot. This personal preference arose one day when he was getting ready for school.
"I picked out a jacket and was looking for sneakers to match. I found two pairs and liked them both. I could not make up my mind on either and chose one of each. That is how that whole idea became a branding tool for me."
His odd but unique fashion statement earned him a sponsorship with Shoe City. Yet he hopes to garner interest from such giants like Adidas and Converse etc. Yvng Swag is also not a selfish artist and loves to give back to the community. He hosted his 4th annual Swag Toy Drive Concert at Kent County High School where he graduated not too long ago. Yvng Swag has also donated his time to Thanksgiving Turkey drives and Christmas events. Even with all this attention he has stayed humble at a time where most young people lose sight of that. He is an emerging artist with room for growth and a swag that is contagious.
https://vm.tiktok.com/ZMeYRCU5j/