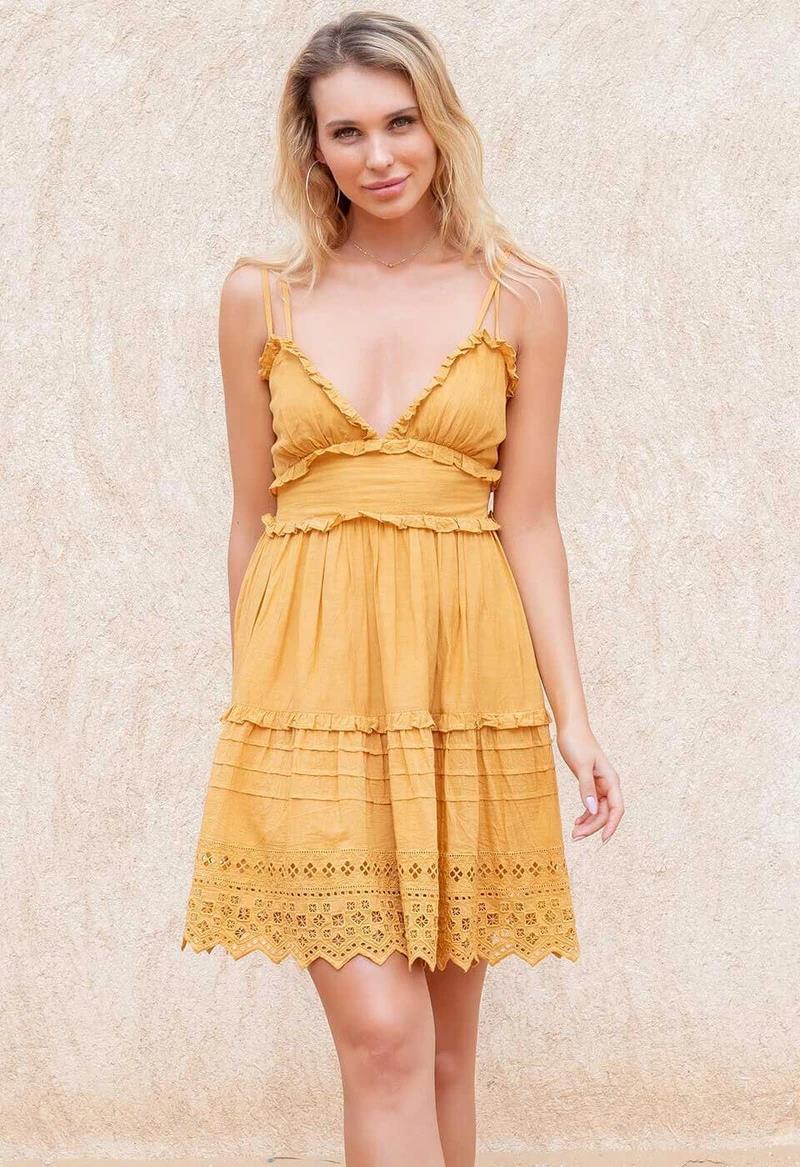 If you often find yourself daydreaming about the warmer months ahead or feel yourself slipping into fantasizing about your next getaway, you're not alone. Many of us are in the same boat and are longing for the next time we can spend relaxed days in a far-off destination. However, just because you may not be traveling across the world anytime soon doesn't mean that you can't be planning a staycation and curating your summer wardrobe.
After all, creating timeless summer outfits is one of the best parts of vacations, and there are several pieces that can immediately transport you – even if you haven't ventured too far from home. Whether you are going to the beach, renting a room in a neighbouring town, or are heading somewhere for a much-needed change of scenery, this is a fantastic time to have fun with your wardrobe.
To get an early start on your summer wardrobe planning, keep reading for the four timeless summer pieces you need to have in your staycation wardrobe.
1. Feminine Dress
Dresses are an integral part of any curated summer wardrobe as they are timeless yet also feminine and fun. There are a wide variety of shapes and styles of dresses that you can choose from; however, a more classic silhouette or a design that doesn't have too many trendy details is more likely to be one that you reach for over and over again.
One option is to have a crisp white dress that is simple, such as a classic shirtdress or a shift dress. These shapes are easy to dress up or down and will quickly become a wardrobe staple for you.
Additionally, you also want to have a dress that feels slightly more special and can be your go-to for romantic evenings and more dressed-up occasions. Options from the Scarlett Poppies Sunstone Collection include a beautiful Feminine Satin Strap Dress with an Asymmetric Bottom Hem that is made from a semi-shiny satin and has a lot of volume.
The Sunset Mood – Chiffon Backless Maxi Dress is another option that is simple yet glamorous and is guaranteed to have you looking (and feeling) your most confident. Or, if your wardrobe is in need of a shorter hem, consider the You Are Edgy – Backless Broderie Anglaise Mini Dress that offers an ultra-feminine design with fine ruffle details and an elasticated smock.
No matter which of these dress designs you decide to introduce into your staycation wardrobe, you can be assured that the high-quality materials, timeless design, and feminine details will have you wearing them for years to come.
2. Sophisticated Shorts
Nothing says "vacation" more than shorts; however, as you get older, you want to make sure you are choosing the right fit for you and styling them in a way that represents the timeless, sophisticated woman that you are. Denim, linen, and cotton are the best materials for shorts that have versatility and comfort in mind.
When shopping for shorts, you want to ensure that the inseams are at least two inches long as this will mean that you can wear them without being worried about exposing anything. For many women, opting for a pair of shorts with a rolled hem is a fantastic way to keep things sophisticated as the tailoring provides a more grown-up feel. That being said, no matter what type of style or fit of shorts you prefer, you can be assured that a longer style is always the most age-appropriate.
How you style your shorts is also going to play a significant role in how sophisticated and polished they look. One of the easiest ways to dress up this item is by pairing it with a crisp button-down shirt or with other classic pieces such as Breton stripes or a blazer.
3. Versatile Jumpsuit
Jumpsuits are one of the most versatile pieces you can add to your wardrobe, making them an ideal addition. By purchasing the right jumpsuit, you will be assured that you have a garment that you can wear for work, daytime, weekend or evening wear – as well as your staycation. These designs are ideal for a plethora of activities because you can easily style them in entirely different ways. Plus, by having such a versatile piece in your staycation wardrobe, you will find it easier to pack light!
On the market, there are a variety of jumpsuit styles ranging from boho-style to tailored, strapless to long-sleeve. And, as this style is flattering to all body types, you are guaranteed to find a jumpsuit style that works for you. Generally, it is recommended that you opt for a jumpsuit that is both feminine and cool and that has beautiful, vintage-inspired details. Selecting a design like this in black ensures that you will get a lot of wear out of it.
Another benefit of wearing a jumpsuit is that it is effortless to style, as they are a complete outfit by themselves. When you are wearing a jumpsuit, you don't have to waste time agonizing over what other pieces to pair with it; instead, you can just choose your accessories and outer-wear based on the occasion and season and then you are ready to go!
4. Unique Handbag
In order to create a timeless, well-curated wardrobe, it is vital that most of your pieces are in basic colors, as they will go with almost everything else you have and make it easier to pack your luggage. Therefore, one of the best ways to add a pop of color or an interesting detail into your summer outfit is by having a unique handbag.
For example, Scarlett Poppies' Seychelles – Shell Embellished Bag is not only practical (you can tie the bag around your waist, across your shoulder or around your neck), but it is also beautifully unique. Coming in two different colorways (black and white), this bag is designed and embellished with real Mother of Pearl from the Indian coastline. This rope belt bag is unlike any bag you have seen before and the perfect addition to any sophisticated staycation wardrobe.
Final Thoughts
The best way to curate your dream wardrobe is by buying fewer higher-quality things. Before you make your next purchase, think about whether you need this item and what the brand's sustainability positioning is; after all, you want to be supporting companies that are aligned with your values. That will have you feeling and looking good for many staycations to come!
AUTHOR BIO
Andrea Bertinetti is the Marketing Manager at Scarlett Poppies, a vivacious Dubai-based resort and beachwear brand that offers edgy, easy-breezy and effortlessly cool pieces designed by a cultural melting pot of designers. Influenced by tribal trends with a touch of Scandinavian flair, the brand's beachwear styles are always ethereal and minimalistic.