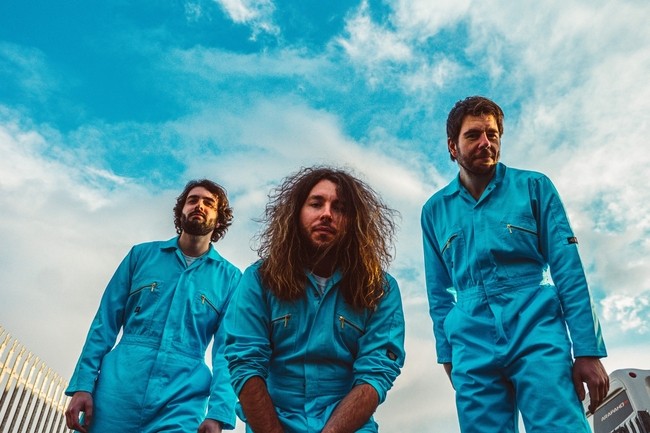 We chat to North-East, UK rock trio Ten Eighty Trees, who have just released their killer track 'Born Free'.
So, this year has been a whirlwind. How has it been creating your music in lockdown?
Not a lot has really changed for us if I'm being totally honest. Face-to-face rehearsals have been thin on the ground in the past year or so but our creative process hasn't changed that much. I live in Sheffield whilst Lewis and Michael are based up in the North-East so we have always tended to write by pinging song ideas back and forth via email. If anything, we were well equipped to continue operating as a band during lockdown so haven't really felt the strain of not being able to hit the practice room as much as others might have.
You guys only formed back in 2018, right? How did you meet and how did Ten Eighty Trees begin?
We all actually studied the now defunct Jazz degree at The Sage music venue in Gateshead. The band I was in at the time had just disbanded and I had a few songs floating about that I wanted to make use of. I knew Michael (drums) from the same degree course as me so asked if he wanted to come jam one night and if he knew any bassists to get them to pop along too. It just so happened that the first person he invited along was Lewis and it just clicked from there. We all seemed to be reading from the same hymn sheet early on and Ten Eighty Trees was born pretty quickly after that.
'Born Free' is such an energetic anthem yet the lyrics are somewhat sombre! What was the inspiration behind them?
Born Free was actually written before the band even formed. I genuinely never thought it would see the light of day as I was just kind of writing songs for myself around that time keeping myself sane. I don't really remember much about writing the song now if I'm totally honest. I do remember I was in quite a dark part in my life though. I'd just finished University, working a job which was going nowhere, still fresh out of a relationship and just generally feeling very directionless and unhappy. I think that angst and dissatisfaction is audible in both lyrics and music.
Lewis summed it up perfectly recently, describing it as "a shot of anger towards the hand you've been dealt". Whilst there is still a lot to be grateful for right now, I think a lot of people can resonate with those notions of dissatisfaction.
How do you guys usually begin your process of making a track? Lyrics first or musical structure?
There really doesn't seem to be a set formula with writing for us, as any part of the song can come first and get the Ten Eighty Juices flowing. What I will say though is that we always start with some kind of hook. Something to draw us and the listener in. That could be anything from a melody to a drum fill, but there always has to be something pulling us in and inciting further ideas and inspiration.
Obviously, right now gigging seems like a completely alien concept! But, when things open back up again you guys got any plans for us to hear your tracks live?
We haven't anything planned at the minute but we are definitely open to the prospect of gigging as soon as things start to open up a bit more again. We're all a bit gig deficient at the minute but soon as we're back up there we won't be wasting any time in getting back to our best.
Any other future projects you can hint to? Any music coming up after 'Born Free'?
We can't say anything just yet but let's just say there's a lot more where Born Free came from and we can't wait to share more.
'Born Free' is the vibrant new single from Ten Eighty Trees, out now. Stream/download it here on all major digital platforms: https://songwhip.com/ten-eighty-trees/born-free
Follow Ten Eighty Trees on FACEBOOK | INSTAGRAM | TWITTER | SPOTIFY