Amber Lee proves to be a potent force in the world of pop on the incredible intimacy and tenderness of "Tell Me What You Mean". Stylistically rooted in pop, she effortlessly incorporates elements of electro, funk, synth pop, and even jazz into the mix giving the sound a lovely lilting cadence. The arrangement plays to her strengths for they punctuate the power of her words with a true sense of grace. Best of all are her vocals which have a quiet commanding presence to them. Her delivery has almost a mysterious aspect to it, for it draws the listener into her own wonderful, neon-hued world.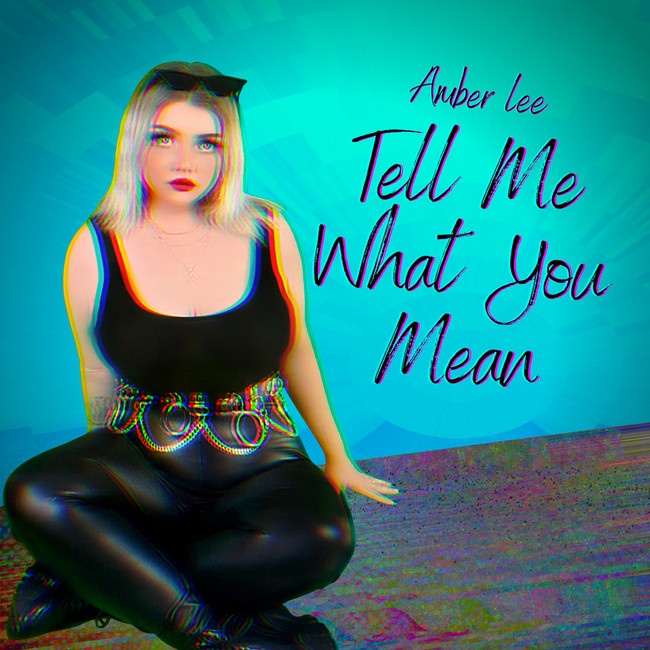 Delivery draws from Beach House's Victoria Legrand in terms of its delicacy. Like Victoria, Amber too has a hushed reverence about her and an almost poetic spirit about her carefully composed verses. The same dreamy-eyed disposition is there too for she allows the song to build and grow in unexpected blissful ways. Arrangement-wise she takes from some eclectic sources, specifically the Brainfeeder output of Jameszoo's powerful, beguiling arrangements. Within the piece, her nods to jazz definitely reflect upon a sense of timelessness. Her classic cadence reigns supreme over the piece for it radiates a sort of futuristic quality, one that draws from the traditions of the past while updating the sounds on an as needed basis.
– https://open.spotify.com/track/5tDIJtvd9R7GC2SqMFYgwa
Glowing light melodies introduce the track on a high note. Her vocals fit in like a glove and take stride as they move to the forefront. With the gentle rhythm the song has a jazzy spirit to it for she keeps the whole of the work quite loose. Multiple layers intermingle in ways that reveal a kaleidoscopic array of colors, ones that simply stun. Never overdoing things there is a kindness to the way she keeps things to the essentials. Small yet critical flourishes feel outright beautiful for the melody neatly intermingles with her voice giving the work a sense of slight defiance, with a questioning attitude.
"Tell Me What You Mean" reveal Amber Lee to a singular voice, one that is pulling pop into the future with a lush and radiant style that feels distinctly her own.