Below, Amber Lee tells us what "Tell Me What You Mean" actually means.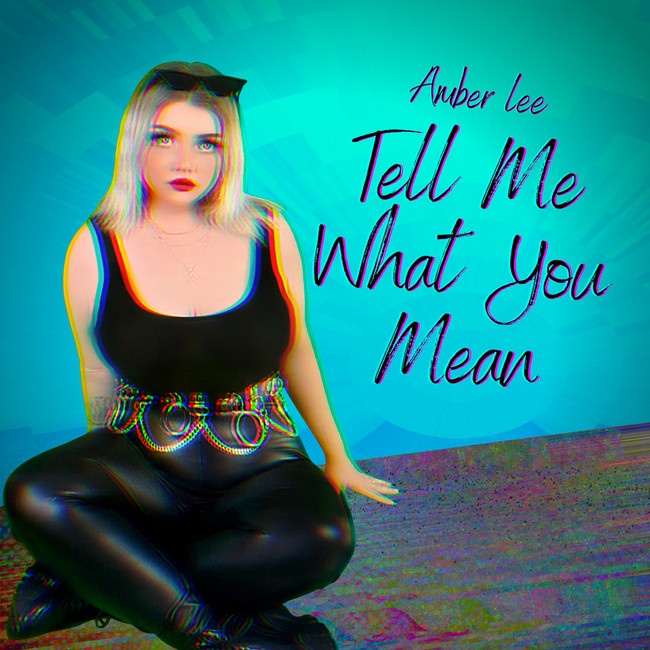 Skope: Your singing has a jazzy thing going for it. Would you call yourself a jazz-influenced singer, if not fully a jazz singer?
Amber Lee: This is the first time someone has stated my music is jazzy, so it's hard to say what exact genre my voice fits into as I get a lot of different opinions! My music isn't jazz influenced, but I love the sensuality and intimacy that jazz music resonates, and I always try to incorporate those kinds of qualities in my own music. I consider myself more indie-pop!
Skope: Of your musical influences, would you count jazz singers among these? If so, which ones have inspired you?
Lee: I would say that Amy Winehouse is a big inspiration on my singing, and she definitely incorporated jazz into most of her songs along with her Soul and R&B tracks. My biggest inspirations right now are Billie Eilish, UPSHAWL and Ashnikko. All three have their own unique originality and music style, they are incredible and fascinating artists.
Skope: "Tell Me What You Mean" features minimal instrumentation. I assume this was intentional, so why did you decide to keep it so sparse?
Lee: I'm really enjoying the power of minimal synths and beats with captivating vocals and feel it creates more creative room for recording and performance. I focus the most on my vocals, lyrics, and the emotion that it emanates. I feel like I'm connecting better to my music and to my fans that way.
Skope: Much of your music is more dance-oriented. What made you want to do something a little different with this song? Did you consider making it more of a dance track, instead?
– https://open.spotify.com/track/5tDIJtvd9R7GC2SqMFYgwa
Lee: It's funny you say that. I think this track is a lot more vibey then my others! I always write songs based on my thoughts and feelings, so it's hard to say!
Skope: Do you play any of the instruments on the track, or do you only sing on it?
Lee: I create my music electronically, for example through beat pads or midi keyboards. It's amazing what you can do these days to create the sound you want!
Skope: Did you write both the music and lyrics?
Lee: Yes! I compose, write, produce, mix, master and everything in-between for all my music! I like to have full creative control over what I create, so if I don't know something, I'll learn it, and incorporate that skill as needed. I also direct and edit all my music videos.
Skope: Is this song based on an actual experience, and if so, what happened that required more clarification?
Lee: I feel like everyone goes through the 'what are we' stage at one point because the person they're seeing isn't communicating their romantic intentions. I wrote this song to endorse self-love – if someone you care about isn't going to tell you what you are to them, they aren't worth your time and effort. I was tired of hearing my friends sticking around with these men/women they were hanging with, waiting for them to magically decide what they wanted with them. I want my fans to know that they should never wait on others to decide their romantic fate, and if that person wants you, they will tell you – otherwise walk away, you deserve a lot better than that.
Skope: Were there any artists that influenced this particular song?
Lee: Not really, I was listening to a lot of music to gain inspiration but ultimately it just jumped into my head and I wrote it overnight. I always know if my song is going to be worth the effort if the idea comes suddenly and I can get the basic structure of it out quickly. If I ever have to rethink lyrics or the basic melody more than once, I know it isn't worth it.
Skope: Lastly, you're pictured in the artwork for the single wearing leather pants and sitting cross-legged. How, exactly, were you able to cross your legs wearing those?
Lee: Well, it's a long story but here goes nothing. I sat down and slowly lifted one of my legs up, then – wait for it – I placed that leg on my other leg and BAM just like that my legs are crossed. Plot twist, they were actually really shiny leggings.