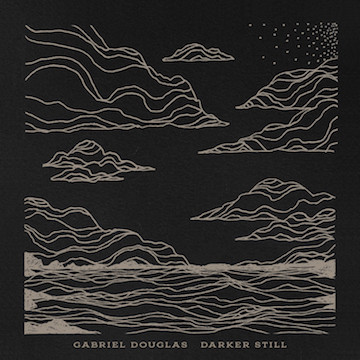 There are wordy songwriters, which have included at times, Bob Dylan, and early Bruce Springsteen. It was almost as though they just couldn't squeeze nearly enough words into each lyrical phrase. Then again, there are those of few words. Gabriel Douglas falls into this latter category. His album is one that could only be made by a male – one that economizes his words. Men, it's been said, say many fewer words than women. However, it's tough to come up with female songwriter examples as wordy as Dylan and Springsteen. Maybe women use so many of their words in conversations that they just don't have too many remaining when it comes to writing songs. Yes, this is a simplification. With that said, though, just know that, while listening to Darker Still, you won't miss any words or phrases. Douglas uses few words, and in the case of "Holding Patterns," sings the same words (in this case, the song's title) multiple times. You'll get it all, don't worry.
Douglas doesn't just underextend his vocabulary when he writes, he also sings quite slowly. One name that comes to mind, even though both men are stylistically very different, is Bobby Bare. Bobby Bare is a slow talking, and equally slow singing country performer. A contemporary comparison might be David Bazan. Bazan is best known as the lead singer for Pedro The Lion. Their voices are dissimilar, but their lyrical approaches are similar. Both Bazan and Douglas are downers, mood-wise. With "Holding Patterns," Douglas even incorporates religion into his character study. Bazan is also known for being a former Christian singer that became an atheist.
PRESAVE: https://distrokid.com/hyperfollow/gabrieldouglas/darker-still
One of the album's more rhythmic songs is "Morning's Coming," where Douglas sings about the urge to get moving, all over an acoustic guitar part. Acoustic guitar, with severely stripped-down arrangements, are the most common instrumental settings over which Douglas sings. One exception is "Darker," which is a piano piece. However, this one is an instrumental.
Yes, Douglas is a downer often. Nevertheless, "I Want More (Make It Beautiful)" expresses a hopeful desire for more than what he's now getting from a relationship. Douglas applies the same methodical singing style on it, but he cannot hide his wish for something truly good and beautiful.
One of the noteworthy elements of Douglas' songwriting is the way he titles his songs. Four of these song names include parenthetical phrases. For instance, "Making Changes (Making the Grade, Making You)." This latter song even includes a few funny lyrics. Humor is not something found much on this nine-song, 27-minute release. Therefore, when it comes along very near the album's end, it's a welcome change of mood.
https://www.instagram.com/doubleasterisk/
Darker Still is, as its title suggests, a mostly dark collection of songs. With that said, though, there's still something endearing about Gabriel Douglas' writing and singing. You get the impression the real guy is a lot happier and funnier than the songs he writes. At least that's what the humorous "Making Changes (Making the Grade, Making You)" suggests. Thus, although much of this album is darker, many other artists are darker still. Douglas may use few words, and sing these words slowly, but he also makes every word count.
-Dan MacIntosh