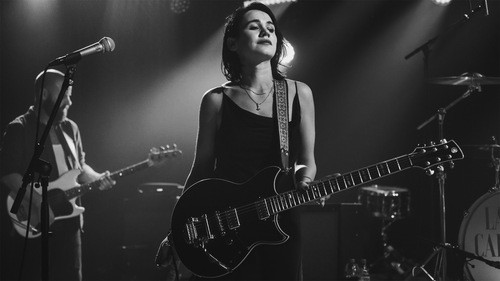 Today Berlin-based dark pop-rock songstress Laura Carbone releases her third album, Laura Carbone – Live at Rockpalast. The live recorded album was mixed by Scott von Ryper from The Jesus and Mary Chain and mastered by Phillip Wesling at Original Mastering in Hamburg, with no overdubs whatsoever, and reflects Carbone's unique brand of 'Noisy Dreamadelica'. While everyone is missing the experience of attending live performances there's no better time to witness Laura Carbone's spellbinding talent, her arresting voice, silver-tongued lyrics, and her penchant for channeling 80s-90s dark wave pop than on this recording.
In a recent interview with Audiofemme, she explains how it was important for her to include the whole setlist on the album "to give the impression of being present at the show," she says. "It's so beautiful how we can feel when the band is warming up — I can hear it in my voice and how tense it was when we started — and I think it's such a nice flow when the audience joins in and we start getting into the flow of the music."
Following rave international reviews and chart recognition for "Who's Gonna Save You", the album's lead single, now follows up with "Cellophane Skin", an empowering confession of sensitivity and a powerful statement on self-nurturing and on releasing rage and anger.