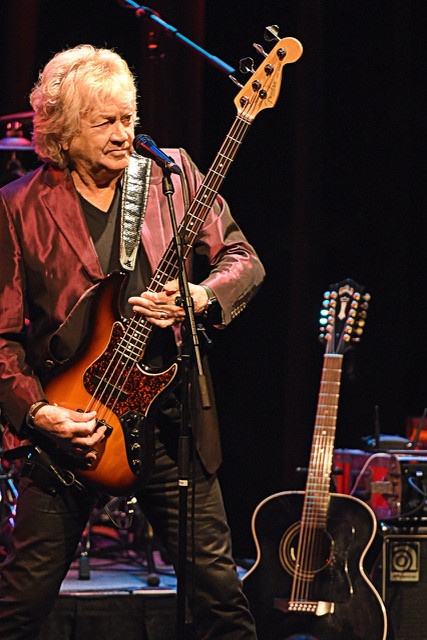 "The base is the link between harmony and rhythm. It is the foundation of a band. It is what all the other instruments stand upon, but it is rarely recognized as that"….Victor Wooden
"The bass, no matter what kind of music you're playing, it just enhances the sound and makes everything sound more beautiful and full. When the base stops, the bottom kind of drops out of everything"…  Charlie Haden
John Lodge is the bass master from the legendary faction "The Moody Blues." The band defined art and progressive rock and reigned during the 60's and 70's with hits including "Nights In White Satin", and "Tuesday Afternoon." They were inducted into The Rock N' Roll Hall of Fame in 2018, and John Lodge is their bass guru. John Lodge also wrote many of their songs, and has been performing with them for 5 decades.
Voted one of the 10 most influential bass players on the planet, Lodge has been the recipient of a slew of awards including ASCAP, and the Ivor Novello Award for "Outstanding Contribution to Music." Lodge was also given the Lifetime Achievement Award from Prog, and is the proud owner of a star on the Hollywood Walk of Fame. Aside from the 15 studio albums The Moody Blues have released, Lodge has released 4 solo records and in 2017 The Moody Blues saw their 50th Anniversary.
Charity is very important to John and he can be seen on November 24th on the Let Me Help INC virtual benefit concert which is striving to bring awareness to bullying through #IAMNOJOKE (via Creative Visions Foundation), those shattered by COVID and those affected by prostate cancer. He will be performing with some of the most illuminating and vibrant stars on the planet including: Rick Wakeman, Sir Patrick Stewart, Slash, Fred Schneider, Julian Lennon, Jane Lynch, Howard Bloom, Stephen Perkins, Scott Page, Kenny Aronoff and about 60 other very well–known artists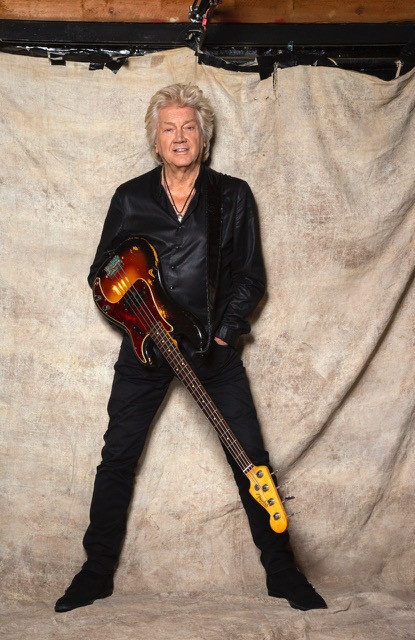 How is it over there in the U.K.?
I'm trying to understand what on earth is going on because I know that Covid is dangerous and everything else, but I think that with all the other things happening in the world….I'm not too sure to be honest. They announced yesterday I think that influenza was down by 90%. It's very strange. You keep hearing about the vaccines, but nothing has been proven yet. I'm just a musician and I just keep writing my songs.
I speak to many musicians and a lot of them feel that this is actually one on the most creative times in history…
I've been a musician since I was 15, and this is the longest period in my life where I've not performed live. It's just a really strange feeling. Fortunately, I have the creative pot with songwriting and everything else but what I've loved from day one is actually performing on stage. That's where you get the contact with the audience, so that's where hopefully we all come together. We're all just singers in a rock 'n' roll band as far as I'm concerned.
Yes! So, when you first recorded your music if they had had the technology they do today would you have done anything different?
I think it would have taken a lot longer. Everything today takes so long it's unbelievable. I think what was really good about the lack of technology in the 60s was that the fact that you had to make decisions. We did our first album, "Days of Future Passed" on two four track machines. What we would do is record on four tracks and then mix the four tracks down to two, but as we passed over onto the next four track machine, we added another couple of instruments. Of course, once you've recorded them you can't go back in and over dub them again because they are already committed. So, you had to commit to the sound and everything at the time. We recorded "Days of Future Passed" in a week, that's including the orchestra. It would be absolutely impossible today. And also, I remember we did song called "Isn't Life Strange." We were doing the vocals on a Friday night. We finished the vocals and we mixed the track and took the track with us to America for our tour the following day, and the record was released within two weeks. When you're talking today about releasing something you are talking months. 
Yes, and you're not releasing it the same way.
Also, to be honest I think any songwriter or musician, when you recorded your song and you're excited about it, you want everybody else to be able to hear it right away. Instead it sits on the back burner for months and it's really frustrating. 
If it ever gets heard.
Well that's the problem. Today, with the lack of record companies that are promoting artists that are Heritage artists as they are called now, or new artists you just don't know anymore how this works, because of Spotify and everything that's programmed in all the algorithms. But who writes the algorithms? 
Exactly. Now you have been performing for a while. Have you had your ultimate stage fantasy yet?
I've been really lucky over the years because they seemed to have all happened for me. I think that when you're really young and you're playing your first gigs to 20 people you would never ever imagine that you could fill Madison Square Garden. It's something you could never, ever comprehend. The only time you actually know you've done it is when you've actually done the concert. I didn't get into rock and roll for fantasy or money gain, I just love rock 'n' roll, and everything else has happened because of that.
Can you recall a single moment that changed the entire trajectory of your life?
Yes, "Days of Future Passed" as in music, but it's got to be before that. There were two things that really, really inspired me. MUSIC really didn't come into my life at all. I was born in Birmingham to a working– class family, in a small house, on a street where there were hundreds of houses all looking the same. The war in England was finished and Birmingham was pretty bombed out the years growing up. It was a strange time, but of course it was the only time I knew. I had nothing to compare that with. I remember seeing the movie, "Rock Around the Clock", and that was it!!! I was probably 11 or 12 and thought "what in the world was this?" But when I went to school they had a jukebox in the café. Every lunchtime I went to this café and instead of having school lunches I used what little money I had to buy a cup of coffee, probably a sandwich and then drop the coin in the slots and listen to the latest Jerry Lee Lewis or Fats Domino or Gene Vincent record on the jukebox. It was that jukebox I think that really hit me. It was the energy and I thought "what is it about rock and roll that I really like?" I realized it was something on the left of the piano, the base part. There were no electric basses in England at the time so I didn't know about electric bass, but the left-hand side of the piano and all the boogie playing was just amazing. That was the first thing that hit me. That's when I knew I wanted to be part of music and rock 'n' roll. I didn't know really how to do it, but Buddy Holly released the record called "That'll Be the Day" and that was the pivotal moment really for me. I suddenly realized that before that all of the rock 'n' roll heroes were really iconic, Elvis Presley, and Jerry Lee Lewis, Little Richard, Gene Vincent…. they were larger than life. But he was the guy called Buddy Holly in a black evening suit with a black bowtie and wearing glasses, and singing and writing the most remarkable song. That changed me because then I learned every single Buddy Holly song I could listen to and I was very fortunate because Buddy Holly toured England and I actually saw him on stage. That moment just lasted forever for me. So much so that a couple of years ago I did an English tour and I made sure that the last concert was at Birmingham Townhall where I saw Buddy Holly. When I was standing on stage I was looking around and thinking, "only if there was another young Johnny Lodge looking at me on stage like I looked at Buddy Holly. That you stayed with me, it was a pivotal moment.
I love that story. Do you remember your reaction to the first time you ever heard your music on the radio?
The biggest change was in England needle time when the unions wouldn't allow the radio stations to play records all the while. You can only play a certain amount of records every hour. So, what the BBC in England did is they made the bands come into the studio if they wanted to get their record played and re-record their record in their studio, on a two–track machine.. can you believe it? I remember when we rehearsed "Nights In White Satin" before we recorded it obviously, but you have to remember as a bass player the prominent part for me is the bass. And the same for the drummer and the guitar. So, you only really hear your own part of that song. So, we went to the BBC studio and recorded "Nights In White Satin" and up till then I had never heard the song as a song. I just heard my bass part and the harmonies I was doing. Then we went into the control room in the studio to listen to the song for the first time and it actually did blow me away. I thought, "this is something different." And don't forget it was 4 1/2 minutes long as well, which was so different than anybody else at that time. It was the first time I heard the Moody Blues as a band. I heard the whole band playing "Nights In White Satin" I knew we had something different here.
Still one of my favorite songs forever. What was the most trouble that you got in?
I don't think we really did. We all seemed to get out of it whatever it was. The Moody Blues were never really a band to go wrecking hotel rooms and everything like that for the simple reason if I threw a television out of the window there would be nothing to do when I came back from the gig. I think our extravagancies if we did have any as the way we wanted to tour. We wanted to tour properly. I think we were one of the first bands ever to start chartering big jet planes. At the beginning of the 70s, which I did a Boeing 707 called Starship. It was just the five of us and a road manager and probably that was it. There were seven people on these planes. I know we had a butler on the plane and a couple of stewardesses. They were bedrooms on this plane and sitting rooms on the plane. We try to make our touring as easy as possible and as enjoyable as possible. Touring in those early days was not enjoyable. The hotels were really scary. A lot of times when they saw a rock band with long hair they would close the doors.
Out of all the song you've recorded do you have a favorite one or one you like to perform more than any other?
Yes, "Isn't Life Strange?"  It's a full–on song. Just having dinner with my wife and a couple of friends I had just bought this new baby grand piano. I suddenly heard this piano playing basically in my head. I said to my wife and my friends "excuse me I just have to go play something." Then I went back to see everyone after about 20 minutes and I said to my wife, "I think I've written a new song, but I'll have to tell you in the morning in case it's the wine that makes me think I've written it." In the morning I sat at the piano and said, "Isn't Life Strange?" I only had one lyric at that time. Then I just wrote the lyrics straight away. I love performing this on stage because one part of the song is just me and the cello, and then another part of this song it's full on with everything you can think of, the kitchen sink everything, guitars, bass, drums, melatrons, choirs, everything. It's an interesting song to perform live on stage.
If you could play the soundtrack of your life what songs would be on it?
"That'll Be the Day", "Imagine", about 200 Bob Dylan songs, "I Saw A Shooting Star Tonight", I love that song, "Positively 4th Street", "If I Could Stand in Your Shoes", ….. Bob Dylan had some great lines. I love music, I have a 1945 Wurlitzer 78 jukebox here, so I could actually name all the songs in the jukebox.
Knowing what you know now what advice would you give baby John?
If you love music and you love your instrument just keep practicing, keep playing. That's what I've done. Obviously over the years I might've gone through a bit of time where I haven't kept playing and I always wonder "what am I doing wrong?" Then I realize that I'm not playing. For the last 20 years I've taken the guitar everywhere and I play every day. That's what I would've said to young Johnny. My grandson is learning guitar and clarinet and I keep saying keep practicing, and he does. I remember when I got my first guitar, I had no idea what to do as there was no rock 'n' roll in England and no one to teach you. You have to find out yourself. I would take that guitar to my bedroom and I would be in my bedroom every minute of the day trying to work out how to play this damn guitar.
I know that you probably don't stay up nights thinking about questions that you have never been asked and would like to be asked, but what question would you like me to ask you if you could have me ask you anything?
When am I going to do my next gig?
Thank you for being part of SohoJohnny Presents the LetMe Help Virtual Benefit Concert on November 24th. 
I'm looking forward to it. I hope it's going to be really successful for the charity and SohoJohnny. I hope it's going to be really, really good. I'm sure it will be! 
To Watch The Concert Go To https://www.sohojohnny.com on Tuesday, November 24th, 2020 from 7 pm – 1 am ET.