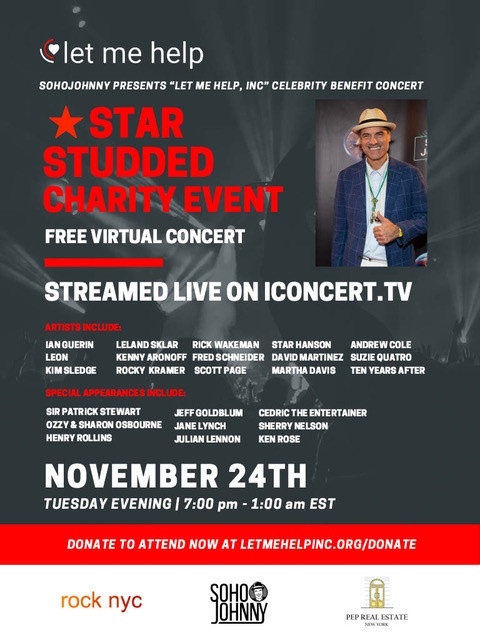 SohoJohnny in conjunction with the "Let Me Help, Inc" Foundation joyfully presents the "Let Me Help, Inc" Celebrity Benefit Concert, a virtual, musical celebration benefitting those shattered by the devastation of COVID 19. The evening will be a dazzling six-hour star-studded array of the biggest and most dazzling celebrities and opulent icons taking place from 7 PM – 1 AM ET.
"Let Me Help, Inc" (a 501c3 Charity) is a state and federally approved non-profit Organization created by philanthropist and entertainer John "SohoJohnny" Pasquale to benefit those less fortunate. It's mission is to help those shattered by the devastation and loss due to COVID-19, cancer, bullying, and other life threatening situations that surpass human understanding. What creates the darkness of night within our souls also creates the sparkling of the stars. Please search for the stars within your soul and give generously to this incredible charity event.
Performances/appearances for the evening include superstars from the world of music, television and film, including:
Sir Patrick Stewart
Rick Wakeman
Ozzy & Sharon Osbourne
ShaNaNa
Henry Rollins
Stephen Perkins
Jeff Goldblum
Bonfire
John Lodge
Juliana
Jasmine Kara
Sari Schorr
Kim Sledge
Andrew Cole
Suzie Quatro
Leland Sklar
The Immediate Family
Eli
Natalie Shay
Ten Years After
More names to be added soon…….
"Let Me Help, Inc: Mandate For Humanity" is being streamed through https://iconcert.tv
The official website for the Let Me Help, Inc may be found at https://www.letmehelpinc.org
The official website for SohoJohnny may be found at https://www.sohojohnny.com
For interviews or more information contact worldstarpublicrelations@gmail.com
Donate to Let Me Help, Inc here: https://letmehelpinc.org/donate