So here we are again and we have another amazing guest here on @skopemag. He is Alex Price from Canada and he has his new single 'Love in LA' is getting real attention. We were so excited when Alex offered us a candid Q&A to let the @skopemag audience know what's up with him. We get to chat about his catchy name, the new single, what music means to him and much more.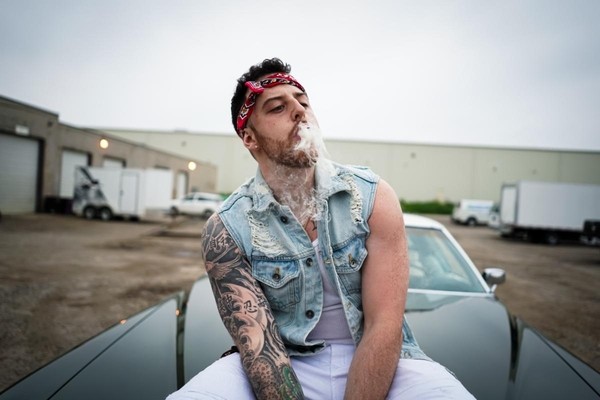 @skopemag: Where are we talking from today and how is your week going so far?
– I am talking to you from about an hour outside of Toronto in Kitchener, ON. My week is going amazing just super busy but that's the way I prefer it.
@skopemag: Offer us a glimpse into your life from when you wake up and how you like to start your day and be productive?
– I love to wake up and meditate for about 15 minutes. I find that it sets me on the right track to start my day out with a clear mind and plan. I usually need a coffee once I am awake and then I'm off to the gym. I usually go to play pickup basketball at 8:30am and then I head to the other gym to lift weights for about 2 hours. I find that after I workout I am pretty much ready to take on anything! The next few hours after that I like to get any errands done or tasks done that I have set out for myself. Usually I hit the studio for the remainder of the night unless I have a performance. Before COVID I was performing around 4 times a week, every week. Now, I am down to one or two a week so it gives me some more time to concentrate on songwriting and recording. I have different groups of friends that make music as well so I often go to different studios to make different sounding records. Just depends on what I'm feeling that day.
@skopemag: Big election coming up in the USA – as a Canadian and not to be political but are you concerned about civil unrest regardless of who wins?
– I am not too in tune with what is going on as far as the election. Politics isn't really my thing. From what I see as an outsider though I am definitely not a fan of Trump.
@skopemag: I love your name – Alex Price – did your mama give you that name or is it a music alias?
– Well Alex is my real name, but Price I adopted that one. My real last name is super long and ALWAYS got spelt wrong no matter how many times I explained it. I needed to find something that rolled off the tongue and couldn't be misspelled lol. I always loved the concept of Priceless. To me the best moments in life are priceless. That resonated with me and so I named my company/label Priceless Worldwide. It only made sense that I took half of the word being Price. It flowed really well.
@skopemag: At what age did you realize that you had real talent and should pursue music and were those closest to you supportive?
– I actually started writing raps when I was really young because I saw my brother doing it. Also he would play a lot of DMX and Snoop and I thought that I could do that. It was just something I did for fun at that time, but never really took it seriously. One day when I was 12, there was a guitar that my brother had that was just sitting around hardly touched. I picked it up and suddenly fell in love with it. I got so good within a year of playing everyday, that my dad took me to open mics around the city to jam with professionals. They couldn't believe how good I was even though the guitar was bigger than me, so they invited me to play some real shows. Legendary Blues artist from Mississippi named Mel Brown was living in my hometown at the time. He took me under his wing and invited me up on stage at our blues festival in front of 4000 people to play guitar with him. I knew then that this is what I had to do and began booking shows until I was booked for about 150-200 shows a year including Blues and Jazz Festivals around North America. My dad was a bass player as well so both my parents were very supportive of me playing music. They knew it was a positive direction for me as opposed to the path my brother and sister had taken. I loved being in grade 7, performing all night at clubs, and getting paid.
@skopemag: I am loving the new single, 'Love in L.A.' I must know was this song based on a real life experience and if so please elaborate.
– Bless thank you! I had been playing the guitar chords for a while. My first trip to LA I was sitting with my boy who I do a lot of writing with and we came up with the melody for the chorus. I knew the riff embodied the vibe of how I felt while in LA. So the " love in LA (ou la la la la la)" came about pretty quickly. I had also met a really fine girl when I was there and that turned into my muse basically for the verses in song. I love when songs practically write themselves!
@skopemag: The sound quality is incredible and sounds great on my Amazon Alexa, where did you write / record and who is responsible for that contagious beat / instrumentals?
– Most of the lyrics were written in LA, but the guitar riff I had been playing for a few weeks. I then brought the song back to my boys who are amazing producers who go by the production name "Just Ideas". The three of us then collaborated on making the beat as you hear it today! My favorite part is the bridge. we tried to go for the feeling of the bridge in Marvin Gaye's, "What's Going On".
@skopemag: Right now you have the audio video on Youtube which is awesome. If you were going to do a full music video what is your vision to bring the music to a visual experience?
Well I definitely want to shoot an official video for this one! It also has to be in LA. I am just waiting for the borders to open up again and then the plan is to fly down and get it shot! The video just needs that LA flavour.
@skopemag: Now that the momentum is on for you – what are your plans to keep the buzz going and where can we follow & stream all Alex Price music?
So in addition to Love in LA, I have dropped a 7 song EP on all streaming platforms called "Hopeless Romantic". It is a collection of tunes that I had that I felt fit that title. Also since October 2, I have been dropping a new song every Friday. I have so much music, I just want to give the people more content so definitely look out for all that music! Find me as Alex Price on all of the platforms, also my instagram handle is @1apriceless. If you don't stream, you can go to www.alexpriceofficial.com
@skopemag: When you are not making music what other hobbies / passions do you have to fill the day?
– To be honest music in one way or another is pretty much all I do. I also love playing basketball, learning, reading, lifting weights, and playing vids.
https://alexpriceofficial.com/
Instagram: @1apriceless