I've had the pleasure to work with Les Fradkin numerous times in the past and I have yet to be disappointed with his material.  Les is an award-winning songwriter/composer, highly-skilled guitarist and a pioneer of MIDI guitar.  The 21st Century "New Media" artist is a man of many layers and has continued to peel away at these layers for many years.  I am always impressed with the masterful playing and creative direction Les gives to each project he produces.  With all of Fradkin's previous accomplishments and accolades in the music business, nothing comes close to the utter importance of this new release titled 'The Les Fradkin News'.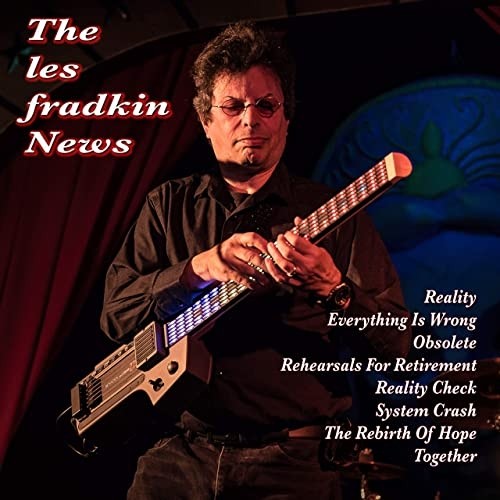 All of the songs on this album were originally recorded on a record called 'Reality The Rock Opera' that was written back in 2003.  These songs have been reissued on 'The Les Fradkin News' and are edited versions for radio play.  What is so amazing here is that Les wrote and recorded these tracks 17 years ago but the material is spot on with current events.  Les looks at it as premonitions come to light on 'The Les Fradkin News'.  I can't argue with this notion because after listening to each track, I am convinced that Les tapped into an incredible force of insight back in 2003.  Jump ahead to to 2020 and I can honestly tell you that 'The Les Fradkin News' holds much truth and relevance.  Nothing fake about this "News" as Les proves he has impressive intuition on his latest release.
Time to hit play as Les welcomes you to his "Reality" where everything is crystal clear.  I am hearing a fine arrangement and terrific playing on "Reality" that enhances the song in a big way.  Next, the listener will hear a catchy number and appealing sound overall even if "Everything Is Wrong".  This track speaks volumes with Les emphasizing that "Something's gotta change before the whole thing blows".  If "Everything Is Wrong", then I don't want to be right!  On track three, you will want to listen very carefully before it is all "Obsolete".  One will receive a distinct melody, deep impact and a dramatic performance on "Obsolete".  Moving along, we are given "Rehearsals For Retirement" that is musically vast certifying the fact that Les is a multi-dimensional artist for the ages.  On "Rehearsals For Retirement", vibrant audio surrounds you from every direction as Les Fradkin is the maestro delivering a wonderful orchestration.  It's time for a sensible "Reality Check" next that also makes for a nice & convenient break on the album.  Track six, "System Crash", is the featured track on 'The Les Fradkin News' and also includes a video for your viewing AND listening pleasure:
"System Crash" is so melodic but more importantly, the song contains a crucial message that can't be overlooked.  A "system fail" is at stake, so wake up and smell the sweet notes/hints Les is dropping on "System Crash".  Les is standing tall on the following number, "The Rebirth Of Hope" and is alive and well.  Fradkin is proudly marching to the beat of hope with inspiring verses in place.  I say Play ON Les, PLAY ON toward the "Rebirth Of Hope".  The 8-song set ends on a gratifying note where the track will have you feeling like we're all in this "Together".  With lyrics like: "No more war and we'll all be ONE one day" will leave you with a satisfying and optimistic mindset.  "Together" will have you singing along and embracing every last inch with infectious words that are worth catching.
You don't want to miss 'The Les Fradkin News' because there is a lot of truth evident along with stellar musicianship.  You can purchase a copy for yourself at Amazon,
https://www.amazon.com/Fradkin-News/dp/B08DHJ4DWG/ref=sr_1_1_nodl
and start spreading 'The Les Fradkin News'.  We should always live for the NOW, but Mr. MIDI Guitar, Les Fradkin, makes a strong case that past realizations and revelations can actually become our reality.  The premonition was set and 'The Les Fradkin News' is in…Les Fradkin is fulfilled.
By Jimmy Rae (http://www.skopemag.com/?s=Jimmy+Rae)