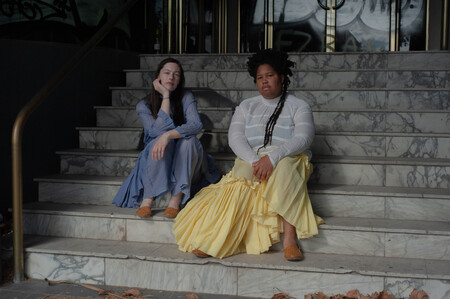 Divide and Dissolve members Takaiya Reed (saxophone, guitar, live effects/ (Black & Tsalagi [Cherokee]) and Sylvie Nehill (drums, live effects/ (Māori) are very excited to announce the signing to Invada Records.
Along with today's announcement, they release their new single and video for "We Are Really Worried About You", from their forthcoming album Gas Lit, which is produced by Ruban Nielson of Unknown Mortal Orchestra and set for release in late January 2021.
About the new single, Divide and Dissolve comment:
"'We Are really worried about you' is a call to transformation and freedom. This song and video seek to undermine and destroy the white supremacist colonial framework. We are weaving together our fight for Indigenous Sovereignty, Black and Indigenous Liberation, Water, Earth, and Indigenous land given back. Decolonise now."
At the start of the song, Takaiya's formidable saxophone sound resonates strikingly like a siren song, beautiful with an undertone of danger. This gives way to a sudden surge of crushing percussion courtesy of Sylvie, and heavy guitar riffs, revealing the magnitude of their exhilarating multidimensional sonic, and powerful expression of their message.