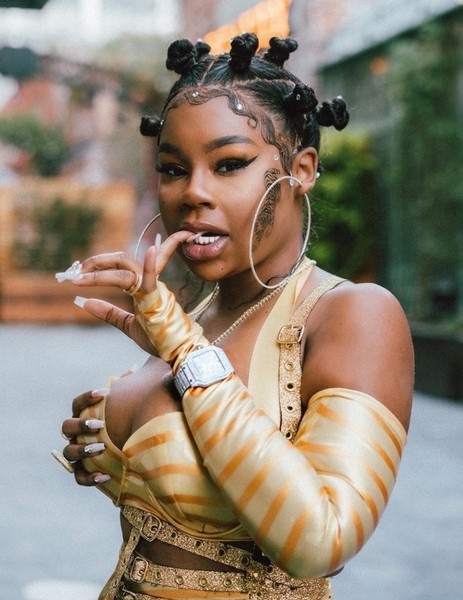 How exactly does one stay relevant in pop culture? Do you need to have an instantly recognizable face and an unparalleled style? Perhaps, you're a rapper and social media personality with unfiltered content. Or perhaps, no matter what you say, people listen and respect it. Maybe, you're just Sukihana. You might know her from VH1's Love & Hip Hop: Miami or her iconic feature in Cardi B and Megan Thee Stallion's viral "WAP" music video, which has over 193 million views in just one month. The Wilmington, Delaware native rose to fame for her hit songs "Blame Trina," "5 Foot Freestyle," and "Drug Dealer," featuring Cuban Doll. Her thriving social media presence garnered the attention (and likes) of Kim Kardashian, and she entertains her 1.2 million followers on a daily basis with her explicit, cheeky nature.
Sukihana's momentum led to her music takeover of 2020. She perfectly explained to Miami New Times, "I'm just a product of my environment, but now I feel like my environment is a product of me because I see a lot of women look up to me." Her recent release, the Wolf Pussy mixtape, follows in tandem with the Apple Music roundtable with Cardi B, Mulatto, and Rubi Rose.
Even the sex-empowered influencer has her limits; Sukihana encourages women to embrace their promiscuous liberation as long as they benefit from it. Women should know their value to men and at least benefit in return from the partners they satisfy. Her lead single from Wolf Pussy, "Yous A Hoe," was reworked to be clean, while still broadcasting the same transparent message. The diss track encompasses her contempt for the industry groupies and clout chasers. In her animated music video, Sukihana brashly reveals the promiscuous ventures of an anonymous fan. She also doesn't hesitate to namedrop nearly every top rapper in the business and include a cartoon version of them. Sukihana's animated character mimics the real Suki – nails and tattoos on point, unbothered, and untouchable from her crown to her heels. She's all for sexual empowerment, but for her, empowerment includes receiving more than what she's giving.