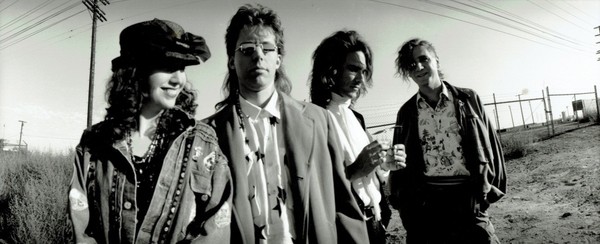 In today's current climate, with borders blocked and boundaries blurred on what the restrictions may or may not be, a track boasting the beauty of perusing the planet might not seem like the obvious go-to hit. Yet World Goes Round's recent single 'Round The World' is the refreshing anthem setting out to unite us from our headphones. This "supergroup that never was" is made up of Frank Musker, Elizabeth Lamers, Jeff Hull and Marty Walsh. When Marty Walsh discovered a hidden treasure in the form of a dusty cassette tape, he set into motion a revolutionary treat for popular music. With the legendary producer responsible for music from Prince, Quincy Jones and Barbra Streisand mixing the tracks straight from cassette, the spacious guitar riffs and hearty bass lines prototypic of the 'golden era of rock' are given a new lease of life through Tommy Vicari's production. With their legendary library being liberated from the archives this year, World Goes Round is enlightening our millennial playlists with thriving throwbacks from the eighties.
Songwhip: https://songwhip.com/world-goes-round/round-the-world
This latest single comes off the back of their widely renowned debut, 'Big House' — a timely anthem for the global fight for climate action. Boasting an overwhelming roster of collaborations between them, World Goes Round further demonstrate their wealth of experience with their new single 'Round The World.'
Admittedly, a track centred around the luxury of travelling might not be entirely relevant at present, yet World Goes Round's recent single oozes an optimism desperately craved in the current climate. Bursting at the seams with bouncing bass lines and striking synth chords, 'Round The World' is the buoyant banger we've been begging for. The song speaks of a refreshing escape from a negative relationship and the daunting excitement of cutting yourself free. Swelling with positivity, warmth and an abundance of hope, 'Round The World' is reminiscent of a world when we could travel from 'sea to shining sea.' This signature eighties soundscape is sculpted over Marty's slick guitar riffs, with Frank's powerful vocals sailing through the summer-fuelled song. Elizabeth Lamer's supporting vocals not only perfectly complement Frank's commanding melodic line, but also showcase the wide vocal and emotional range the pro has to offer.
With lively drum licks and fills from renowned musician Jeff Hull, 'Round The World' is bursting at the seams with an undeniably uplifting flair. With such a uniting central message and a chorus so catchy, it's a shame this hit wasn't around in time for Live Aid. With other 145,000 streams on their two singles already, it's safe to say that every expertly crafted second of World Goes Round's portfolio has been worth the wait. With the full album on the way this year, World Goes Round is schooling us all on the timeless sound of the eighties as these tracks are finally released into the world. A world which World Goes Round is unwaveringly setting out to unite. With an anthem that reminds us that no matter the global circumstance, we share 'one sun, one sunshine,' the 'supergroup that never was' becomes the supergroup we now need most; and with over eighty-seven thousand streams on this hit so far, it's safe to say that around the world, people really do care.
Sasha Lauryn