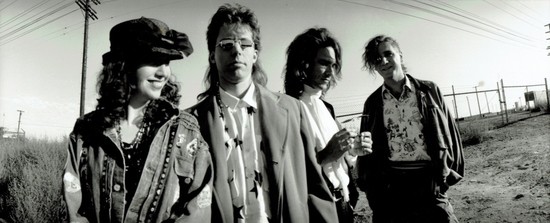 If there was going to be a song that perfectly reflected the rebellious attitude and worldwide call to action on the current climate crisis, a track written over thirty years ago would not seem like the most obvious option. Yet 'Big House,' created by the "supergroup that never was," World Goes Round, proves to be an anthem for a generational effort fighting for the future of our planet. Made up of Frank Musker, Elizabeth Lamers, Jeff Hull and Marty Walsh, the band boasts an overwhelmingly impressive roster of collaborations between them – Chaka Khan, Queen and Quincy Jones to name but a few of an incredibly well-renowned list. World Goes Round's collective genius stimulates the track with an infectious flair and slick composition that only such a group of music industry titans could provide. At the heart of this collective is Frank Musker, an award-winning songwriter who's worked with the likes of Lisa Stansfield, Brian May and Bucks Fizz. Frank's skilful penmanship and masterful composition culminate in a song still undeniably relevant; rooted in the classic synth stabs and pulsing drums of the '80s, 'Big House' translates through the changing of stylistic seasons within popular music.
DSP – https://songwhip.com/world-goes-round/big-house
Holed up in Frank's legendary home studio, World Goes Round mobilised the enduring force of industry-staple songwriters frustrated at the unattainable personality when writing for other artists. Yet assembled together, with the infamous 150ft California Redwood flourishing in the centre of their creative space, the group relished a refreshing sense of artistic freedom. 'Big House's' central message was birthed out of Musker's eye-opening travels around the Amazon and witnessing the destructive impact the Western world is inflicting there. As we all know, this destruction has not gone away, and neither has Frank Musker's genius. 'Big House' evokes vivid imagery of a hedonistic city living it up in their "big house on the hill" whilst the impoverished city below chokes on the consequences. Back then, these images were conjured in the group's collective imagination; thirty years on and such scenes are all too familiar to a generation fed up with blissful ignorance shielding the catastrophic effects of global warming. Their self-professed creative aspiration was to be quirky, forthright, opinionated and relevant; through the years this goal has far been surpassed, ageing like a fine wine. World Goes Round is the epitome of being ahead of your time. Where the group aimed to provide a lyrical identity and political meaning that was shunned when penning mainstream hits back in the day, the group inadvertently created an anthem for a new generation picking up the baton of fighting for climate issues. As Musker claims, "the song was written as a wake-up call thirty years ago;" World Goes Round was 'woke' before we knew what that meant and were calling us to arms before we knew what we had to fight for. If 'Big House's' prescient lyrics remind us of anything, it's that the time to "wake up" has long passed – it's time to take action.
When Marty Walsh discovered a hidden treasure in the form of a dusty cassette tape, he set into motion a revolutionary treat for popular music. With Tommy Vicari mastering all the tracks from cassette, the spacious guitar riffs and hearty bass line prototypic of the 'golden era of rock' are given a new lease of life through Vicari's production. Capturing the spunky spirit of the 80's technological musical revolution, Jeff Hull's arrangement brings a flavour of the past whilst resonating with a present-day rebellious spirit. Classic sawtooth synths punctuate the unwavering message at the heart of Frank's outstanding vocals, whilst Elizabeth Lamers' supporting melodies provide refreshing moments of softness, sporadically echoing the most poignant lyrics with an engaging tenderness. Where Musker's lyrics testify that "in the time it takes to sing this song, another thousand acres will be gone," little did they know, by the time the song will emerge thirty years later, over forty thousand square kilometres of the Amazon will have been lost and their message would be more impactful than ever.
If anything good has come out of the recent lockdown, World Goes Round's hidden back catalogue finally seeing the light of day has to be a highlight. Perhaps at the most crucial time for such a prescient ecologist anthem to appear, nearly thirty years later Musker's penmanship provides an anthem for the next Extinction Rebellion protest. With their new single 'Round The World' set to be released on the 3rd of July and the full album being liberated from the archives late this year, World Goes Round is setting out to school us all on the timeless sound of the eighties as these tracks are finally released into the world. A world which, as 'Big House' reminds us, is shrinking fast.
http://www.worldgoesround.info/
Written by Sasha Davies