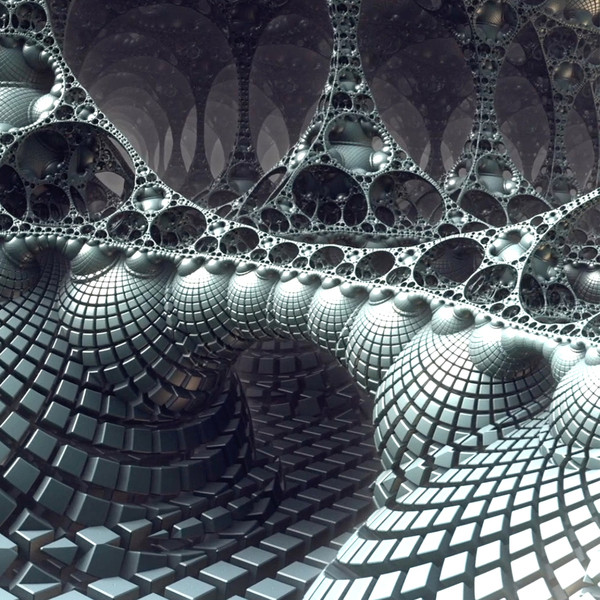 Is there a code that undergirds physical reality? Are there patterns and rhythms that our feeble instruments cannot detect, but which nevertheless structure our experience of the material world? Can we learn the secret language at the heart of things? If it exists – and it probably does, just beyond the boundaries of perception – music might be the best clue to it that we've got. Music, as Sonarpilot (earth name Michael Moppert) would surely tell you, unlocks realms of great emotional and mathematical complexity. Music is a glimpse into the great beyond and the vast and unsearched interior; Sonarpilot, who is as much an explorer as he is an electronic multi-instrumentalist, stands ready to guide his listener into the wild unknown.
The Mirage Project, Sonarpilot's multimedia inquiry into the fabric of time and space, is a thought experiment brought to life in brilliant sound and bold, hypnotic images. Over a series of six electronic pieces that incorporate stylistic elements from techno, dubstep, jazz, classical composition, ambient music, progressive rock, and even a little pop, Sonarpilot constructs a musical universe of remarkable sophistication and internal coherence. This is electronic music played with scientific precision – but it always has a beating heart.
To illustrate the journey, Sonarpilot has joined forces with filmmaker Roger Mäder, whose curiosity and artistic discipline matches his own. Together, they've made a series of gorgeous, painstakingly assembled videos that dazzle and amaze with optical effects. These computer-generated sequences, or 'mirages' as they refer to them as, took weeks of trial and error to perfect, reinforce the exploratory nature of Sonarpilot's music and intensify the lure of his singular sound. Everything about these short films broadcast the pair's scrupulousness, diligence, and forethought. Sonarpilot and Mäder have already delighted their audience with the first two mirages from the project, we're proud to be able to share with you, the next two from the series.
The ten-minute "Imperium" is a brilliant trip: a fractal-filled probe into the heart of a geometric city. With every passing moment, we're drawn deeper and deeper into a landscape of spectacular digital detail – one that hypnotizes the viewer at first glance, opens and unfolds like a flower, and promises revelations at its core. It could be extra-terrestrial, or it could be a swan-dive into the atomic structure of matter itself. "CodeX," Sonarpilot's prior clip, is no less thought-provoking. We're shown old artifacts and maps – evidence of humankind's eternal wrangle with big, unanswerable questions. But soon, we're plunged into the heart of the mystery, one represented by some of the most hallucinatory visual effects you're ever likely to see in a music video. Prepare your eyes, and your mind, and get ready for a dazzling ride.