A happy Saturday to all no matter where you are tuning in from today. We are so excited as we have a music legend here today that goes by the name – Emyna The Rock Queen. Now when you name yourself 'The Rock Queen' you better back it up or others may come for the crown – but with Emyna it is 100% verified she is 'The Rock Queen.' We are so excited to get some time with Emyna as she puts out new music and travels the world. Recently she released her new Single "What Will You Do" which was recorded & produce in England with Stuart Epps, a prestigious British record producer and audio engineer. Well enough from us – lets get into everything – Emyna The Rock Queen.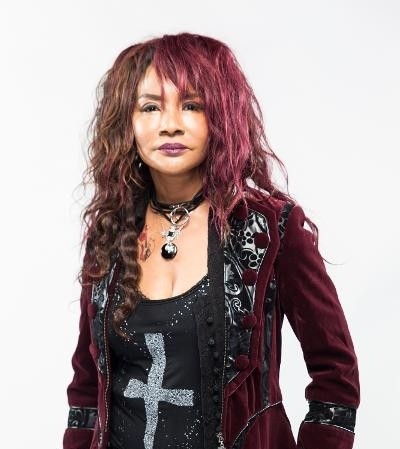 @skopemag: Where are we talking from today and how is your day so far?
ETRQ: I am in Arizona. My day is going great!
@skopemag: I love your musical alias, 'Emyna The Rock Queen' – offer us the details how you chose that name.
ETRQ: It's actually from my single "Rock Queen". I feel that every woman is a "Rock Queen". Women are such multi-taskers, doing so many different things for their families and have careers.
@skopemag: Of all the music genres, you took to rock. What made you fall in love with that style of music?
ETRQ: I have performed many genres of music. I love music however I like the freedom of Rock because you can tell stories with the guitar licks
@skopemag: Growing up, what music did you listen to and have your friends/family been supportive of your music journey?
ETRQ: Growing up I was exposed to all music from symphonies to Creole. I experienced both, friends and family that supported me and those that could not see my vision.
@skopemag: How has your music career been effected most by COVID-19 and how do you see this pandemic coming to a close?
ETRQ: It has given me the opportunity to think, create and be. Hopefully this experience will make us more sensitive to all people.
@skopemag: Your new single, "What Will You Do" is incredible. Please offer background of the creation of the song from a tune in your head to fans streaming the new single?
– https://open.spotify.com/artist/3iPC5DeITeV0SlAWsQfop8
ETRQ: Actually it was a collaboration between Stuart and I. He wrote the music after I heard the music, I wrote the lyrics both from my and others' experiences. When I write a song I tell with a positive message. Stuart and three songs. "I AM Me", "Forever"(coming out soon) and "What will You Do" was the last song. He wrote the music and I wrote the lyrics. Song writing is magic to me. An idea may wake me up @ 4 in the morning and the music always come first
@skopemag: You got to work in England with Stuart Epps – how did that come to be and how did Stuart help you really tap all of your talent & potential?
ETRQ: Stuart messaged me on Facebook about my song "Rise". Pretty soon we begin getting to know each other by phone and I was already going to be in London for a meeting with the record label I was with at the time.
So we decided to meet and talk about working together. After the meeting with Stuart I was inspired and came back to the states and starting writing two of the songs. "I Am Me" and "Forever"(Coming out soon)
Because of Stuart's background and experience his suggestions help spike my creativity which made my potential stronger.
@skopemag: If you were to create a music video for "What Will You Do" – what is your vision for how the visuals would express the message of the song?
ETRQ: My vision has already been realized I have two videos on Youtube a lyric video and a performance video.
@skopemag: I see you are all the streaming platforms – Spotify, SoundCloud, etc. Which platform do you feel helps you retain and gain new fans/followers and why?
ETRQ: YouTube, not only does it showcase my music and videos it also allows to get information about my fans.
@skopemag: When you are not working & playing music, what other passion/hobby/work takes up your time?
ETRQ: I am working on a book for upcoming artist about things they need to get together before they perform. Also as a hobby I love to decorate patios and gardens.
@skopemag: How would you like to close out 2020 and where can we follow you via socials?
ETRQ: By the close of 2020 I hope to be touring especially countries I have never performed and looking forward to meeting and working with musicians from those countries
Before the end of 2020 I will be doing a solo show online just me and my guitar with a message. Also Stuart and I will be performing "What will You Do". I can be followed on Facebook, Twitter and Instagram.
https://www.instagram.com/emynastarshine/
https://www.facebook.com/emyna.therockqueen/