The masks we wear are not always visible. Chilean rock group, Aisles, thrusts the listener into a space of experimental sounds and bountiful light in their song "Smile of Tears". Brushed up against the ambient tones is new singer Israel Gil's mesmerizing vocals. Gil's re-record of the 2009 original, is hauntingly beautiful and the listener is merely adrift on the vessel's dreamy escape. With a new singer, and a refreshed track, Aisles is gearing up for a 2021 release. "Smile of Tears" is that song that stays with you, emotionally tugging at you from different directions.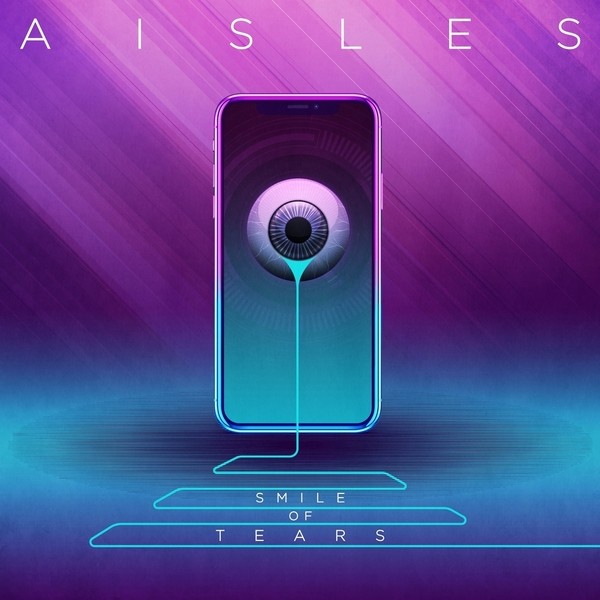 FACEBOOK: https://www.facebook.com/Aislesproject/
Disappearing into the futuristic tones, Gil's voice folds into the liquidity. He sings (in English) it's been alive, and it's been for so long, is this your murderer's love…no smiles, was the pain a deceiving sea? This heavy prose track runs circles around the mind and mellows the listener into a sensational rabbit hole. The emotional brainstorm is unheard of – this song takes the mind into cavernous valleys and left-behind memories. It demands of the listener an inward reflection on several sensory levels. Much like Radiohead, Snow Patrol or Depeche Mode, the stirring music is phenomenal. Underneath Gil's stealth-like vocals is a band unafraid to take sonic chances.
BANDACMP: https://aisles.bandcamp.com/track/smile-of-tears-2020
The deceiving sea line referenced called to mind different interpretations. I think this means the sea of people that we engage in on a daily basis. We in turn project a certain image. The murderers love line stopped me in my tracks. I don't think I have a good answer for that reference other than it plays into the psyche that we often feel like some people or even jobs kill us softly, day by day. It's an erosion. "Smile of Tears" is not all doom and gloom. There is a ray of light that slithers its way through the track. Still, the melancholy does something to the listener, it heightens their senses, and draws in the listener more and more with each listen. The impressive percussion and rhythm section never overpowers, or beats faster than the racing human heart. Peeling and peeling, as a listener you feel like you're drowning (in a good way, if there is a good way to drown) in the smooth sonic waves. The electric pulse running through this track is just the right peak pattern to energize the listener.
APPLE MUSIC: https://music.apple.com/us/album/in-sudden-walks/362542411?i=362542414&ign-gact=3&ls=1
Based in Santiago, Chile, Aisles is also Germán Vergara (guitar, producer), 
Rodrigo Sepúlveda (guitar), Felipe Candia (drums), Juan Pablo Gaete (keyboards, synth) and Daniel Concha (bass). They are working on their fifth studio album, which will be released in June 2021. The band parted ways with long-time vocalist and founding member Sebastián Vergara in late 2018. Formed in 2001, the band's storied progressive rock discography includes The Yearning (2005), In Sudden Walks (2009), 4:45 AM (2013), Live 2014 EP (2015), Hawaii (2016) and Live from Estudio del Sur EP (2018). Germán Vergara discovered Gil via the social media network for musicians, Vampr. Gil is a classically trained musician and student at Music Theory at Pontificia Universidad Católica de Chile.
Gwen Waggoner