We are back at it today and truth be told we could not wait to post this Q&A. For those been that have hanging @skopemag since the early 2000's knows Gene Foley has been a huge supporter, contributor, advisor, and all around amazing friend to this platform. So when he told us about this incredible podcast 'The Music Boost', that Gene and John Seymour have been producing we had to let the people know. Each episode gives career advice, guidance & encouragement to songwriters, indie artists, producers, managers and indie label owners. Topics include Artist Development, Songwriting, Music Publishing, Intellectual Property/Copyright, Recording, Media, Touring, Marketing, Licensing, Social Media, Music Gear and so on. They also interview one talented up & coming artist in every episode. It is a perfect fit, so lets get into it with Gene Foley – John Seymour and 'The Music Boost' Podcast!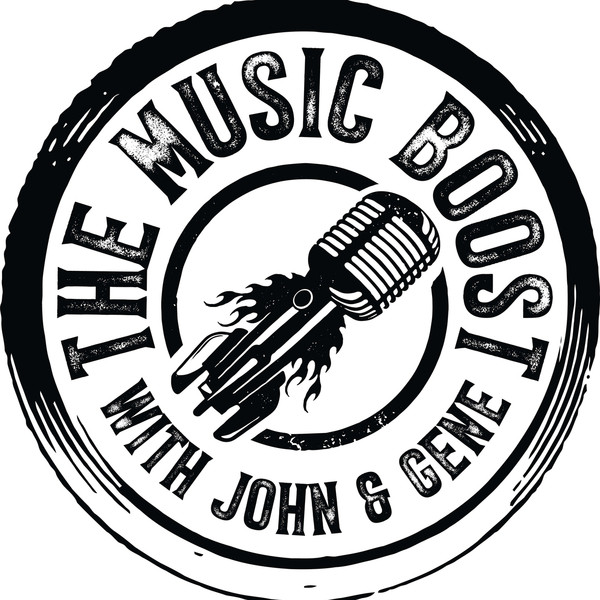 @skopemag: How are we today and where are we talking from?
Gene: Thanks for taking the time to interview us. I'm spending the day at Virginia Beach enjoying some family time before the Summer wraps up.
John: Doing great and coming to you from Plainfield, NJ – Home of George Clinton & P-Funk!
@skopemag: You both are highly accomplished in the music biz. Tell a bit about yourselves and how did you link up?
Gene: I founded Foley Entertainment 31 years ago back in 1989. I've been providing a wide range of services to people and companies in the music business, such as career guidance, artist development, publicity, marketing, licensing, shopping and so on. In 1997, John and his business partner at the time hired me to help them with some paperwork and marketing and we all really hit it off. John and I still do business together to this day, much more than just the podcast. One day in late 2019, John mentioned he was thinking of creating a podcast about production, songwriting, studios, etc. He knew many of the future listeners would also have an interest in learning about the topics that I focus on every day. So we decided to pool our diverse knowledge and create a podcast that gave the listeners helpful advice, insight and positive encouragement. Funny story – John and I were doing business for two years before we realized we were both from the same hometown, Bayonne, New Jersey. We grew up eight blocks from each other and his Aunt was my neighbor! Small world!
John: I've Produced, Engineered & Mixed Music for nearly 3 decades. From my start at the legendary Electric Lady Studio's in 1992, to my own personal studio "The Treefort", I have worked on projects with sales in excess of 50 million units. Notable credits include, Santana, U2, Dave Matthews Band, Trans-Siberian Orchestra, The Mighty Mighty Bosstones, The Bouncing Souls, Bruce Hornsby, Vertical Horizon. As Gene said, we have worked together for many years, and when I started thinking about creating a Music podcast, Gene was a natural choice for co-host. Over the years we've had endless discussions about the Music Business, and I thought with my creative background and Gene's Music Business knowledge, it would make for a really well-rounded podcast that would uniquely position us to be able to handle just about anything that could be thrown at us.
@skopemag: There are many ways to get your content out these days – why did you choose the podcast – The Music Boost?
Gene: We felt that people love learning, but in today's world, most folks don't have time to read books. So a podcast is convenient. People can listen anytime they feel like it at home, work or on the go. They can listen to an entire show at once, or a portion now and the rest later. We wanted to give the listeners the freedom to tune in whenever and on all of the top podcast platforms. I've released two successful
music industry educational books over the years, but I agreed with John's idea that podcasting would be the new way to relay information.
John: Last summer, I found myself listening to a lot of Podcasts. There were Podcasts for just about any topic, but I felt we really had something different to offer. I wanted to keep it broad, with little or no boundaries, so we can really take things in any direction we want. We love sharing our knowledge & experience, and we also love being able to shine a spotlight on some great talent who you might not find elsewhere. We talk about it all the time on the show; the most difficult thing for Artists to navigate these days is getting noticed. There's a ton of talent out there, but if you can't reach the masses or get noticed; it's a tree falling in the forest. Our hope is that our audience enjoys tuning in every couple of weeks for some light-hearted conversation, a few laughs, some insightful advice, and discover some great new music to check out.
@skopemag: How much time per week do you devote to the podcast and promotion?
Gene: I spend about five hours per week booking guests – both artists and other industry professionals. John spends much more time because he edits each episode and it's a ton of work taking lengthy conversations and getting it down to a reasonable amount of time.
John: It's a labor of love. We usually spend a few hours a week scheduling guests & taping interviews, then there's editing, mixing, etc. On average I'd say each episode is 6-10 hours of work from inception to broadcast. We try to promote it as best we can in our spare time. From sharing it with our clients, social media, some light advertising, we're growing our audience everyday and the response from the music community has been fantastic!
@skopemag: Would you say that the Covid-19 pandemic has had any effect on the podcast for better or worse
Gene: With more people working from home these days, it seems people have more free time. So I'm hoping they can steer some of that free time to listen to the podcast. In addition to the listeners we figured would check out the podcast, such as singers, songwriters, recording artists, producers, managers and indie label owners, we're also hearing from many music industry FANS who tune in. They love learning how
the music biz works and the cool behind-the-scenes stories on how artists are discovered, developed and marketed. So we are happy to welcome all listeners regardless if you"re in the biz or a fan of music.
John: Tough to say, it seems logical that people might have more time on their hands these days, but nothing is logical in 2020 is it? LOL
I think a lot of people listen to Podcasts while they are commuting to work. With most people working from home these days, and a lot less time in the car, we're probably missing out on some downloads there, but who knows? We just want to keep creating content and continue to grow our audience. One of the great things about Podcasts is people can jump on board at any time. My favorite podcast had over 80 episodes before I discovered it, so there was some serious binge listening after that. Hopefully we will be able to keep our episodes timeless and continue to reach people over time.
@skopemag: You cover all facets of the music biz today. How do industry professional who would like to be a guest on the podcast reach out and what requirements are there?
Gene: Anyone who works at a label or for a management firm, music publisher, booking agency – or any music industry company for that matter, are always encouraged to contact us through our Web site. Let us know the topic you have expertise in and perhaps we can book you on an upcoming episode.
John: We keep it broad, so we're always excited to have guests on that have something to offer in any aspect of the Music Industry. Anyone interested in being considered for the show can reach us by clicking on our logo on the main page of our website themusicboost.com We're always looking for fun, interesting people who have great experience to share with our audience, and we're always looking to uncover and promote talented Artists.
@skopemag: You have quite the collection of shows posted on Spotify. Who have been some guests / topics that really stand out to you?
Gene: I really enjoyed Episode #7 with Jerad Finck. Jerad is a wonderful success story and someone who John and I have worked with since their early days of his career. It's incredible to see someone work hard, maximize their talents and earn a ton of success. The episode with legendary drummer Kenny Aronoff was also a real highlight. John and I have worked with Kenny on quite a few projects over the years. Kenny's knowledge and experience are second to none. He's truly the most successful, in-demand session and touring drummer of all time. Kenny has played on songs that have sold over 300 millions units. Think about that number for a minute. So having Kenny on to share his insight with the audience was a blast.
John: We've had some great people on the show and I've really enjoyed getting to meet so many interesting folks with great stories. Some highlights for me were Episode #2 where we roll out our Mantra "It's All Bullsh%$" unless you have a song with Leon & The Peoples. We had no idea before the interview, but as it turned out, Leon was a BIG TIME actor and had a great story, and a GREAT SONG "Sometimes I Wish I Was Single" – check it out.
The Kenny Aronoff episode is fantastic. Just a great story from a true professional who has worked hard and amassed a musical resume that is just unbelievable.
It's also been a lot of fun discovering the great Artists we've had on the show. We had an open submission last year that we partnered with Reverbnation to be featured on the show. We received nearly 3,000 submissions for just 24 slots, so that was an incredibly difficult selection process, but we feel great about our selections. We tried to cover a lot of genres (Country, Rock, Hip-Hop, Americana, etc.) so there's something there for everyone.
DSP – https://open.spotify.com/show/6ORAeTDS6VglhLIYnDEmGg
DSP – https://podcasts.apple.com/us/podcast/the-music-boost/id1498583553
@skopemag: Some podcasts are a few hours – you keep it under an hour which I like. How do you determine how long you want the episode to be, if at all?
Gene: John is a whiz in the studio and he has a knack for taking two hours of conversation and editing it down to 45 minutes of the best moments from that conversation. From day one we wanted to keep each episode at a reasonable length because we know people are busy. Thankfully, John keeps each episode at the right length.
John: When I started researching the most successful podcasts, I found that the average running time was 26 minutes. People have short attention spans, so I wanted to create a show that was entertaining, brought some insight & knowledge, and didn't wear out its welcome. The same way a good pop song clocks in under 4 minutes, "Don't bore us get to the chorus", it's no different here.
@skopemag: For folks who have yet to tune in, offer an idea what they can expect and why they should give a listen?
Gene: Each episode is filled with helpful advice and career guidance on a wide variety of industry topics and it's helpful for people
in all genres of music and at all stages of their career. At times we keep it light-hearted and each episode starts off with a joke from John!
John and I truly care about people. We want people to succeed and reach their goals. I feel the podcast shows those things.
John: Couldn't have said it better myself, what Gene said…
@skopemag: What are your plans for 'The Music Boost' and what can we look forward to?
Gene: We plan to keep releasing new episodes on a variety of important topics and continue to book outstanding guests to make
each episode interesting and helpful to the listeners. If you haven't tuned in yet, please check out an episode or two and we hope you enjoy it
and come back regularly. We release a new episode every-other-Tuesday on all of the top podcast platforms.
John: For the rest of 2020 the format will remain the same. Every episode begins with a great musician joke, then with a relevant topic or an interview with a music industry professional, then an interview with an up & coming Artist. For 2021, who knows? Please subscribe, follow us on Instagram and visit us at themusicboost.com and stay tuned…
http://www.TheMusicBoost.com
—
http://www.Media51.com
—
http://www.FoleyEntertainment.com