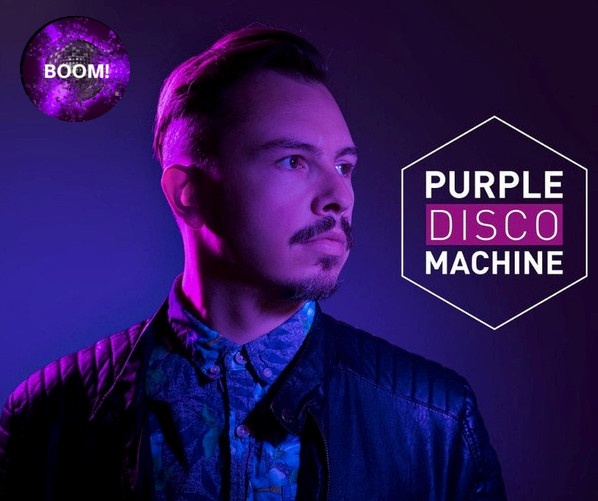 With the recent restrictions going on a bit longer than we all imagined, normal life doesn't look like it'll be rearing it's comforting head any time soon. So, amidst the utter confusion, BOOM! is setting out to give us a glimpse of normality with their online dance parties – and no doubt a good old boogie along the way. BOOM! Online Dance Parties was founded by music industry legend – songwriter Dominic Roy King. He has been releasing dance music under the alias BOOM! for the past year, including the top ten dance hit 'Lockdown'. Now, BOOM! has shifted towards also being an online party collective gifting us with gigs from some of the hottest names on the scene right now. Headlining their recent event on August 22nd, was Purple Disco Machine, an international DJ who radiates nothing but utterly entrancing dance house vibes. King has teamed up with party hosts and organisers Roxy Deniz Ozalp and Iona McNeil of Morning Gloryville, to bring us an event filled to the brim with incredible music, outrageous amounts of glitter and, if you're lucky, sensational prizes.
Last Saturday's event saw up-and-coming duo Moodbay perform their latest dance track 'I Got You', as well as killer DJ sets from Caz Coronel, Syreeta, and a soul-sational performance from Matthew Winchester of Cool Million. 3 hours of non-stop music, also accompanied by the stunning outfits and sensational dance routines of Crystal, this was a night to remember, that's for sure. We can't wait for the next one!
With life as we've known it still at an unfortunate standstill, there's no doubt we've all been missing that undeniable thrill of seeing music live. So why not change out of that hoodie you've been wearing for three months straight, jump on your webcam and revel in an event tailor made for a lockdown laugh. With the ticket price only £7 per household, there really is no reason not to get involved in BOOM! – the only event we want to (and, let's be honest, can) attend this year.
Follow all things BOOM! Right here: http://www.boomdanceparties.com