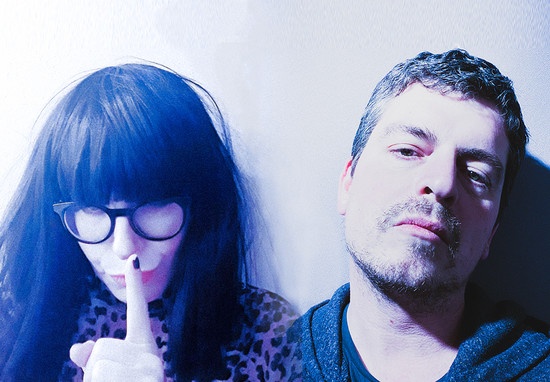 It's easy for your talent and good taste to rub off on your kid, especially when your work as a producer and arranger helped shape all of rock 'n roll. Tony Visconti manned the boards and a few instruments on monumental records for Bowie, T.Rex, Thin Lizzy… you get the idea. Morgan Visconti, one half of Ready, Steady, Die! certainly has Dad's ear, but the US-UK duo's sound bears no resemblance. Alongside British singer-songwriter Sam K., Morgan bends dream pop, electronic rock, and darkwave to his will on Pleasure Ride, the two-piece's first album in an upcoming trilogy. The breathy, ethereal come-on of Sam K.'s voice stalks the listener across Visconti's sinister, back-alley electronic swing.
A welcome and a warning, "Deep" is the slowest of burns. A tense, irregular heartbeat of a whispered verse gives way to a haunting, propulsive chorus. The huge, chanting refrain finally unleashes the unsettlingly sweet vocals of a woman who's gone mad, and she's just fine with that. No one ever said looking inward was easy.: "When you're deep / Go deeper again. / Give your thanks for everything you can't explain."
Take introspection to the point of no return, say goodbye to safety, join us in here. Plinking pianos and layered strings prowl along with a steady cavernous thump. The ominous, apocalyptic track ultimately finds release, even redemption, as a noir-rock guitar lead closes out the last chorus. The song leads familiar sonic elements down a dark path only Ready, Steady, Die! seems to be able to follow. By the time they're done, and we look around, nothing about this is familiar at all.
But getting lost is most definitely the point. In the clip for "Deep," Visconti, going by his directorial handle WeekendClass, uses a cold, bare backcountry as a stand-in for the unexplored recesses of the mind. But these are not woods full of bluebirds alighting on your shoulders. This is the kind of impenetrable, primal undergrowth where people get up to things best kept from the neighbors- or simply disappear. "Deep" fuses 3D photo scans and infinite zooms of trees and bark, employing (all too realistic) CGI: unsettling swarms of thousands of insects, geysers of blood, and creeping tendrils own this place. In the world Visconti has brought us into, ugly is beautiful. Violence is serenity. The video is a non-stop hypnotic, glitchy trip that makes the song even more meaningful, even more urgent.