Steeped in raw, lo-fi psychedelia and surreal alternative folk alike, to say that Streaking in Tongues' sound is as one of a kind as it gets might not be doing it the justice it deserves. The scattered patches of noise and melodic textures that one encounters when listening to any of their records often provokes surprisingly strong emotional reactions in those who can appreciate eclectic songwriting, and this is especially true of their new album Live from Lockdown. Live from Lockdown is admittedly their most accessible record yet, but it's also a firm testament to their growth as musicians – and as father and son.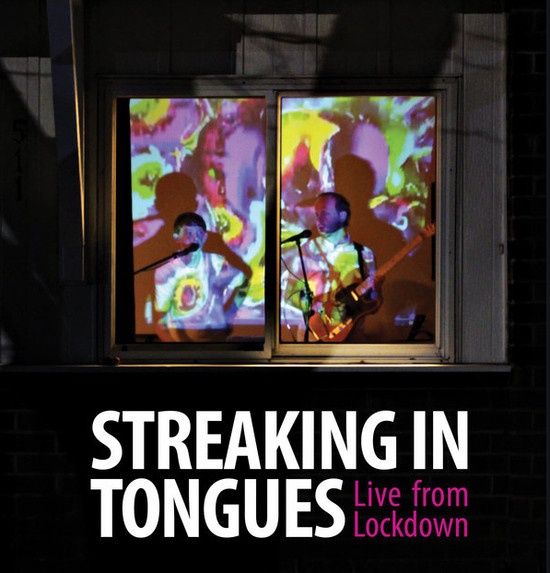 FACEBOOK: https://www.facebook.com/StreakingInTongues/
"I Was a Fool Before You Were Born," "Boy in a Garbage Bag" and "Kindergarten Daze" feature some rather complex arrangements both instrumentally and production-wise, but they're delivered in such a fluid manner that it feels as though they were meant to be performed live from their inception forward. Kindergarten Prayers was among my favorite alternative albums released in all of 2018, and as much as I loved its tracklist, its material featured here just feels more natural and unbelievably free to breathe. Streaking in Tongues come alive in moments where others would collapse from audiological exhaustion (check out the killer take on "Field of Pineapples") on numerous occasions in Live from Lockdown.
I love the amalgamation of aesthetical themes in "Little Big Questions," "Everyone Who Ever Cared" "See Me See Me" and "Farewell OCD (You Pesky Bastard)," and I think these songs really demonstrate the authenticity of this pair's sound particularly well. They're not trying to be avant-garde – Streaking in Tongues are merely being themselves, and as foreign a concept as that might be to some of their mainstream counterparts, it's clearly coming quite naturally to these two when they're performing together.
There was no need for a lot of varnish on the string parts in any part of this record, especially in "Young Again," "I Was a Fool Before You Were Born" and "Everyone Who Ever Cared," and Streaking in Tongues rightly left it on the sidelines altogether here. When you've got the brooding statement of a melody that some of these songs do, it would be foolish to place any sort of a barrier between the artists and their listeners; while this might seem basic, it's something I can, unfortunately, only hope for newcomers in alternative music to try in their own work.
DEEZER: https://www.deezer.com/en/album/160348722?autoplay=true
I've been a fan of Streaking in Tongues for years now, and judging from the direction that their music is taking them in with Live from Lockdown, I think I will be for a long time to come. Their sound has only gotten more precise and wide-ranging in style as time has gone by, and though they're a part of the notoriously volatile world of family-based music groups, neither player sounds as though he's growing out of the other – the opposite, to be perfectly honest. Live from Lockdown feels like a preview of what's still ahead, and that's good news for audiophiles everywhere.
Gwen Waggoner