Some collaborations are irresistible. Take the reigning queen of underground soul and match her with a synthesizer wizard and exquisite soundscaper – how could that go wrong? Well, set your expectations aside, because "Perfect Love," which matches the visionary producer and songwriter Rachel Eckroth with vocalist Sy Smith, is far more than the sum of its parts. It's an early morning mirage, a play of light and shadow, and above all, a showcase for the astonishing talents of a pair of artists with signature songs that'll never be mistaken for anybody else's.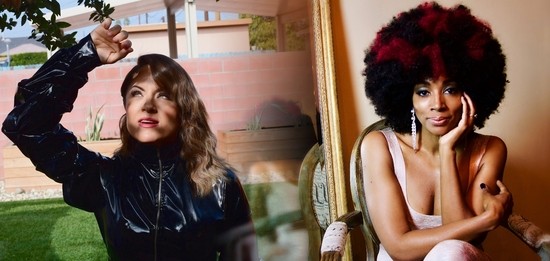 It's not the first time they've worked together. Eckroth and Smith met while touring the world with jazz trumpeter Chris Botti; they've since made guest appearances at each other's shows, and they've featured on each other's solo recordings. But it's fair to call "Perfect Love" the fullest flowering of their ongoing collaboration – a track that testifies to a deep musical understanding between these two musicians. The song starts as easy as daybreak. It rides in on a tide of synthesizer and artfully-muffled drumbeats. Once Sy Smith graces the track with her voice, "Perfect Love" intensifies and deepens and becomes the rarest thing in modern pop – a sexy and altogether grown-up song. By its conclusion, both Smith and Eckroth are shooting the works, spinning out runs of notes that twist and sparkle and dazzle, wrapping the listener in music.
Fans of Sy Smith and Rachel Eckroth won't be surprised at all. Eckroth has been demonstrating her flexibility for years, supporting artists as varied as Botti, KT Tunstall, Donny McCaslin, and Rufus Wainwright recording with Antelog, Emily Saliers and others, and providing music as the synth player in the house band for the Meredith Vieira Show. When It Falls, her 2018 album and debut solo set, was rich, varied, sophisticated, and mesmerizing. That same year, Sy Smith released Sometimes A Rose Will Grow In Concrete, a dazzling R&B set that established the artist as a singer of uncommon candor and daring. Just as Eckroth does, she erases the boundaries between jazz and soul, pop, and experimental music so completely that you'll wonder why they were there in the first place.
Smith is the focus of Tatch Taboada's playfully psychedelic video for "Perfect Love." She dances through his colorful digital landscapes, refracted and beautifully blurred, always smiling, ever-alluring. Taboada has decorated his frames with signifiers of romance: white horses, vibrant flowers, sunsets. It's a perfect visual representation of the rapturous music of Eckroth and Smith, and the intoxicating chemistry they create.