So here we are another weekend is upon us and we are ready. This week we have hooked up with the band – Fate Will Come. The band Fate Will Come is a long-awaited dream collaboration between Renita Zintel and Matt Kirschner. The band is a unique collaboration as Renita lives in Canada, and all other members of the band live in the USA. We actually say that this Q&A was a international cross border one. So today we get to really get to know these musicians and the music they are creating in the USA & Canada. If only politicians from all nations could come together and find the same synergy like Matt / Renita & Fate Will Come!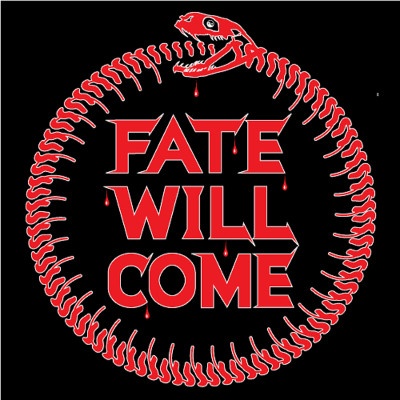 @skopemag: How are we doing today so far and where are we talking from today?
FWC:
Renita- Hello I am from Kelowna, BC Canada. We are in the middle of a heat wave where i live! Every day is a beer day here)
Matt- I am here in Connecticut, USA.. Hot!! OMG this heat has to break!! Just had a Hurricane go through, crazy trees down!!
@skopemag: I love the name of the band – Fate Will Come – how did that come to be and how does it describe your music?
FWC:
Renita – Matt and me met on a musician's website online, I had some songs posted and he liked what he heard and asked if I would be interested in songwriting with him.
We started exchanging song files I suggested to Matt and to bass player Michael and drummer Richard (who I also met online through Matt) that we should
form a band even though the other members are also in different places in the USA. The bass player Michael suggested ' Fate Will Come" and we all thought it
was perfect because that is what happened! I was always searching for that group of musicians. Our music is a fusion of hard rock with metal and rugged melodies.
Matt- It really was a spitball session.. I threw out Fate of the Willing, Michael suggested Fate Will Come because it would be easier to make it look right in the band's logo… So since he is our artist and did create the logo, we all agreed!! We have all been working together now for over a year and never really had any disagreements. Ha – try doing that with a band that you live with!! So I guess that says it, our fate has come! I do have to put a plug in for Drooble.com. Without that we would have never met!
YouTube: https://www.youtube.com/channel/UCZQRkVkmmy7Gh4KdGjQ5Dnw
@skopemag: You have five awesome musicians in the band. Did you all come together through a passion for music or something else?
FWC:
Renita- Yes obsession that is the word for what we do!!! I have been writing with Matt almost everyday since we met late August last year, constantly challenged by the ideas he has in his riffs.
A lot of the lyrics I write are inspired by the unique names of the files he sends me, then I brainstorm and write. It is the best feeling to be working on new songs all the time!
Matt- I would have to agree that it's not passion, it is an obsession, We all do work everyday at music! I do have a full time job but take at least two hours a night to mix, record, master… something! It really was luck, we all met on Drooble and just clicked.. here we are a year later and going stronger than ever. We are planning to release three ep's with five songs each, 10/31/20, 12/24/20, and 2/14/21.
@skopemag: How has (or has not) COVID-19 affected your ability to get together and practice and play live shows?
FWC:
Renita- I live in Canada, the way things are now I would have to dig a tunnel to get to the USA. I am hoping in the future i can visit the USA when this COVID thing is over and visit and play music with them.
Matt- Great topic! I do think this is one of the coolest things about what we are doing, we have never met!!!
@skopemag: If you were to choose two bands / artists that inspire what you want your band to become, who would that be and why?
FWC:
Renita- Matt is inspired by Zakk Wylde and Dave Mustaine.
Matt- Definitely Zakk, Dave, also Hetfield but I want us to be what we are, I don't want to be 'like' any band. Like on Drooble there are people there that know what we sound like and can tell who is playing on the track, that is what I want.
@skopemag: I got to listen to your 'Fate Will Come – Band Debut 2020' on Soundcloud and it sounds great. How long did it take to put that together and how did you pick those tracks?
DSP – https://soundcloud.com/fatewillcome/sets/fate-will-come-band-debut-2020
FWC:
Matt- Ha, ha, those were the tracks that we had done at the time! The nice thing about being our own label is we can do what we want when we want to do it, or when it's done. Like I said we have three ep's coming out soon and we will see what happens! We are constantly writing and recording, honestly if I don't like the riff I come up with I don't hit record, but if I do, I send it to Renita for a vocal idea then to Michael for bass and guitar ideas, then to Richard for drums… then I mix it and we have a new song. So we love everything that we put out and hope it brings something to someone!
@skopemag: We are about half way done with 2020 – what would the band like to accomplish and how will you execute that game plan?
Spotify: https://open.spotify.com/artist/7muO5bWiHlKSGnfkbEnFvz
FWC:
Renita- I would also build a social media presence, Gene @ Foley Entertainment has done a great job of helping us as a very new band. We have a 6 month promo plan in place.
Matt- The three ep's by 2/14/21, we work every day!! Our game plan is constant communication, and it works!! We already have the songs recorded for the ep's and are already working on the next batch!
@skopemag: Social media is crucial to any industry these days. How do you promote and reach new fans and on what platform(s)?
FWC:
Renita- We also are on Twitter and Soundcloud and an Instagram account.
Matt- We do promote on FB, but that is really a joke, no one listens to music there… We do promote through Reverbnation, and Foley Entertainment. We use DistroKid for distribution, so all of our songs that are out now can be found anywhere you stream or download music! We also do have a YouTube page.
@skopemag: When you are not making music what other hobbies / activities do you enjoy?
FWC:
Renita- pole dancing and checkers…….. Not…….I actually like to paint , I broke my hand a couple of years ago and I could not play guitar but I got back into art again. It's a zen thing!
Matt- I like to go camping and quading with the family, but honestly when I'm doing that, I am thinking about the next riff!!!
@skopemag: To those new to Fate Will Come, give us the lowdown why they should give you a listen and check your music out?
FWC:
Renita-We definitely have our own hard rock sound thanks to Matt's production ideas, guitar sound and style and I work at making the lyrics fit!
Matt- I think if you are looking for a fresh take on the great sounds of a heavy metal 80's type music this is for you. Music goes through cycles due to the record co's thinking they know what everyone wants to hear… just like in the late 90's,,, everything sounds the same!! Well let me say, you have a new band here, with a new producer who doesn't care about what the big labels say!! We are throwing around the idea of 'White Rabbit' and 'Hotel California' as covers on the ep's… we will see. But I can tell you that when we do a cover we make it our own!!
@skopemag: What is the most rewarding and challenging thing about being in a band in 2020?
FWC:
Renita- We are apart but still together in every way! We don't have the drama that I have faced being in other bands. I am grateful everyday to be in Fate Will Come as i know it is difficult to find the chemistry we have. It's a once in a lifetime thing!
Matt- The reward is the amazing music we are able to make without ever being in the same room! The challenge is not being able to be in the same room!
@skopemag: Once COVID-19 is gone, what music-related activity will you do first?
FWC:
Renita- Go to a bar to jam!!!
Matt- Ha! I am going to my local bar and play all the Fate Will Come songs on the Jukebox!