I am proud to say that I have had the pleasure to cover Radio Drive many times over the years and I am always impressed with the steady flow of melodious tunes. I am very happy to get a chance to check out this brand new project titled '2020 Vision' that offers crystal clear clarity. This new EP contains six standout singles from previous releases by Radio Drive. All tracks are carefully constructed, re-imagined and revisited in such a way that will get your ears buzzing!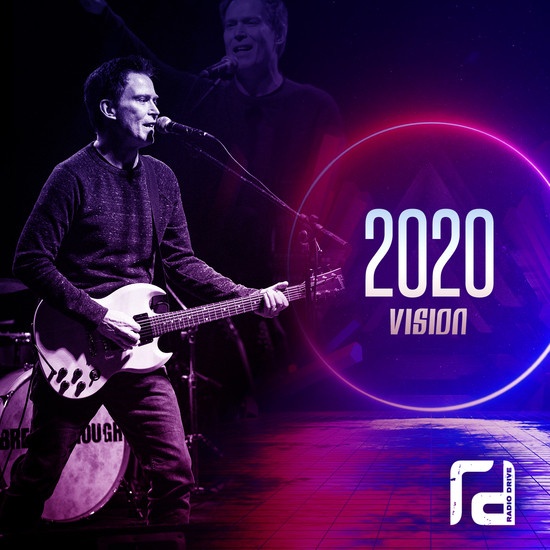 The man driving this musical engine is a talented artist by the name of Kevin Gullickson who is a phenomenal singer/songwriter and guitarist. Kevin always writes and performs from the heart and '2020 Vision' is a perfect example of that. Each song on this 6-track EP is near and dear to Kevin Gullickson, so it's safe to say that Radio Drive is off and running. See you at the Finish Line!
Radio Drive has always supplied elements of Rock, Pop and Alternative and '2020 Vision' decides to not switch lanes and remain committed to the authentic, driving force. Just like the old saying says "If it ain't broke, don't fix it", stands true to Radio Drive and its winning formula that has produced numerous chart-topping singles and internationally-acclaimed songs. This EP serves as a Greatest Hits compilation, in a sense, comprised of 6 successful numbers and all redesigned by Kevin Gullickson to give each song that new car smell again.
'2020 Vision' kicks things off with "Borders (2020 Remix)" that has no boundaries and showcases stellar guitar playing right from the start. "Borders" offers the listener such an infectious sound and with lines like: "It's time to receive…and Let your imagination take you far away…", one will get lost within the song. Next we have "Footsteps (2020 Remix)" that will be running through your mind all day long. "Footsteps" has such a pleasing melody where you will find yourself clapping along instantaneously to the beat. Rolling along, the listener will get hit with catchy chords, riffs & vocals on "Moving On (2020 Remastered)". You will have the urge to clap along to "Moving On" whether you like it or not! On track four, "Sweet Thing (2020 Remastered)", Radio Drive provides a warming sensation overall and one super, sweet song that is worth embracing. Continuing on we have "Humanity (2020 Remastered)" next that offers a strong message and powerful presence. "Humanity" speaks for itself and speaks the truth as Kevin Gullickson emphasizes an old lesson that "All you need is love". Radio Drive ends the six-song set with a "A Taste of Heaven (2020 Remastered)" that is a little slice of Paradise by offering up a heavenly vibe and wonderful arrangement.
Radio Drive is laser-focused on '2020 Vision' with six, shining gems on full display for ALL to hear. As good as the material is on this EP, I feel the best is still yet to come for Radio Drive. The Finish Line is not quite in sight just yet for Kevin Gullickson/Radio Drive, but there is no question that '2020 Vision' is hitting on all cylinders. Ready…Set…And GO grab your copy of '2020 Vision' as Radio Drive has its eye on the prize!
http://www.radiodrive.net
http://www.facebook.com/radiodrive
http://www.twitter.com/radiodrivemusic
http://www.youtube.com/RadioDriveMusic
http://www.instagram.com/radio_drive
By Jimmy Rae (http://www.skopemag.com/?s=Jimmy+Rae)